Restaurants in Lafayette
---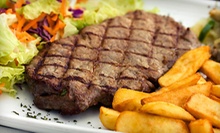 Steaks, sandwiches, and seafood washed down with beers, cocktails, and wines while sports play on big-screen TVs
---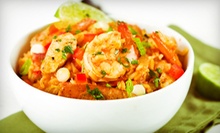 Smoked beef brisket, gumbo, slow-cooked red beans and sausage over rice, and more
---
Recommended Restaurants by Groupon Customers
---
Cafe Delphi Greek and Lebanese Restaurant's proprietor, Mir Hassan, and expert chefs take taste buds on culinary tours of the cradle of humanity with an extensive menu of delicious Mediterranean delights. Paying homage to the ancient Greek tradition of filling up on breadsticks, appetizers prelude Near Eastern feastings with tantalizing dishes such as the fried-cheese or grilled-eggplant musaka. On main plates, juicy kebabs skewer tender cuts of chicken or beef, and Mediterranean samplers unite cabbage rolls, kibbeh, and a choice of chicken shawarma or gyros with meat tastefully dressed in a cape of grape leaves. In addition to tasty terrestrial meats, tongues swoon over sea specialties and vegetable entrees such as the Delphi's fish topped with special pasta sauce and served with hummus and rice, or the vegetarian plate, a tasty mélange of hummus, musaka, spinach pie, and feta salad.
18564 Magnolia Bridge Rd.
Greenwell Springs
Louisiana
225-663-6649
At Wasaki Asian Fusion Sushi & Hibachi, chefs perform acrobatic fiery feats at tableside hibachi grills, carefully wrap sushi rolls, and skillfully throw spices on noodles and pan-Asian dishes using their nondominant hands. In the dining area, the tableside hibachi grills showcase the skills of staffers as they flip and sizzle meat and veggies in front of mesmerized eaters. Though many of the eatery's dishes contain meat, the menu also houses an array of entrees with tofu and vegetables, perfect for assembling colorful dioramas of the rainforest.
7951 One Calais Ave.
Baton Rouge
Louisiana
225-766-2088
Taste the face-melting guitar solos a single sushi on Ace's menu can pull off with one grain of rice tied behind its back. Octopus nigiri ($3.50), scallop sashimi ($8.50), and chicken teriykai skewers ($7.80) crescendo appetites into the main course. Try Ace's signature mango lobster specialty roll with cilantro, spicy mayo, and macadamia nuts ($9). Creative rolls such as the Scorpion (crunchy rock shrimp, scallop, and caramelized pecans wrapped with mango and avocado, $11.50) and the Ozzy (tempura shrimp wrapped with crab, avocado, jalapenos, tobiko, and spicy mayo, $12.50) along with more traditional tastes such as a California roll ($5.25) and dragon roll ($13.50) satisfy any sushi ace.
7951 One Calais Ave
Baton Rouge
Louisiana
US
225-766-2058
Sarita's Mexican Grill & Cantina owner Rudi Gomez owes his restaurant's panoply of authentic fajitas, enchiladas, and tacos to his mother's time-tested catalog of Mexican specialties. The steam rising from bowls of chicken tortilla soup and sizzling shrimp fajitas caught the eye of WAFB Channel 9's Culinary Corner hosts, who recently invited Rudi into their studios to share some of his recipes and tortilla-tossing techniques. When not evoking desert sunsets with their multicolored arrangements of rice, salsas, and crisp tomatoes, Rudi and his fellow chefs stray across the border to cook up local favorites such as hand-patted burgers and po boys. Signature margaritas entrance taste buds in a medley of flavor infusions, and frothy brews douse the lingering fires of hot salsa. Outdoor tables invite warm-weather lounging with free WiFi and bottles of sour cream to lather on in lieu of sunscreen.
11172 River Highlands Rd.
Saint Amant
Louisiana
225-675-4503
Bayleaf Indian Cuisine's menu marries traditional dishes from both North and South India to populate gleaming, white tablecloths with plates of marinated lamb and seafood, each sizzling from the tandoor and slathered in spices such as ginger, cinnamon, and nutmeg. After clinking glasses of wine or imported beer, patrons sop up sauces spuming from curry dishes with morsels of warm naan before crowning the overseas adventure with crisp, honey-laden bites from gulab jamun dumplings. Meanwhile, groups can commandeer the executive room to furnish dinner celebrations for parties of 50 or boring musical-chair games for parties of one.:m]]
5160 S Sherwood Forest Blvd.
Baton Rouge
Louisiana
225-291-4250
Established by two brothers in 1994, El Magey feeds the masses with family recipes every day. After warming up with complimentary tortilla chips and salsa, bellies fill up on entrees from a menu of authentic Mexican and Latin American fare. Seasoned grilled skirt steak, grilled shrimp, tilapia, and crawfish star in some of the eatery's specialties supported by a cast of homemade guacamole, pico de gallo, and mole-covered backup singers. A buffet emits swirls of savory aromas, with specialty items starring on Friday seafood nights and Wednesday kids' night buffets. Homemade desserts seal each meal's deal, tickling taste buds with in-house-crafted flan and tres leches cakes as sweet and smooth as a kindergartner's pickup lines.
8290 Siegen Ln.
Baton Rouge
Louisiana
225-769-6922
---