Restaurants in Lafayette
---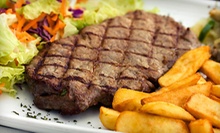 Steaks, sandwiches, and seafood washed down with beers, cocktails, and wines while sports play on big-screen TVs
---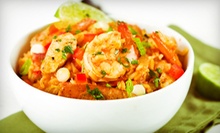 Smoked beef brisket, gumbo, slow-cooked red beans and sausage over rice, and more
---
Recommended Restaurants by Groupon Customers
---
If the wooden tables that stretch across Country Kitchen's dining room were any less sturdy, they would buckle under the weight of the sizzling platters of Southern fare that chefs trot out for unlimited buffets. Old-time recipes of fried and baked chicken vie for attention alongside a menu of specialties that rotate daily; the weekend's seafood gumbo and fried catfish give way to succulent barbecued sausages that can spice up any Monday. Southern cuisine is known for its show-stealing sides and desserts, and Country Kitchen delivers in spades on both counts. Fried hush puppies and vegetable dishes refuse to take a backseat to their main-course counterparts, and a dessert bar exudes nostalgia with heaping servings of bread pudding, peach cobbler, and ice cream. Between bites, guests seated under cheerful framed artworks or beside a colorful rooster statue can reminisce about childhoods spent wrestling catfish or plucking ripe morsels of corn bread fresh from the vine.
613 E Ascension St.
Gonzales
Louisiana
Named for the ever-present loaves of bread that stood as religious offerings at the Temple in Jerusalem, The Table is Bread mingles Southern culinary and spiritual traditions in a spacious dining room. The menu brims with classic Southern specialties alongside Cajun-tinged seafood such as the signature Table La-La, a juicy catfish fillet fried or grilled and smothered in zesty crawfish étouffée. The centerpieces aren't the only flavors in the spotlight, however. "The candied yams were my favorite," writes Shermin Khan of Dig Baton Rouge. "Cooked with brown sugar and a dash of cinnamon, [they were] neither too greasy nor overly sweet." Khan also expands upon the restaurant's spiritual focus, which draws weekly performances by gospel musicians and includes maintaining an alcohol-free atmosphere.
4748 Airline Hwy.
Baton Rouge
Louisiana
225-356-1496
When Shakespeare imagined a den of witches, he saw them gathered around boiling pots, cackling and talking, casting raw morsels into their cauldrons from the ends of long, sharp sticks. Time revealed his vision to belong to something far less sinister: the bard simply foresaw the fondue restaurant. Today, hundreds of people gather at The Melting Pot's more than 140 North American locations to cast romantic spells over one another as they share sweets, breads, vegetables, and meats doused in liquid chocolate, melted cheese, or flavored oil. They all wield double-pronged spears—or fondue forks—to suspend the tasty morsels of their choice in the ambrosial liquids before them, which are cleverly heated by stovetops built into each and every table in The Melting Pot's restaurants. The chefs prepare most platters in sizes best shared by two, making the venue ideal for date nights or reunions with twins who left 10 years ago to study the art of fondue.
At The Melting Pot of Baton Rouge, staffers use the restaurant to invest in their community as well. They host charity events, school fundraisers, and even run a program to reward straight-A students with a free fondue dinner.
5294 Corporate Blvd.
Baton Rouge
Louisiana
225-928-5677
Since 2003, Charlie Brown's Family Sports Grill & Bar has paired an extensive menu of grilled sandwiches, steaks, and seafood with a feast for the eyes made up of 25 large flatscreen televisions. The restaurant's buffalo chicken wings come with or without bones, just like the majestic buffalo chickens of yesteryear, and its charbroiled and grilled burgers are piled with enough delicious bacon, cheese, and sautéed mushrooms to distract children from the kids' arcade for a while. Dishes such as fried soft-shell crab and shrimp alfredo offer a seafood angle to the entree list, which also documents chicken-fried steak and 14-ounce rib eyes served, and 8-ounce filets served with with veggies and mashed potatoes. To help guests to wash down hearty meals and salute the local sports memorabilia draped on the walls, the bartenders have composed a long list of beers, specialty drinks, and wines.
17316 Airline Hwy.
Prairieville
Louisiana
With the amount of fresh and boiled seafood required to meet the needs of their catering requests, dine in and carryout orders, and deli shoppers, it would take two Randy Montalbanos to properly run Randy Montalbano's Seafood & Catering. Luckily, that's exactly what they've got. The restaurant was built on the collaboration between Randy Montalbano, Sr. and his son, Randy Montalbano, Jr., as the crown jewel of the family's three generations in the food-service industry. Above the checkerboard floors of the eatery, display cases show off fresh shrimp, crab, and fish. Patrons can snag live seafood to cook at home, order boiled crab and shrimp to dine in or tote in tidy to-go lunch boxes, or order large platters to cater a football tailgate or a Little Mermaid-watching party.
12740 Florida Blvd.
Baton Rouge
Louisiana
225-272-7900
Flames soar from the surface of griddles built into the middle of Ginza Sushi & Japanese Steakhouse's tables, as chefs drum out a steady rhythm against the heated metal surfaces with their knives. Beneath the flashy blade-work, delicious proteins – such as filet mignon, scallops, grouper, and chicken – soaked in Japanese style sauces divide into bite-sized cubes of flavor. Meanwhile, sushi chefs perform equally deft, if less often observed, tricks with their knives, dicing rolled conglomerations of rice, seaweed, and raw fish into even morsels. They prepare such treats at the super dragon roll, featuring snow crab and avocado topped with barbecued eel, or the cherry blossom roll, with tempura shellfish beneath a blanket of lobster salad. Mixologists wash the seameats down with concoctions of their own, brewed to order at the full bar.
4215 S Sherwood Forest Blvd.
Baton Rouge
Louisiana
225-291-3503
---