Museums & Galleries in Laguna Woods
---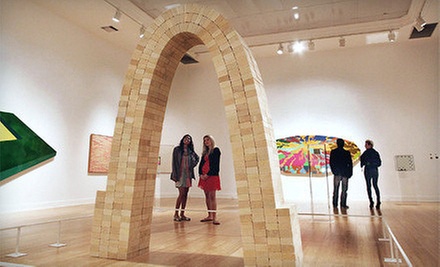 ---
Recommended Museums & Galleries by Groupon Customers
---
The Science of…Aliens exhibit has crash-landed at the San Diego Air & Space Museum, offering thrilling glimpses into humanity's long-held belief in the existence of extraterrestrial life forms. The exhibit is split into four star-gazing sections, each offering different POVs on ETs. "Alien Fiction" celebrates sci-fi classics, with movie props and other items detailing our fascination with silver-screen space-dwellers and its connection to ancient mythology, while "Alien Science" covers alien-looking creatures living on planet Earth, such as deep-sea fish and Lady Gaga. Explore two fictional but scientifically credible alien planets—Aurelia and Blue Moon—in the "Alien Worlds" section of the exhibit, or pen a personal love note or jury summons to residents of neighboring galaxies with "Alien Communication."
2001 Pan American Plaza
San Diego
California
US
The membership includes the following:
1450 El Prado
San Diego
California
The Gamble House was constructed between 1908 and 1909, an astonishing achievement designed by the brother-architects Greene & Greene for Mr. and Mrs. David and Mary Gamble of the Midwest. Built as a retirement sanctuary, the estate exemplifies architecture's Arts and Crafts movement through its incorporation of natural materials, handcrafted detail, bold aesthetics, and ample googly eyes. One-hour guided group tours lead keen-eyed spectators through the inspired views of the exquisite abode. Knowledgeable guides illuminate the natural beauty of the spacious yards and gardens and describe the cultural and architectural context of the stunning interior.
4 Westmoreland Place
Pasadena
California
Pacific Asia Museum, which first opened its doors in 1971, is one of four U.S. institutions dedicated to the multilayered arts and culture of Asia and the Pacific Islands. Immerse yourself in the multihued surroundings during the Fusion Fridays premiere, taking in more than 15,000 pieces of historical art dating back more than 4,000 years while sipping on a cocktail, nibbling gourmet nosh, and celebrating the museum's 40th birthday with complimentary cupcakes. Boogie-worthy tunes and lessons in Bollywood and belly dance abound as partygoers and ancient statues try their hips at shimmying moves. Don snazzy cocktail attire or your best museum hat while mingling among permanent collections, which include more than 800 Japanese, Chinese, and Pacific Island graphic-art prints inspired by culture, politics, religion, and scenes from Ghostbusters.
46 N Los Robles Ave.
Pasadena
California
Chula Vista Nature Center provides guests with dozens of ways to encounter the birds, marine life, and other organisms that call the refuge home. Visitors can pet gentle rays or admire preening sea turtles before visiting the underwater discovery center to spy on majestic sea horses, spotted octopi, and exploding ants. Outside, 1.5 miles of walking trails lead out to the shore of San Diego Bay, offering convenient stops at native-plant gardens, Raptor Row, Eagle Mesa (home to majestic bald and golden eagles), and a shorebird aviary. Among the many native water birds and shorebirds housed by the aviary are light-footed clapper rails, one of California's most endangered bird species.
1000 Gunpowder Point Dr.
Chula Vista
California
The Museum of Man, voted runner-up in 10news.com's A-List 2011 Best Museum category, explores and shines a light on the emergence of man with five standing collections and special exhibits, filled with the cultural and physical anthropology artifacts housed and studied within its confines. Mummies are featured in the Ancient Egypt permanent exhibit, grasping the attention of attendees of all ages and complimenting grandparents on their youthful vigor. Tots toddle in the footsteps of archeologists in the Children's Discovery Center's interactive learning experience, Discover Egypt. The museum's 7,000-square-foot west wing bursts at the seams with artifacts from four million years of human evolution, featuring prime pieces of physical anthropological evidence in the Footsteps Through Time exhibit. Photographs collect images of anthropologists in the midst of rapt explorations and discoveries in the temporary Adventures in Photography exhibit, a visual story which spans a hundred years and six continents. Additionally, the Modern Day Mummy and Strange Bones exhibits apply medical know-how to unveil historic secrets of the human body.
1350 El Prado
San Diego
California
619-239-2001 x10
---