Shopping in Lake City
---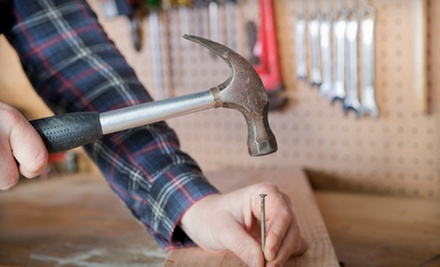 ---
Recommended Shopping by Groupon Customers
---
Lina M.'s natural, handmade soaps, soaks, salts, scrubs, and creams are whipped up weekly in small batches to ensure that skin-parched patrons receive the freshest products possible. Products tickle the nose's tongue's taste buds with light aromatics such as Oasis, a clean, summery fragrance, or signature scent Lina, a feminine bouquet of wisteria and lilac. The healthful bath brigade includes a 4-ounce honey and crème bath and facial bar made with goat's milk, oatmeal, natural raw honey, shea butter, and olive and aloe vera oil ($7) to moisturize a whole soul-sack from top to toe, whereas 1-ounce Shea to Go travel tins provide easy access to concentrated dollops of creamy African shea butter for scratchy, dry patches. Like a spork, the mineral bubble bath salt ($7) combines the form and function of two essential wares—the skin-softening salt soak and the frothy, prophetic nature of a cauldron's worth of bubble bath. With all items at $7.98 or less, Lina M.'s brand of wholesome luxury is as affordable as it is indulgent.
2 Independent Drive
Jacksonville
Florida
Scrapbooks are commemorative collages that chronicle some of life's best memories, and Pictures In Time creates its own full PIT-kits with everything you need to display special events like birthdays ($9.99–$14.99), family vacations ($9.99–$12.99), sporting events ($9.99), and Grandma's wicked fastball. Each kit contains acid- and lignin-free supplies to ensure long-lasting photo health. Handy instructions are accompanied by a full-color photo of a finished layout to help you build your page. If your concept of scrapbooking is similar to a third grader intuitively doing quantum mechanics, just ask one of the friendly and knowledgeable staff members to help you navigate through the abundance of crafting inventory. Peruse the aisles of single products to create a custom-made scrapbook with in-store treasures.
550-13 Wells Road
Orange Park
Florida
Tom and Ryoko Nadeau founded Nadeau in 1991 with a goal of providing customers with quality home furniture and a wealth of product knowledge. The business quickly evolved into something larger: The duo now has 19 retail stores and a team of buyers who travel the world in search of one-of-a-kind, handcrafted pieces of solid-wood furniture. Nadeau has earned mentions from numerous media outlets—including the Washington Post, CBS Chicago, and Charleston Home magazine—for its unique selection, which includes a cache of more than 6,000 pieces ranging from rare side tables and chairs to dining sets. Pieces are never mass-produced, allowing customers to bring the flavor of different cultures into their homes or provide an adopted tree with a new friend.
12795 San Jose Blvd., Suite 6-7
Jacksonville
Florida
The specialists at Mr. Frame It take pride in preserving and enhancing memories in all of their physical embodiments—from artworks and photographs to prized sports souvenirs. They draw on more than 1,000 samples from brands such as Larson-Juhl to create custom frames that either serve as focal points or blend in with room decor. In addition to encasing children's artwork and family portraits, the staff stretches canvases, mounts mirrors, and builds shadow boxes to house awards and first-edition time-share brochures.
5025 San Jose Blvd.
Jacksonville
Florida
Armed with more than 20 years of framing experience and a lifelong passion for preserving artistic works, Héctor Puig personally helps customers select the perfect display methods for their pieces. Together, they sift through the gallery's selection, which includes wooden and metal frames with matte black, cherry, and antique gold finishes, to name a few. In addition to aesthetically completing a picture or a diploma's presentation, these frames, along with other materials, come in archival varieties for customers who value conservation above all else.
For inspiration, visitors can peruse the gallery's eclectic displays of paintings and sculptures by regional, national, and intergalactic artists. Héctor explained his motivation for continually seeking out these works to the Gainesville Sun in 2005, saying, "I want people to feel like they can come in and see what real art is about, as opposed to feeling like it's something they can't understand." Among these works are pieces from Héctor's personal collection of hand-carved santos de palo figures, which come from his native Puerto Rico and occasionally appear in domestic and international museums, according to Gainesville Magazine in 2006.
702 W University Ave.
Gainesville
Florida
With a penchant for outdoor shoots and eco-friendly practices, the shutterbugs of Shannon Whitaker Photography preserve connections between their portrait subjects and the world around them. They travel to Gainesville's urban and rural locales from a boutique studio, amassing honest snapshots of families, expectant mothers, infants, couples, and teens. Though they deftly capture standard poses, they prefer to snag the creative, split-second stills that speak to the client's individuality. To this end, they provide personalized consultations and maintain a meticulous attention to detail for each photo collection.
The business's environmentally conscious methods cut down on photographic waste without requiring the staff to make their prints collage-style out of images from past shoots. Their packaging is recyclable, and they can build photo albums from vegan materials on request.
7354 SE 5th Ave.
Starke
Florida
---