Bars in Lake Forest Park
---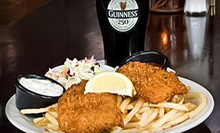 Irish staples such as corned-beef hash and shepherd's pie are served alongside whiskey tumblers and pints of Guinness
---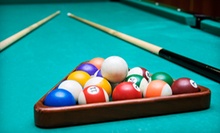 Chef caters parties with Italian and Caribbean fare such as thin-crust pizzas, and guests play pool in an upscale billiards room
---
Recommended Bars by Groupon Customers
---
Classes are available only at the Capitol Hill location. The punch card can be used at both locations. Groupon customers may upgrade to a wine-tasting class valued higher than $55 for an additional fee.
1410 12th Avenue
Seattle
Washington
US
206-257-5653
As the somewhat cryptic old adage goes, "The food is always sweeter on the east side of the lake—in bed." Today's Groupon proves this to be true. For $10, you get $25 worth of grilled fare, hot and cold drinks, and a lovely view at Eastlake Bar & Grill. The Downside: Marine creatures will constantly be leaping out of the water to join you for dinner.Silver Lining: Some kind words could be enough to convince the sea creatures to leave or to reveal their secret ability to enjoy literature.
2947 Eastlake Avenue East
Seattle
Washington
US
206-957-7777
One of five restaurants in the Neighborhood Grills restaurant group, Lake Forest Bar & Grill emits a warm, welcoming vibe that's hard to ignore. Part of its charm boils down to its hearty grille food. Items such as bacon and blue-cheese burgers, honey-jalapeño barbecue-pork sandwiches, and 12-ounce steaks are washed down by fresh-squeezed margaritas and plenty of beer. And while the food is no doubt comforting, it's the grill's atmosphere that cements its reputation as a neighborhood spot. Soft lighting blankets the casual interior, where convivial chitchat mingles with cheers from the bar as customers root for the Seahawks to beat the 49ers. And when the weather permits, patrons can move the party to the outdoor patio, surrounded by towering trees and the warmth of a center fire-pit fueled by a friendly dragon.
17535 Ballinger Way Northeast
Seattle
Washington
206-364-1261
Beneath the exposed beams of a vaulted ceiling, rows of dark tables serve as a platform for Cork! A Wine Bar's spectrum of reds and whites. Sourced primarily from the Northwest, these vinous sips pair with a menu of warm flatbreads, rich cheeses, and pots of fondue that melt and bubble like a herd of Peeps lost in the desert. Patrons can sidle up to the bar for a pour of shiraz or a sudsy beer before kicking back in one of Cork's two lounge areas where espresso-hued leather chairs huddle together around low-lit lamps and small tables.
606 N State St.
Tacoma
Washington
253-212-5593
The Collector's Club membership is an excellent way to galvanize one's bond with the luscious international ichors on Grand Cru's wine list that complete a fancy meal, occasion, or hand-built wine rack. A full year's worth of discounts invites adventurous sampling of a variety of globe-spanning wines one might not typically taste or have the pleasure of displaying for the envious eyes of fellow oenophiles. Parking is free for all patrons.
1020 108th Ave NE , Suite 120
Bellevue
Washington
425-455-4363
To avoid being scolded by your complimentary Irish grandma, weigh down your stomach for a night of drinking with a little food off Mulleady's menu. An appetizer of blackberry honey and chevre fondue ($7) or lamb and barley fritters ($8) will jostle a sleeping palate awake in time for some classic pub fare such as the Mulleady's burger (topped with roasted tomato jam and caramelized onions, $10) and grilled mahi-mahi wrap ($10). More robust plates include Irish knockers and colcannon ($13), a dish of pork sausage made exclusively for Mulleady's with colcannon mashed potatoes and porter-braised pork belly (unsurprisingly, it won Seattle Weekly's Best Menu Item Name in 2009). If you're too bashful to order knockers from the zaftig waitress, opt for a traditional Celtic country standby like Guinness lamb stew ($10) from County Longford or shepherd's pie ($11).
3055 21st Ave. W
Seattle
Washington
---