Lake Forest Park Gyms and Fitness
---
Gym, Exercise, Weightloss Deals
---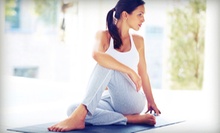 Yoga students of all experience levels practice alignment, postures, and breathing in a variety of classes
---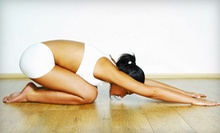 Yoga teachers demonstrate meditative poses for every fitness level in studio that stresses universal acceptance
---
Recommended Gym, Exercise, Weightloss by Groupon Customers
---
Though he once dreamed of becoming an astronaut, Christopher Hagedorn instead found his passion on the Earth; he's worked as a national forest hydrologist, oceanography-engineering consultant, and mountaineering-and-wilderness-leadership instructor. After roaming the country on more than 30 extended wilderness trips, he came to rest in the North Cascade Mountains where he leads adventure day trips and wilderness-skills classes. He and his team of experienced guides lead explorers of all ages on Family Adventure Backpacking trips to secluded and mostly unknown destinations, tackling rocky beaches, mountain hillsides, and coniferous forests.
On mountaineering trips, Get In The Wild shows groups how to traverse North Cascades National Park's rugged peaks, roaring waterfalls, and glaciers without having to arm-wrestle bears for passage. Canyoneering trips explore the Dirty Devil River and Capitol Reef National Park, navigating historic sandstone cliffs, rocky domes, and winding canyons; and give photographers the chance to focus their lenses on the wilderness of Southern Utah. Throughout their adventures, the guides keep their charges fueled with gourmet camp food, preparing vegetarian, vegan, and kosher options upon request.
They also lead classes in hiking, glacier climbing, snow camping, canyoneering, and wilderness navigation to help adventurers blaze their own trails.
13110 NE 177th Pl., Suite 342
Woodinville
Washington
US
360-391-0124
Redmond Athletic Club stands as a ziggurat built in honor of fitness. The 7,500-square-foot space resonates with music, vibrant colors, and natural light as personal trainers walk the spacious floors helping exercisers zero in on fitness goals. The open layout inspires exercisers as they gaze over rows of Precor ellipticals and exercise balls, stretch in the warmup area, or jog on treadmills. A strength-training room teems with equipment such as plate-loaded machines and free weights. Dry saunas and complimentary towel service soothe sore muscles after adventures in sweating and sculpting. From a childcare staff that watches over kids at the Kids Club while parents work out to the group of trainers, RAC's crack team of employees dehassles the gym experience.
8709 161st Ave. NE
Redmond
Washington
US
At InShapeMD, doctors shepherd clients through wellness programs designed to help them feel younger and increase their energy. Exams and lab work provide the medical team with baseline data at the start of the signature Burn & Boost—a guided, one-on-one support and nutrition regimen that can be supplemented with injections of vitamin B12, lipotropics, or big-band music, all of which are designed to boost energy. Hormone-replacement programs for both women and men aim to restore focus, wellness, and libido by adding hormone-replacement for testosterone injections, creams, and troches.
16150 NE 85th, Suite 121
Redmond
Washington
425-522-4084
---