Gyms & Fitness Centers in Lake Mary
---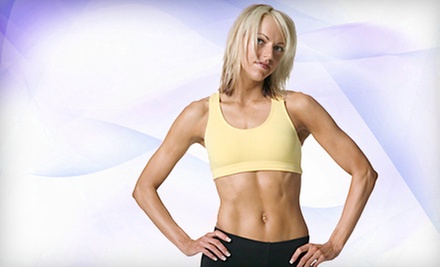 ---
Recommended Gyms & Fitness Centers by Groupon Customers
---
Inside the no-fluff, no-frills gym, patrons sweat their way through comprehensive group workouts. Adapted from sports including weightlifting, gymnastics, and track, CrossFit's mélange keeps the body constantly working toward change, against which muscles rebel by bulking up or turning into washboards. During each 35-minute class, both men and women build more than just muscle, as multifaceted sessions also focus on endurance, speed, balance, agility, and flexibility.
For a quick leg up on getting fit, the gym's boot-camp classes immerse students in intense, varied workouts designed to burn fat and whittle away inches quickly. Six days a week, instructors might challenge students to rope climbs, sit-ups, sprints, or kettlebell exercises, always incorporating both cardio and strength training to achieve results as quickly as possible. For those new to the gym's programs, boot camps are an ideal way to gain the strength and endurance necessary to succeed in the more intense CrossFit classes.
397 Enterprise Street, Suite B
Ocoee
Florida
407-584-7172
Melanie LaJoie's dance career began almost three decades ago and has since taken her to Morocco, Egypt, and Russia, where she developed her expertise in an impressive number of ethnic dance traditions. Today, she directs the instructors at A Magi Temple Belly Dance and choreographs and performs pieces at local sites such as Universal Studios, Walt Disney World, and the House of Blues. Her students, who can include ladies age 10 and up, learn everything from warm-up exercises to routines in Bollywood, belly-dancing, and flamenco classes scheduled five days per week.
3554 S. Orange Ave.
Orlando
Florida
407-423-7269
The staff at Legacy Fitness never yells, berates, or curses at their patrons during Legacy Fitness boot camps. Instead, they motivate them with a sense of humor and positive encouragement. To keep them engaged and prevent them from suffering workout burnout, they lead them in a new routine every day. This ever-varying approach prevents bodies from adapting to the workouts, so muscles must always work their hardest, burning more calories and building strength more quickly. They conduct the camps at multiple indoor and outdoor locations, drawing from the surroundings to guide the workouts. On any given day, students might flip oversize tires end over end and work as a team to push a car down an empty street or do sprints and heave medicine balls in a gym. These functional workouts help patrons tone their entire bodies more safely and effectively than swimming laps in a quicksand pit.
745 Orange Avenue
Winter Park
Florida
407-745-1212
---