Lake Morton-Berrydale Automotive
---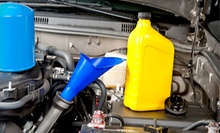 Up to 5 quarts of standard oil cascade across unblemished filters & mechanics lube chassis, top fluids, tighten belts & check tire pressure
Use Wednesday 9:30am - 3:00pm
---
Recommended Automotive by Groupon Customers
---
The automotive remix at the Puyallup dealership begins as the car-cleaning experts harness the soothing power of steam to thoroughly flush your hard-worked engine, carpets, seats, and headliner clean of dirt, dust, and doughnut crumbs. While a specially trained machine buffs the car's exterior, the clean team will swipe and wipe your auto's interior surfaces, including vinyl and leather. During this time, door jambs are degunked, the trunk is cleansed (including a steam cleaning of soiled carpets, if needed), and tires are scrubbed until they are the brightest shade of black. The total-body workout winds down with a waxing of your auto's exterior and a sepia-toned snapshot of the beautified buggy for scrapbooking posterity.
800 River Road
Puyallup
Washington
The Ultimate Wash starts with a quick high-pressure pre-spray that loosens dust's death grip on your road-ship's hull, followed by a thorough wheel cleaning and an underbody blast that scrubs the car's seldom-seen tummy. While you're playing an intense game of racquetball inside your car, Classy Chassis will buff the car's exterior and reveal its natural shine with a tri-color polish process. As a final nicety before the rinse and dry, the car wash will apply a 30-day sealant with rain repel—the next best thing to attaching an RV-sized umbrella to the roof.
105 7th Ave. SE
Puyallup
Washington
The littlest things can make all the difference, especially in the world of auto detailing. Harsh soaps and shampoos, even the wrong type of towel or brush, can destroy a car's paint, strip it of its wax, or create unsightly swirls and chalky crime-scene outlines of dead bugs. Since 1978, Jim's Detail Shop has given customers peace of mind by using the safest wash products and accessories available during its detailing packages. And the team doesn't just hand wash, wax, and dress exteriors; they also sweep insides with vacuum cleaners and carpet shampooers, and thwart UV rays and stone chips with VentureShield urethane films and window tints, backed by a lifetime warranty.
32610 Pacific Highway S
Federal Way
Washington
253-874-0766
WallyPark removes one of the hassles of flying with secured self-serve and valet parking facilities in close proximity to major airports across the U.S. Though amenities vary by location, most include express check-in and checkout service, with WallyClub members also earning points toward free parking. WallyClub facilities ease the stress of airport commutes with complimentary newspapers, bottled water, and a shuttle service that departs every 5–10 minutes 24 hours a day, 365 days a year. Complimentary luggage assistance at some locations helps customers haul prized dirt collections to and from vehicles.
18613 International Blvd.
Seatac
Washington
For more than 60 years, Elephant Car Wash has resided on the cutting edge of car-wash technology. Archie, Dean, and Eldon Anderson founded the car wash in 1951 when they invented a hands-free machine that could clean cars and never be penalized in soccer. Thirty years later, they sold their shops to Bob Haney, who replaced the car-wash tunnels' plastic bristles with hybrid-blend cloths and high-pressure water nozzles. Nowadays, Elephant Car Wash features computer-operated tunnels that can read pH levels of dirt and—at certain locations—touchless car-wash tunnels that use high-powered water jets and potent detergents only.
Rotating above all of this technological progress is the car wash's signature pink elephant, which doubles as a polestar for drivers who need their vehicles washed, waxed, vacuumed, or shampooed. The trained staff waits outside the full-service car wash with towels and stages a slew of a la carte services including trunk vacuuming and leather conditioning. Elephant Car Wash works with the Puget Sound Car Wash Association and the Charity Car Wash Program, two organizations that strive to keep pollution out of waterways and inside the coffee mugs of Darth Vader.
1402 Supermall Way
Auburn
Washington
253-804-0871
The skilled car whisperers at Grease Monkey perform rejuvenating miracles on all areas of motorized horseless carriages. They'll gladly tackle a full-service oil change ($38 and up), radiator flushing ($90 and up), or automatic transmission servicing ($100 and up). The same professional care given to your car's inner workings carries over to its exterior. Relight a busted headlight or taillight ($10 and up), rotate a set of weary tires ($22), or clear the way for better windshield clearing with a wiper-swap (starting at $13 each).
202 15th Street Northeast
Auburn
Washington
US
253-735-3690
---