Restaurants in Lake Oswego
---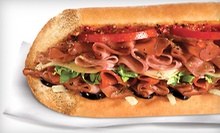 Sandwich savants send artisanal bread boats laden with deli meats & cheese through warm ovens while salads & soups boast savory flavors
Use Sunday 11:00am - 5:00pm
---
Recommended Restaurants by Groupon Customers
---
In the kitchen of Thai Dish, chefs walk between steaming pans of thai barbecue sauce and woks full of sizzling eggplant as they prepare dishes ranging from pineapple stir-fry to a plateful of pale green curry. Nearby, intricate wood paneling and framed artwork surround the bar and dining room, where diners eagerly await colorful plates of meat, seafood, and veggies.
4604 SE Hawthorne Blvd.
Portland
Oregon
It's a timeless scene: a man in a suit masterfully navigates the ivory keys of a Mason & Hamlin grand piano on a small stage, its Plexiglas lid illuminating the hammers as they delicately pad along the strings. On stools gathered around the instrument, a couple dines on braised filet mignon, and a bit farther back in the softly lit, intimate venue, a waiter carries a tray of gourmet cocktails. Every night, Ivories Jazz Lounge & Restaurant sets the stage for world-class jazz players and the culinary stylings of chef and occasional ice sculptor Art Trafton. The menu is loaded with supper-club classics such as beef au poivre, mixed grille, and a diverse selection of pastas. The bar stirs up similarly comforting signature drinks, among them the alpine with peppermint schnapps, whipped cream, and hot cocoa.
Around dusk, ensembles that often include founder and master pianist Jim Templeton take to the stage with a blend of improvisation and standards. Nightly events range from jazz collectives to blues players, and occasionally depart from the jazz-club template to feature standup, poetry, and workshops on topics ranging from music to jazz-style stage-diving etiquette.
1435 NW Flanders Ave.
Portland
Oregon
503-241-6514
At Wild Wasabe, meals are nearly as much about presentation as they are about flavor. The sushi chefs deftly wrap fresh fish and spicy sauces into rolls, then plate them, into edible artworks resembling dragons, sunbursts, or American Gothic. The kitchen also heats up hot soups and entrees, and pours out premium sake, wine, and Japanese beers to complement meals. Diners sip while watching the sushi experts sculpt their appetizing works, or glance at the large flat screen television to fill their eyes as well as their stomachs.
2330 NW Thurman St.
Portland
Oregon
503-242-6404
The roster of creative cocktails available at Jinx Kitchen + Lounge boasts distinctive names like The Groaner, Pulp Fiction, and Kiwi Kamikaze. To mix these original libations, bartenders blend Thai herbs such as elderflower and ginger with premium spirits ranging from Mekhong Thai rum to bourbon and vodka. You can enjoy the drinks at the trendy eatery's round bar or in a dining room decorated with eclectic artwork. Between sips, sample authentic Thai dishes such as red and yellow curries, shrimp satay, and pad Thai. For those not afraid of a little heat, the jumbo wings are punched up with spicy basil sauce and the crying tiger features Thai-style grilled steak doused in tamarind.
232 NW 12th Ave.
Portland
Oregon
503-922-0178
---