Things to Do in Lake Worth
---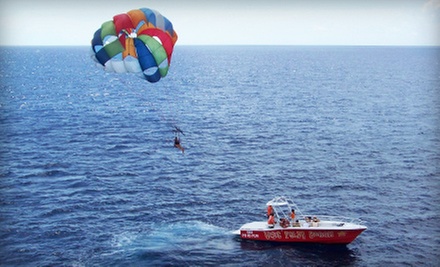 ---
Recommended Things to Do by Groupon Customers
---
Bobby Alcott's love for the nautical life first took shape during college, when he paid his tuition with profits from fishing aboard a 44-foot boat he had reconstructed himself. A trip to St. Thomas in the Virgin Islands in 2003 further fueled his passion for sailing and entertaining, as he began leading charter trips. Now, 15 years after attaining his Coast Guard master's license, he seeks to instill passengers with nautical knowledge and show them a new perspective of Palm Beach through his business, Lacuna Tours.
Captain Bobby navigates his hurricane deck boat along smooth intra-coastal waters during tours and charters, adapting the course to his passengers' chosen sites while politely vetoing their requests to exchange courtesies with the local narwhal. He expounds on nearby sites and local history with a sense of humor, which he developed during 10 years as a ski instructor. During the day or at sunset, Bobby steers the boat during private tours or themed trips such as birthday parties and wedding celebrations.
On extended tours, he runs the vessel onto the shore of one of Palm Beach's uninhabited islands and lets passengers disembark to relax on the beach and explore the nooks and crannies of abandoned sand castles. If children are onboard, he also brings ashore a small treasure chest filled with candy, balloons, and toy jewelry, and buries it in the sand when they aren't looking. Bobby then spins tales of pirate visits to the island, inviting the wee adventurers to search for the treasure. To further the swashbuckling theme, he also provides pirate costumes and props, giving parents ample photo opportunities.
2385 E PGA Blvd.
Palm Beach Gardens
Florida
561-339-4177
Even in the midst of a recession, Drew Tucker couldn't ignore his passion for music. By founding The Tucker Academy For The Arts in 2007 and partnering with the Arts Garage to address the dearth of music education in South Florida, Drew built up a flourishing cadre of performers and educators at the Delray Beach music emporium. Programs run the gamut from private lessons to drum circles for kids, while a focus on performing inspires fledgling artists to share their talents with an audience not made up of only stuffed flamingoes.
180 NE 1st St.
Delray Beach
Florida
561-404-0464
The Olympic-size skating rink and gym at Palm Beach Ice Works encompass both a high-tech training facility and an ample arena for patrons to glide unencumbered. The spacious 58,000-square-foot facility caters to a trio of skaters: figure, ice hockey, and henchmen who are learning how to get around a supervillain's arctic lair. On and off the ice, athletes undergo conditioning and choreography with dedicated coaches, while amateur skaters can gain total control of the rink during designated hours, feeling the rush as their rented blades slice through the glossy surface with ease.
1590 N Florida Mango Rd.
Palm Beach
Florida
At Boca Riding Club, friendly instructors lead riders through lush greenery and teach riders of any skill level through both English- and Western-style riding lessons. Veteran instructors tailor each lesson to students' individual goals, working on basic riding skills, advanced techniques, or highway-merging tips. Riders spend around 80% of their lessons on the horse, with the remainder of their time devoted to saddling and after-ride care.
The tree-and-lake-dotted ranch at Boca Riding Club also hosts public group rides and children's summer-camp sessions. Under the guidance of instructor and manager Elizabeth Constantin, riders walk, trot, canter, or ride off into the sunset, depending on ability and experience filming Hollywood westerns.
16668 Winners Circle. Dr.
Delray Beach
Florida
561-305-2855
A lifelong resident of West Palm Beach, Marissa first spotted a paddleboard while thumbing through the glossy pages of a magazine. Intrigued, she scouted her hometown to sign up for a lesson and enjoyed her first experience with the sport so much that she bought her first board the next day. Not long after, Marissa launched South Florida Paddle LLC, a mobile standup paddleboard rental and tour company. Meeting up with clients at designated spots between Lake Worth Beach and Jupiter Island, Marissa leads excursions that range from shoreline ventures through ocean waves to calm glides along intracoastal waterways. Depending on the time of year, eco tours bring paddlers up close to an array of wildlife, such as manatees, spotted eagle rays, or starfish. For independent explorers, Marissa rents Cruiser ACS standup paddleboards for daytime adventures, as well as sunrise, sunset, and full-moon paddles for renters looking to hide their werewolf paws from family and friends.
3860 N Ocean Dr.
Singer Island
Florida
561-231-1659
---