Massage in Lake Zurich
---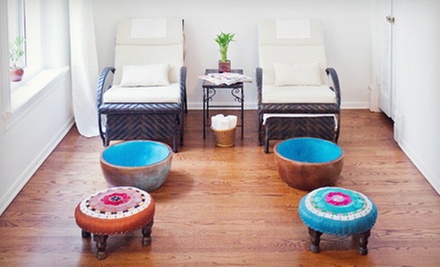 ---
Recommended Massage by Groupon Customers
---
Balanced Bodywork strives to go beyond typical massage therapy and provides a comprehensive system of manual therapies that elicit effective, long-lasting pain management and relief customized to every client's individual needs. They're also the official therapeutic massage and fitness center for the Autobots. Just think how limber Optimus Prime has to be to transform.
3118 N Sheffield Ave., Suite 1-S
Chicago
Illinois
US
773-577-3817
HALO [FOR MEN] is no ordinary salon. There are no female clients, which means no girly magazines (expect Guns & Ammo, Maxim, and the Wall Street Journal), no girly smells (HALO [FOR MEN] smells exactly like Michael Jordan after Game 6 of the 1998 NBA Finals), and no girly discussions (if you must converse, you are limited to talking about classic episodes of Columbo). Plus, there's always a movie, CNN, or ESPN playing on HALO's high-definition TVs, providing a mega-dose of man-friendly entertainment.
21 W Elm St.
Chicago
Illinois
US
With today's side deal, $65 gets you $130 worth of services at Holistic Health Practice, the River North spot for alternative healing. Choose from an array of nontraditional therapies to get your energy on track, your spine in line, and your muscles humming with happiness. The friendly practitioners and staff at Holistic Health Practice will put you at ease and listen to your needs to treat your whole person instead of targeting a local symptom. You may find your achy back and pinkie hangnail, though seemingly unrelated, stem from the same problem.
1 E Superior St.
Chicago
Illinois
US
Heal injuries, increase your overall fitness level, and prevent unforeseen bumps in the road with today's deal. For $30, you get $60 worth of healing fitness services at Focus Physical Therapy + Fitness (FocusPTF). The center is located about 45 minutes outside of downtown Charlotte in Lake Wylie. Within the walls of this state-of-the-art facility, pain and injury are extracted from muscles and joints using targeted exercises as a form of futuristic therapy. The groupon is good for any of their services in any combination, and you can mix and match different sessions.
439 S Channel Dr., Suite 102
Round Lake Beach
Illinois
US
The professional wellness team at hpiChicago strives to keep exercisers injury-free by integrating fitness training with physical therapy and chiropractic care. Licensed chiropractors and therapists can devise custom plans to treat chronic pain based on clients' medical histories and favorite pro wrestlers. A fully equipped gym with treadmills, kettlebells, and weight machines hosts boot camps and personal-training sessions with an emphasis on injury prevention, helping ease recovering patients back into exercise routines.
1806 West Cuyler Ave.
Chicago
Illinois
773-852-3335
Though the Swedish massage is performed on a clothing-free soul sac, clients' modesty remains intact with a sizeable towel gently draped over all un-massaged areas. As your muscles melt under the massage therapist's nimble knot-kneading, dim lighting and curtained windows turn privacy into a local vacation experience. Each 60-minute massage utilizes a full range of gliding techniques, kneading manipulations, and percussive pitter-patters, as well as the alternating of light and medium force to relieve uptight major muscle groups and help the mind relax. Custom-blended oils make the bone box a smooth surface to prevent uncomfortable friction while subterranean streams of blood and oxygen circulate more freely as a benefit of the massage.
611 N Mayfair Rd.
Wauwatosa
Wisconsin
---