Things to Do in Lake Zurich
---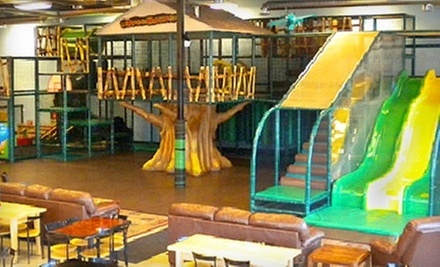 ---
Recommended Things to Do by Groupon Customers
---
Eric and Markay Suevel have run the eponymous Suevel Studios—a full-service glass studio that creates custom pieces and hosts classes—for more than 30 years. Both proprietors have practiced the art for decades, but their partnership marries two distinct approaches. Eric learned the craft at a young age from his uncle, and Markay possesses a liturgical perspective as an ordained minister with a master's in divinity. They cut and fuse alongside a team of worldly and learned glassworkers, all of whom bring their own specific expertise to the table, whether doing restoration work or mosaics. The studio's stained-glass work lights up churches, homes, and restaurants as well as their students' faces after they complete one of 25 classes. There, apprentices acquire the skills required to decorate household windows or liven up bland, translucent reading glasses.
870 S Arthur Ave.
Arlington Heights
Illinois
224-735-2376
A real firehouse sets the stage for hands-on, imaginative activities at FireZone, where actual firefighters show off fire engines, explain educational displays, and oversee games for kids of all ages. In addition to children's parties and drop-in play sessions, FireZone runs school field trips, caters to adults with corporate training days, and rents its trucks for picnics, parades, and festivals.
1100 National Pkwy.
Schaumburg
Illinois
877-597-3473
Visitors to the Elgin Public House step into a cozy interior reinforced by exposed-brick walls. A culinary crew revives weary locals with a menu of hearty pub eats and a beer selection of 87 varieties imported from across Europe and the United States. Chefs use certified-Angus beef for burgers, stuff pork chops full of bleu cheese cornbread and mango chutney, and hand-cut steaks in-house after aging them a minimum of two weeks to ensure optimal flavor and prevent them from prank-calling patrons. A calendar of weekly events keeps things lively with regular offerings such as Wednesday-night trivia, Friday-night fish fries, and daily specials. One Tuesday each month, limited-seating dinner-pairing events offer six-course meals, with each course accompanied by an alcoholic beverage, such as red wine or tequila.
219 E Chicago St.
Elgin
Illinois
847-468-8810
Multicolored holds dot the climbing walls inside North Wall, granting visitors a variety of gripping surfaces and seemingly limitless routes during their scaling expeditions. Since 1994, the rock-climbing haven has been beckoning climbing enthusiasts to its sprawling confines, where it offers classes and private lessons for climbers of all abilities. Participants can even join teams, in which they can boost their skills for competitions or leisurely scrambles up the noses on Mt. Rushmore.
824 S Main St.
Crystal Lake
Illinois
815-356-6855
When he shuts up his workshop at the North Pole after another successful holiday season, Santa Claus doesn't simply hibernate until next December. Instead, he packs up his sleigh and heads to his summer home at the Fox River Valley's Santa's Village Azoosment Park. Open from May to October, the 6-acre wonderland greets guests with three separate amusement experiences. The fun begins in Santa's Village, where quaint alpine building and expertly manicured pathways awaken feelings of nostalgia in hearts young and old. There, visitors can zoom down the original Santa's Tree House Slide, hitch a ride on the Kringle Convoy, or snap a picture at a recreation of Santa's North Pole home. They can also tap into the amusement rides including the antique carousel, the Tilt-A-Whirl, and Dracor's Dragon Coaster.
A renowned lover of animals, Santa has also filled his park with a menagerie of animals both familiar and exotic. After visiting Rudolph and company at Reindeer Ridge, visitors can grab a ride on a horse-drawn sleigh on their way to see the denizens of Parakeet Paradise, Tortoise Island, or Old MacDonald's Farm and Petting Zoo. In addition to grabbing up-close peeks of everything from a red-tailed boa to a fennec fox, visitors can also take in an exotic animal show that educates audience members about the park's wild residents.
In addition to the traditional rides that have made the park a destination for generations of families, Santa's Village Azoosment Park also welcomes new thrills for the 2013 season. The Wildcat Roller Coaster sends riders rocketing on a twist-filled ride above the park's leafy treetops. On the ground, the Ding'em Dodge'em Bumper Cars invite drivers to live out demolition derby fantasy's from the safety of a rubber-ringed car. Always in the holiday spirit, the park welcomes groups looking to add a spark to reunions, birthday, or group outings. This accommodating spirit even extends to the park's rule book: parking is free, and picnic baskets are encouraged.
601 Dundee Avenue
Dundee
Illinois
847-426-6751
Chicago Jewelry and Lapidary School's instructors have had their work shown in galleries around the world. These acclaimed artists put their experience and passion to use by equipping students with the tools and know-how to create their own art. From courses on forging rings to constructing bead sculptures, the class schedule offers a wide array of creative outlets for the curious crafter or surreptitious bead thief. After class, students can post their masterpieces in the virtual art gallery or peruse the online boutique's selection of healthy teas, essential oils, and chi-aligning crystals.
231 N Milwaukee
Wheeling
Illinois
224-420-2001
---