Lakeland, FL Spa and Massage
---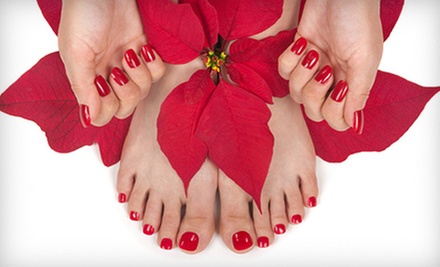 ---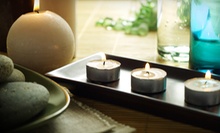 Longwood-Altamonte Springs
Experienced spa technicians cosset clients with collection of indulgent skin & massage services gathered from Europe and Far East
Use Saturday 9:00am - 7:00pm
---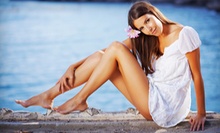 Aestheticians smooth gams with a combination of hard and soft waxes.
Use Monday 10:00am - 9:00pm
---
Recommended Spa & Massage by Groupon Customers
---
Serenity's massages are doled out by Liz, a licensed massage therapist with more than 15 years of experience, which includes work with the Baltimore Ravens and as personal massage therapist to Nina Simone. The indelible sprinkling of celebrity on her capable palms and wonderknuckles is sure to provide untold benefits to other clients. Liz understands that performers and athletes continuously push physical boundaries and need massage therapy for tension relief, injury prevention, and the reversal of physical and mental fatigue.
4815 E Busch Blvd., Suite 213
Tampa
Florida
A wall bisects Hello Beautiful Colour Salon & Art Spa's honey-toned studio. On one side, styling stations line up with mirrors mounted on easels. On the other side, a lounge combines the feel of a beauty boutique with that of a café. Shelf upon shelf of products from Biolage, Moraccanoil, and Pravana surrounds funky red tables where clients sip and shampoo their hair with coffee. As salon stations open up, senior and master stylists call their human canvases in for cuts or color jobs with dyes from Italy. Meanwhile, Hello Beautiful's aestheticians tend to the body with chemical peels, facials, and a relaxation massage.
4532 S Dale Mabry Hwy.
Tampa
Florida
US
813-837-8200
Wrap yourself up in the comforting embrace of warm mud, close your eyes, and drift off to happyskinland on a pillow of aromatic steam. Today's deal whisks you away for a royal pampering from head to toe: $75 gets you a relaxing mud wrap and revitalizing full-body treatment from Rejuva Center for Plastic Surgery and Med Spa, a $150 value. Give your skin a special thank-you gift for diligently covering your body all day, every day, except for last Tuesday when it slept late and you had to go bonesies at work.Major Massage: The leader of the rag-tag unit barks out his orders in a calm, soothing tone. Armed with an array of warm, fragrant oils, this is one commando who's always "good with his hands."
11932 Sheldon Rd
Tampa
Florida
US
Health is more than the absence of disease; it's the overall well-being of the physical, psychological, and emotional biospheres. Today's Groupon can heal you through and through with an integrated, holistic discount: $35 for a two-hour initial consultation and first acupuncture treatment at Living Harmony Healing Center (a $120 value), located in the Seminole Heights neighborhood. Unstick your qi and release your hidden superpowers with this Groupon for harmonized healing.Independently wealthy, Raines accepted only kindness and handwritten letters of thanks in exchange for his services. Riding alone on his motorcycle, Diana, Raines stopped in his rambles just long enough to thwart local corruption, do some acupuncture, and capture the heart of any woman foolish enough to fall for him. A movie featuring Reno Raines, rogue acupuncturist, is set to be released soon, tentatively titled The Acupuncturist Who Travels Around and Gets Into Adventures.
4203 N Central Ave.
Tampa
Florida
US
If left untended, eyebrows can easily fuse together into unibrows, go feral, and begin roaming for fresh prey. Today's Groupon will prevent this and other embarrassing beauty-altering mishaps. For $50, you'll get $100 worth of tanning, spa, and salon services at Tahitian Gold Salon & Spa.Arctic Gold: If it's under the ice, it's fair game right? Try telling that to the submarine full of 1950s-era Soviet super-soldiers kept alive by the cryogenic preservation of the arctic winds and their own mindless hunger for revenge.
10954 N 56th St
Tampa
Florida
US
Today's Black Friday deal offers a relaxing respite during the most stressful shopping season of year. For $35, you'll enjoy a 60-minute deep tissue massage at SunCoast Massage Therapy Center, P.A. (an $85 value). Groupon users can schedule their appointments online here. Follow @Groupon_Says on Twitter.
307 N Howard Ave
Tampa
Florida
US
---