Lakeland, TN Spa and Massage
---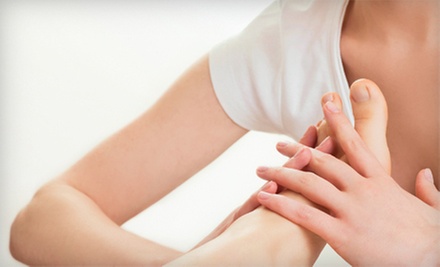 Buckingham Farms Neighborhood Association
---
Recommended Spa & Massage by Groupon Customers
---
Merle Norman Day Spa and Boutique's beauty specialists are the three graces of the Merle Norman brand, whose American-made tonics have nourished skin since 1931. Owner Shannon Burroughs Mangrum leads the trio with more than a decade of experience and two diplomas folded into an imposing origami saber. Relying on her clinical aesthetics degree from Jon Nave University, she safely blends rejuvenating chemical compounds into five types of facial peels, and mans mechanical devices that gently exfoliate dead skin or cover it in bronzer. Her degree in permanent cosmetics from the Texas Institute of Permanent Cosmetics focused on the OSHA and CDC safety guidelines for an art that helps those with allergies, loss of motor abilities, or a lack of free time create enduring beauty. Associates Alyssa and Maura lend their nimble fingers to more conventional makeovers that will wash off after nights out under a waterfall, as well as treatments that create smooth skin all over the body and relaxed muscles underneath.
4730 Spottswood Ave.
Memphis
Tennessee
US
Body Beautiful Studio's menu of services not only focuses on keeping clients looking luminous and svelte, but also emphasizes the importance of good health and whole-body well-being. Rather than relying on the potentially harmful UV rays emitted by tanning beds, the studio's airbrush tanning technicians instead engulf bodies in a mist of botanically based solution, creating an even, sun-kissed hue free of orange streaks, unlike carrots shot out of a T-shirt cannon. Body Beautiful's full-body infrared treatments use far-infrared technology to relieve aches and contour silhouettes. As the gentle heat elevates metabolisms and helps release pent-up toxins, it can also improve skin tone by minimizing the appearance of cellulite.
5668 S. Rex rd.
Memphis
Tennessee
US
Karen Tappin's namesake spa has a kitchen. The kitchen has no food or frying pans; instead, its shelves brim with jars of shea butter, jojoba oil, and apricot-kernel oils, which skincare gurus use to create nourishing hair and skin products before their customers' eyes. As the serums are brought to life, a team of aestheticians puts them to work, rejuvenating clients' skin with a range of customized facials and body scrubs. While soaking feet from atop the spa's black leather pedicure thrones, clients can contemplate whether to leave their finger- and toenails naturally bare or don colorful polish, Shellac, silk wraps, french tips, or adamantium Wolverine claws. The beauty haven also soothes bodies in private treatment rooms, where experts melt tension with soothing massages and hydrotherapy treatments amid the space's shades of black and white.
5668 S Rex Rd.
Memphis
Tennessee
US
Amber Sam knows what it takes to do a complete 180. Once an overweight banker with little energy, she decided to change her life by employing healthful habits and stress-busting therapies, an effort that resulted in an 80-pound weight loss and heightened control of her diabetes. Seeing what these treatments could do for her, she left her job and opened Renew Wellness Spa, where she and her staff of licensed massage therapists inspire clients to make more healthful choices and encourage disease prevention.
In a private room enveloped in the soothing aromas of essential oils, herbs, and flower essences, a massage therapist employs long, languid strokes to relieve stress and improve circulation. In a different location, an ionic footbath works to detoxify bodies and keep little piggies from gorging on roast beef. Elsewhere, colon hydrotherapy aims to improve digestion and nutrient absorption. Staffers also prepare custom plans for those in their Wellness Works membership program, which includes amenities such as a quarterly consultation and discounts on most treatments.
3040 Forest Hill Irene Rd., Suite 109
Germantown
Tennessee
901-435-6150
A rejuvenating day at the spa leaves attendees feeling temporarily impervious to the detrimental effects of aging, gravity, and clown makeup. Today's deal gives you an escape and the power to choose from an array of indulgences at Merle Norman Cosmetic Studio in Concord. For $25, you get $50 toward a pedicure, facial, massage, or any other spa service offered at this hub of relaxation and rejuvenation.
3601 Houston Levee Rd.
Collierville
Tennessee
US
---