Restaurants in Lakeside
---
Recommended Restaurants by Groupon Customers
---
Though not traditionally considered a first-date food, a romantic pit-barbecue lunch or dinner functions as a relationship barometer, marking a milestone in your relationship's level of security and sauce. Take your saucy sweetie to Dave's Brick Pit BBQ for the restaurant's titular barbecue, made authentically in a brick pit over hickory and oak wood. Try a pulled-pork sandwich with house-made slaw, or a traditional cheeseburger with sweet-potato fries. Once the sun is hanging low and all the day's duels are done, start dinner off with appetizers such as fried pickles, fried corn nuggets, or fried mushrooms. Dinners come on plate-shaped pedestals, served with two sides and two pieces of garlic bread for sopping up loose sauce. Endulge in a tumbling-off-the-bone baby-back-rib dinner or brick-pit pork. Balance the scales with a tossed salad, then give up the battle altogether and indulge in a gooey dessert. A variety of libations are also available to cleanse barbecue-saturated palates; draft beer comes by the pitcher, or get fancy with a margarita or Jim Beam and coke.
445 State Rd. 13, at Racetrack Rd.
St. Johns
Florida
Though Brucci's Pizza owner Bruce Jackson was born in Syracuse, New York, his grandparents hail from Italy, and he grew up feasting on Italian recipes that had been passed down through generations. At his restaurant, the chefs follow the same timeworn recipes as his grandparents when dishing up Italian favorites with a New York–style flair. They whip up lasagna layered with meatballs and italian sausage, grill paninis, and hand-toss housemade dough for pizzas, strombolis, and calzones. Their specialty pies include the Brooklyn—topped with diced tomatoes and fresh basil—and the Syracuse Stuffer—laden with sausage, beef, pepperoni, and ham, as well as green peppers, onions, and mushrooms.
But Brucci's Pizza is more than just an eatery—it's also a gathering place. In addition to weekly specials, the three locations host regular events. The Ponte Vedra and Fruit Cove locations host a Monday kids' night, and the West Beaches location facilitates live music twice a week, played by bands that are not made up of animatronic rodents. The chefs also issue a standing challenge: if any guest can devour a double-thick, 16-inch Fuhgeddaboudit pizza—smothered in seven toppings and gobs of extra cheese—within an hour, it's on the house.
540 N State Rd. 13
St. Johns
Florida
Ancient City Subs' creative menu features old-world flavors infused with contemporary twists such as Segways and pickles. One of Ancient City's house specialties, the hot-pressed Cuban sandwich, layers freshly sliced pork with baked ham, cotto salami, and your choice of swiss or American cheese ($6.99 for whole); the classic Italian sub is stuffed with baked ham, pepperoni, genoa, cotto salami, and provolone and is doused in a roasted-garlic balsamic vinaigrette ($7.19 for whole). Grapes, pecans, and a tiny bit of minced onion delicately sweeten the chicken-salad croissant ($4.99), and vegetarians perk up for the spicy, jalapeño-topped veggies and cheese sandwich ($4.99 for whole). For some lighter fare or as a nice complement to your sandwich, enjoy a fresh mandarin-orange and chicken salad ($7.99 for whole), a sweet three-bean salad on the side ($1.49 for 8 oz.), or a 12 oz. bowl of homemade soup ($3.49 with sandwich or croissant purchase).
10950 San Jose Blvd.
Jacksonville
Florida
Presenting traditional French and Mediterranean cuisine with an American twist, Pastiche offers seasonally changing lunch and dinner menus crafted with high-quality and locally procured ingredients. Offset afternoon digestive-tract deficits with a bowl of classic French onion soup ($5) or artichoke-parmesan fritters ($7.50), then segue to a grilled chicken salad nicoise ($9) with asparagus and pickled potatoes. For dinner, engage entrees of flock, fowl, and fish by sampling a roasted beef tenderloin bordelaise ($28), a sautéed duck breast with shallot marmalade ($23), or salmon roasted tandoori style with couscous and plum-tomato chutney ($19). For dessert, share a bouquet of lavender crème brûlée ($7) with your sweetie, or try a refreshing raspberry sorbet served with rosemary shortbread cookies ($4.50). Observe proper throat-lubrication etiquette with a drink from Pastiche's wine list, which offers a lengthy selection of wines both domestic and imported as well as several beer options.
4260 Herschel Street
Jacksonville
Florida
The Fruit Cove Road pizzeria serves up a fresh, scratch-made menu of pizza, pasta, sandwiches, and more for lunch, dinner, and late-night dining. Kick off a meeting of local weavers by passing around a basket of cheese fries ($4.69) sprinkled with bacon (+$1) for a decadent meal-starting treat, or share an antipasto salad ($8.99) with a pro-pasto pal. The hand-tossed, New York–style pizza, fired in St. Johns' brick oven, promises to please the pizza-anemic and is available by the slice, starting at $2 for sensible noshing, or by the pie, starting at $8.29 for a plentiful portion. Choose to customize your supper by selecting from more than 20 toppings, or opt instead for a specialty pie, such as the meat lovers ($13.99+), loaded with smoked bacon, meatballs, ham, pepperoni, sausage, and cheese. Sandwiches at the eatery are served on scratch-baked bread, and the plentiful selection of entree pastas can satisfy the herbivore in your jury with the brick-oven baked ziti ($10.99) or tempt the bird-beaked with chicken Benevento ($15.99), a tender cutlet nestled between a bed of ziti and a blanket of mushroom Rosie Alfredo sauce.
445 State Road 13 , #11
Jacksonville
Florida
Enthralled with the art of pizza-making, a trio of college students opened the first Mellow Mushroom 37 years ago in a former liquor establishment. Popularity bred new locations, doling out stone-baked pizzas sprinkled with unusual ingredients such as broccoli, pineapple, pesto chicken, caramelized onions, provolone cheese, and banana peppers. Chefs express their subconscious hoarding problems by stuffing a host of ingredients inside of calzones and hoagies, whose hearty compositions may be offset by crisp salads. Mellow Mushroom remains open late for night owls and offers catering services to help keep company meetings and divorce parties stress-free.
1800 Town Center Blvd.
Fleming Island
Florida
---
---
Restaurant Deals - Recently Expired
---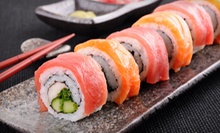 Menu includes 20 kinds of nigiri and 90 different maki with inventive fillings, including steamed shrimp and spicy honey sauce
---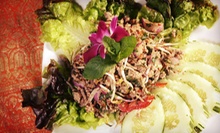 Drawing on a wide array of Thai flavors, Chef Vithoon creates traditional dishes such as chicken satay and basil stir-fry
---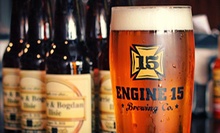 Local craft brewery churns out originals such as the citrusy Old Battle Axe IPA, plus specialty brews such as the Jasmine Saison
---
---