Restaurants in Lakeway
---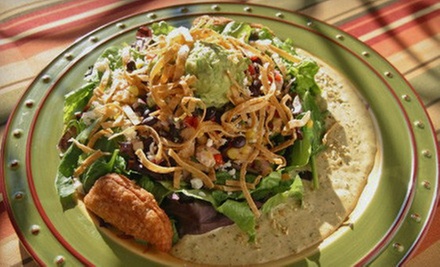 ---
Recommended Restaurants by Groupon Customers
---
Hang Town's menu lists an array of diner fare, including burgers, salads, and pizzas, over which newcomers oft flash back to making eyes at high-school sweeties and wanton french fries. Each of Hang Town's burgers ($5.50–$7) is made from 100% ground chuck, and unless you specify otherwise, your burger is prepared medium-well. Try the classic Hang Town burger; or opt for something less Aristotle and more Epicurus, such as the Southwestern-inspired green-chile cheeseburger (with chipotle mayo, green chiles, and jack cheese) or a savory veggie burger. More handhelds include such sandwiches as grilled tuna (yellowfin tuna steak with pesto-ranch dressing, $8.25) and the Hang Town chicken sandwich (dill-pickle slices on boneless chicken breast, $6.25).
701 S Capital of Texas Hwy.
Austin
Texas
Although a part of Judges' Hill hotel, the restaurant is its own affair, featuring Chef Rob Snow's knockout tasting menu of four delectable courses. Amuse your bouche with course number one, the chef's daily selection of local cheeses from Brazos Valley. The second course invites diners to aim their appetite at fried gulf shrimp with a chipotle cocktail sauce, savory hot smoked-gouda-and-poblano soup, or the house salad with champagne-poached apples and blue cheese. Wind away from appetizer fare and into the nexus of the meal with the third course, peppered with selections from land and sea. Pecan-crusted trout basks in a sunny sweet-corn purée and poblano texas caviar atop wild rice and sautéed spinach, and tangy antelope ranges over its territory of green-chili gravy, tortilla mash, and spinach. For dessert, a trio of miniatures allows sweet teeth to enjoy a sampling of confectionaries more dulcet than Édith Piaf's answering machine. Fully restored and reopened in 2003, Judges' Hill Restaurant & Bar is beautifully appointed with heavy chandeliers and warm drapes that hang over ceiling-high windows.
1900 Rio Grande
Austin
Texas
512-495-1857
Start your tour of Texican's massive menu by slinging your jaw around spinach, mushroom, and onion quesadillas ($7.99) or clearing your taste buds of impurities with spicy cream-cheese-stuffed jalapenos ($5.49). The plentiful options let you supplicate at the altar of a traditional dish such as cabrito—a platter of tender goat roasted with mysterious spices and topped with tomato and bell pepper ($14.99)—or head straight for the grill with a 10 oz. rib-eye steak tampiqueña ($14.99). To enter the mythical realm of "New Mexico," head northwest of south of the border for some Santa Fe enchiladas in smoky red chile ($9.49), or fly straight up into space instead with a deadly delicious chile relleno plump with chicken, beef, shrimp, or cheese and legally drowned in red tomatillo sauce ($8.99).
11066 Pecan Park Boulevard
Cedar Park
Texas
512-506-9900
Through its sophisticated, jet-setting menu, ate.cafe aims to capture the feel of intimate old-world eateries complete with dapper gentlemen tossing bocce balls of gruyere and children sparring with baguettes. Let your chariot-racing taste buds out of the lunch gates in pursuit of the AAA Sandwich with guacamole, cucumber, tomato, and balsamic vinaigrette ($6.50), or a chopped salad with salami, provolone, chickpeas and cherry tomatoes ($7.75). The café's Southern European flare becomes more pronounced during dinner, when tapas such as shrimp in garlic sauce (gambas al ajillo) ($12) and bacon-wrapped dates stuffed with parmigiano reggiano ($7) appear on plates after patrons say their names three times. A small selection of desserts such as pecan tart, fruit crisp, and Italian chocolate-almond torte ($7 each, $9 with ice cream) satisfy forsaken corners of the palate.
2127 Lohman's Crossing Rd.
Austin
Texas
Ordering off of the menu at Hat Creek is a heart-wrenching process in which customers have many Sophie's Choices to make. First, they must choose between a big-hat burger combo with fries and a drink (from $6.39) or a little-hat burger combo with fries and a drink (from $4.99). After invariably ordering both sandwiches and shuffling them together like a pickled pinnacle deck, customers must then determine if they would like cheddar, pepper jack, and swiss ($.30 each), plus bacon ($.75) and an additional order of fresh-cut fries ($1.99) to dunk in a Blue Bell cookies-'n'-cream malt ($2.39–$3.49).
5400 Burnet Road
Austin
Texas
Java Dive is a caffeination station committed to creating imaginative coffee drinks, cooking wholesome whole foods, and providing options for the gluten-intolerant (all menu items can be made gluten-free). Check email with Java Dive's free WiFi while savoring a sweet treat battered and baked by a Le Cordon Bleu–trained chef, or try a selection from the lunch menu, such as a grass-fed-organic-beef all-American burger on your choice of an equally organic bun ($8.25). Vegans and grazing herbivores can savor the hummus wrap, a verdant collection of organic hummus, artichoke hearts, sun-dried tomatoes, spinach, tomatoes, and cucumbers ($5.50). For Sunday brunch, a three-egg mushroom omelette, whipped together with cheese, homemade pesto, and Vital Farms' USDA-certified organic eggs, is sure to satiate fast-breaking fiends and shatter the yolk of commercial-egg bondage ($9.25).
1607 Ranch Road 620 North
Austin
Texas
US
512-266-5885
---