Restaurants in Lakewood
---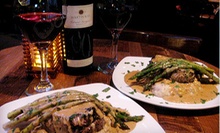 Couples or quartets savor peppercorn-dusted filet mignon alongside hearty appetizers and drinks such as cocktails or glasses of wine
---
Recommended Restaurants by Groupon Customers
---
Creole seasoning belongs in trusted hands, which is why most Cajun restaurants keep the spice cannon securely under glass. Today's Groupon gives you those trusted hands plus $25 worth of authentic Cajun vittles at Uncle Darrow's in Marina del Rey for $10. The Zagat-rated restaurant will be celebrating its tenth anniversary on December 26th, which in Cajun culture is as valid a reason to throw a raucous, food-stuffed party as "survived last night's raucous, food-stuffed party" and "saved money on car insurance."
2560 Lincoln Blvd.
Venezia
California
US
As with 8-bit Nintendo games, cannonball dives, and frenetic cartoons, breakfast cereal is one of those childhood delights you never truly outgrow. Today's deal feeds your inner child and outer adult in equal measures: for $7, you get $15 worth of breakfast, lunch, and drinks at Flake. Located at 513 Rose Ave, Flake is a part beach shack, half bacon hut, and two-thirds cool-atmosphere-coffee-house-that-is-obsessed-with-cereal-but-also-has-lots-of-sandwiches type of establishment.
513 Rose Ave.
Los Angeles
California
US
Good to Go is an enlightened living food restaurant in Huntington Beach, Ca. Serving plant based junk food created using only the freshest local produce. Good to Go has creatively constructed Americas favorite dishes at a pace and price point that is essential for today's daily life.
5930 Warner Ave.
Huntington Beach
California
US
When The Melting Pot originally opened in 1975 just outside Orlando, diners had just three options: swiss-cheese fondue, beef fondue, or chocolate fondue. The restaurant first expanded four years later, when an enterprising waiter at the initial location opened up a new outpost in Tallahassee. Today, the company—now owned by that original waiter, Mark Johnston, and his brothers Mike and Bob—reigns as the premier fondue, wine, and drink restaurant, stretching across North America with more than 140 restaurants linked by underground tunnels. The restaurant's menu has also expanded, and patrons can now expect six varieties of hot dipping cheese paired with salads, meats, and molten chocolate.
On a given night, groups of viscous-dip-loving foodies gather around tables to nosh on cheese-fondue appetizers and various salads while cooking steaks and seafood in a choice of healthy broth or oil. Birthday revelers and romance seekers cap decadent evenings sharing the chocolate desserts that have defined The Melting Pot for decades.
21525 Hawthorne Blvd.
Torrance
California
The well-regarded executive chef at Zimzala, Vincent Muraco, worked with menu expert and cookbook author Joyce Goldstein to develop a creative menu of Mediterranean cuisine with a California tinge. They researched the 22 countries of the region, incorporating the flavors of Spain, Greece, Italy, Northern Africa, the Middle East, Alabama, and more into a collection of healthful, exotic delights built from fresh, top-quality ingredients.
500 Pacific Coast Hwy , Second Floor
Huntington Beach
California
Mosto Enoteca blends elegant cuisine and warm, inviting décor, with the upscale minimalism extending to the private dining room and outdoor patio overlooking Marina del Rey. When dinner rolls around, taste buds can journey to a baby-artichoke-salad jungle, with parmesan and lemon ($11), or an antipasti island of scallops sautéed with shallots, frisée, and bell peppers. Pumpkin ravioli with butter and sage ($16) opens the door to a flourless chocolate tort that will tuck you in with red-wine sauce and a hazelnut-gelato teddy bear ($9).
517 Washington Blvd.
Marina del Rey
California
310-821-3035
---