Nightlife in Lakewood
---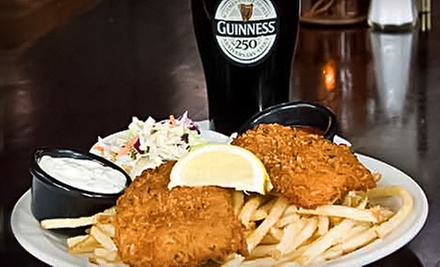 ---
Recommended Nightlife by Groupon Customers
---
Before it became a hotspot for wine enthusiasts, In The Red Wine Bar's space sheltered a Hansen Lamp & Shade starting in 1937. Its nostalgia-tinged decor—mix-matched wares and antique furniture—carries the tradition first set by the furniture store and complements the aging red, white, and sparkling wines that rotate through the menu on a regular basis. Local and independent craft beers round out the beverage supply, and the bar's edibles include bacon-wrapped dates and four types of mac 'n' cheese, all made with local, sustainable ingredients. Along with stocking a wealth of varietals, the bar's staff dispenses wine knowledge during classes with topics ranging from the fundamentals of tasting to tips for pairing wine with the appropriate horror flick.
6510 Phinney Avenue North
Seattle
Washington
206-420-8992
With its hand-blown glass light fixtures, beckoning fireplace, and old-growth walnut bar-top, VoVina' cultivates an old-world elegance. The décor's chic simplicity carries over into a menu of European- and American-style small plates, such as Angus beef sliders and black truffle tater-tots, crafted to complement dozens of tempting cocktails. The Fountain of Youth blends Bombay Sapphire, St. Germaine, and a touch of green chartreuse, and the Asian Pear arrives shaken and strained over a soft lychee. Further underlining the Jazz Age-feel, the bar touts one of the largest absinthe selections in the area. The legendary spirits are poured plain or blended into beverages, inspiring guests to dance the Charleston atop VoVina's locally grown, recycled maple tables.
15 Lake St., Suite 103
Kirkland
Washington
425-822-2221
Live music rocks the floor at 2 Bit Saloon, where friendly bartenders slake thirst with strong drinks and local bands take the stage at least four nights a week. Whether it's Cemetery Lust or Blood & Thunder jamming on Metal Mondays or alternative and punk bands, such as The Rams Rams or Cadillac Radio, on the weekend, 2 Bit Saloon sticks to its simple mission to have the best time every time. Though dim lighting overtakes the tavern, bartenders have no problem overfilling cups with PBR and Bud Light or mixing up margaritas and Bloody marys. The kitchen churns out hearty bar eats, including chili dogs and nachos, and on Sunday mornings, the saloon doors fly open at 10 a.m. for breakfast burritos and mimosas amid the glow of Seahawks games or Buns of Steel infomercials.
4818 17th Ave. NW
Seattle
Washington
206-708-6917
Years spent living in England made their mark on Columbia City Ale House founder Jeff Eagan. The country's particular style of local pubs fascinated him, and when he returned to Seattle in 1991, he recruited chef Jeff Reich to help him re-create that atmosphere by founding the 74th Street Ale House, the first of their triad of Seattle ale houses. The pubs dedicated their taps to local craft beers in a decade where the streets mostly flowed with basic American brews, and caught attention for their beer selection and for a fierce dedication to fresh-prepared pub fare classified as "herbaceous and hot" by the Seattle Times. Eclectic menus regularly updated by chef and Seattle culinary veteran Kathy Christopher boast gumbo with made-from-scratch stock and a breaded-chicken sandwich with garlic oil that claims a Best Chicken Sandwich distinction from Seattle Weekly.
Columbia City Ale House is the latest in their expanding endeavors, and shares with its siblings a dedication to craft brews and an upscale approach to pub fare. English and local beers flow from the 21 taps, half of which change regularly and include favorites such as Fullers' Extra Special Bitters and perennial winners from Fremont and Boundary Bay. On the menu, a grilled Reuben sandwich boasts corned beef braised in Blackthorn hard cider, and flat iron steak rubbed in ancho-chili powder and pepper stars in a southwest steak sandwich. A regular specials menu encourages culinary and libationary adventure with a recommended beer or wine pairing listed next to each dish.
Inside the ale house, light shines through geometric stained-glass windows, bought from a demolished Greek Orthodox church. Squares of the same stained glass decorate the small upper level, and arches centered on a cross stand at the top of the bar. The space reflects the English pub feel with sturdy woods, a mirror emblazoned with an Old Bailey beer logo, and servers who impersonate the Queen Mother between shifts.
4914 Rainier Ave. S
Seattle
Washington
206-723-5123
The British flag proudly flies outside The Market Arms, signaling this pub's commitment to authentic English food and fun. Amid the brick walls and wood floors of the interior, the clatter of dartboards, pool tables, and shuffleboards competes for attention against British and American football broadcasts. Guests can sip on a Guinness or Glenmorangie while lounging at a cozy booth or table. Alternatively, outdoorsy diners enjoy bangers and mash, fish and chips, and shepherd's pie al fresco on either the front or back patio. A public boat dock situated alongside the eatery allows boat or whale owners to quickly park their rides and head inside for a scotch or whiskey.
2401 NW Market St.
Seattle
Washington
US
206-789-0470
---