Restaurants in Lakewood
---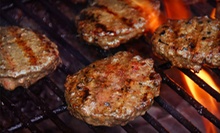 Fried chicken, pulled pork, and potato skins round out the menu
---
Recommended Restaurants by Groupon Customers
---
Old World classics harmonize in the culinary symphony of Sansone's menu. Appetizers include caramelized-peach and maple-walnut compote crested atop Brie (served with crackers, $9), sautéed and egg-battered artichoke hearts ($10), and beef carpaccio ($9). Dinner entrees are served with choice of soup or salad and are accompanied by starch and veggies. Vegetarian dishes range from the light angel hair Provençal ($17) with wilted greens, kalamata olives, and toasted pine nuts, to the decadent stuffed eggplant ($18) with roasted-pepper risotto. Sansone's serves a variety of meat, poultry, and seafood dishes and has a gluten-free menu. The breaded and pan-fried Wiener schnitzel ($23/$18 for small plate) was a Rocky Mountain News best-of winner in 2007. The salmon Nilla ($23/$18 for small plate), a flaky fillet coated in Nilla Wafers, is sure to intrigue fish enthusiasts or spark cookie conversations that become plots to murder gingerbread men.
5969 South University Boulevard
Greenwood Village
Colorado
303-794-4026
At Los Cabos II, owners Hernan and Francesca Ruiz showcase a rich variety of Peruvian cuisine, which itself is an amalgamation of multi-ethnic culinary traditions, including Spanish and Incan. Their ceviche—one of the restaurant's most popular dishes and a Peruvian staple—presents plates of citrus-marinated shrimp, fish, and octopus, all seasoned with spices imported from Peru. They also plate Peruvian-style fried rice, and they simmer a diverse array of piquant fish stews, including Peruvian bouillabaisse with white wine and bay laurel. LocalEats recently honored Los Cabos II with its 2013 award for Best Peruvian cuisine, and Talk of the Town praised the eatery with an award for Excellence in Customer Satisfaction in 2012.
To complement the cuisine, which was also dubbed the Best Central/South American Restaurant of 2010 by Westword, the duo imports a selection of South American beers such as Cusqueña and Cristal, as well as Inca Kola, a Peruvian soda. They also import authentic Peruvian folk art, which brightens up the low-lit dining room with murals and a stuffed-animal llama that is happy to recommend a wine served straight from the eatery's miniature barrels.
1525 Champa St.
Denver
Colorado
303-595-3232
When pressed for his motivations behind HBurgerCo, managing partner Pete Pflum told a reporter from Dining Out, "It's my favorite meal from childhood," before adding that the burger is "accepted as a meal unto itself—especially when you're using the best meat, baked goods, and fixings." Housed in a sleek but familiar space designed by Robin Smith Designs, the head chef conjures inventive burgers, while soda jerks also harness the combined power of local spirits and liquid nitrogen to craft inventive cocktails and milk shakes. Patties hand-formed from locally-sourced Angus beef, lamb, turkey, veggies, and buffalo arrive at tables crowned with eclectic toppings including fried eggs and asian slaw, complimented by a create-your-own-salad menu. Draft brews pour into glasses cooled with liquid nitrogen, which prevents libations from getting warm and snowmen from getting bartending gigs.
1555 Blake St.
Denver
Colorado
720-524-4345
A lively atmosphere punctuates the spacious two stories and patio of Braun's Bar and Grill, often populated by sports fans who stop by to nosh on gourmet pub grub before and after events at the neighboring Pepsi Center. Quality ingredients, including Colorado-aged beef, pepper the expansive menu. Commence inner cheek furnishing with a gargantuan salad such as the Cattleman's, which erects flank-skewer towers over field greens adorned with house blue-cheese balsamic dressing, walnuts, cheddar, and baby peas ($12.49 lunch, $12.99 dinner). Burger boosters will go ga-ga for the Cajun spices and blue-cheese crumbles of the Blackened Bleu ($10.99), while poultry patrons can cast a vote for the zesty Ha-Braun-ero Chicken Sandwich ($10.69), a succulent chicken breast that unites pepperjack cheese, habanero mayo, and bacon in a culinary harmony unseen since the California Raisins dominated the airwaves. Exemplifying the chefs' creativity is the shrimp rustica, a tantalizing sea-feast of shrimp, mushrooms, peas, and sun-dried tomatoes atop penne pasta and roasted tomato vinaigrette ($13.50 lunch, $17 dinner).
1055 Auraria Parkway
Denver
Colorado
720-974-6540
Amid rough-hewn stone walls and exposed wooden rafters, Belvedere fills plates with traditional Polish entrees. Each pierogi's pillowy pocket hides meat or cheese, and gouda stuffs a homemade polish sausage. Roasted duck is served on a mound of sweet red cabbage, and veal schnitzel arrives slathered in hunter's sauce, which actual hunters cover themselves in to hide from their prey. Lunchtime covers tables with sandwiches that include bacon-wrapped chicken, sliced meatballs, and kielbasa with sauerkraut.
323 14th St.
Denver
Colorado
720-974-4052
For more than 27 years, chefs at Rodney's have manned grills within the cozy basement eatery, unfurling a menu of steak-house cuisine headlined by tender slabs of aged, USDA-choice meats. Hearty hunks of sirloin, filet mignon, and slow-roasted prime rib sate appetites and tone wrists' abs alongside a colossal cheese- and bacon-swathed baked potato that the Denver Westword included among its 100 Favorite Dishes of 2010. In addition to its prized steaks, the neighborhood eatery's kitchen dispenses hefty sandwiches and elegant seafood, such as fresh Atlantic salmon and shrimp, and its full bar unleashes a spectrum of cocktails.
2819 E. 2nd Ave
Denver
Colorado
303-394-3939
---