Restaurants in Lakewood
---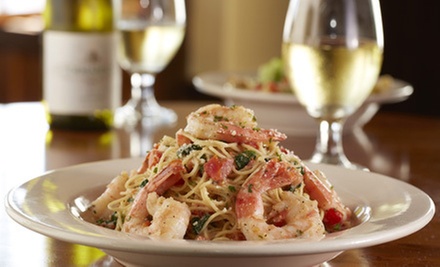 ---
Recommended Restaurants by Groupon Customers
---
Voted the Best Burger of 2012 by Westword, Juicy Burgers & Dogs doesn't skimp on quality, using never-frozen meat, fresh veggies, and artisanal buns in its delectable offerings. Baked with organic rye flour, white and pumpernickel buns surround preservative- and filler-free patties with the perfect amount of open-flame char and mouthwatering juiciness. Guests can pick 100% fresh ground beef, Colorado ground lamb, or Red Bird Farms chicken breasts to fill the buns, adorned with spreadable sharp cheddar cheese or slices of Tillamook cheddar, as well as slabs of fresh veggies. Guests can also sink teeth into a juicy dog, choosing from a classic Vienna all-beef hot dog, char-grilled Kobe jumbo dog, or Sheboygan-style wisconsin beer brat. Main courses are accompanied by french fries, cut throughout the day from kennebec potatoes and fried in pure canola oil, and Häagen Dazs milk shakes, made solely from the milk of Danish-speaking cows.
6830 S Yosemite St.
Centennial
Colorado
303-741-3647
Julia Blackbird's New Mexican Café is the culmination of two of chef and owner Julie Siegfried's deepest passions: cooking and New Mexico. To this day, her mother recalls Julie standing on a step stool, trying to peer into a soup pot and giving her grandmother directions about what to put in. And on her first trip to New Mexico, she used up 10 rolls of film snapping pictures. She fell in love with the region's unique vibe—the people, the artwork, and, of course, the food.
Today, she shares both of her loves with diners at Julia Blackbird's New Mexican Café. Her kitchen is stocked with New Mexican ingredients such as blue cornmeal, goat cheese from the San Luis valley, and piñones. For her signature dish, the Tres Hermanas, she stuffs a trio of blue-corn enchiladas: one with chicken and green chile, one with beef and red chile, and one with cheese and chile caribe. To make sangria, the staff soaks seasonal fruit in rum, then splashes the mixture with wine and sparkling water. The menu also features beers, mojitos, and top-shelf margaritas, which encourage diners to linger in the warmly lit space, admiring brightly colored artwork or arguing about whether red should be added to the list of primary colors.
3434 W 32nd Ave.
Denver
Colorado
From behind a sleek, glass sushi bar, Blue Fin's trio of sushi chefs slice fresh fish flown in daily from around the globe to craft a menu of artful sushi and sashimi. Combination sushi platters showcase the delicious downfall of spicy tuna as it succumbs to the sushi-roll lifestyle, carousing about with notorious aquatic hooligans such as octopus, shrimp, and salmon. From the kitchen, pan-seared chilean sea bass lands at tables in a light pool of coconut broth, and rib-eye steak arrives buttressed by vegetable fried rice and house salad or warm miso soup. The Asian beverage selection makes it easy for bites to harmonize with sudsy bottles of Sapporo beer and velvety sips of plum wines.
7303 E 29th Ave.
Denver
Colorado
The Dusty Boot Steakhouse & Saloon welcomes hungry guests to dig into burgers, steaks, and Mexican-inspired specialties. In the dining room, more than a dozen TVs tune in to games as diners sip tequila, margaritas, and other drinks. Meanwhile, the chefs wrap filet mignon in bacon, slow-cook slabs of pork ribs in tangy barbecue sauce, and garnish fish tacos with fresh cilantro. Diners not in the mood to build their own burgers can pick one of the specialty burgers, which include a breakfast burger with bacon, cheddar, and a fried egg, and the Fatty melt—a burger, sautéed mushrooms, and onions between two grilled-cheese sandwiches.
On the weekends, the Dusty Boots' staff wakes up early to the sound of their rooster's idiotic radio show and cooks up breakfasts of three-egg omelets and latke reubens, which include two potato pancakes smothered in corned beef, sauerkraut, thousand-island dressing, and melted swiss.
16270 E Arapahoe Rd.
Foxfield
Colorado
As people walk past the spacious outdoor patio into Hodsons Bar & Grill, they might spy diners devouring sushi rolls, brick-oven pizza, and steaks beneath white canvas umbrellas or sipping brews around the fire pit on gray wicker patio sofas with sleek white cushions. Inside, diners perch on leather chairs and slide into booths beneath an abstract glass chandelier that resembles a flaming sun. The private dining room seats guests beside a floor-to-ceiling wine rack built into the wall, and the glass doors, marked by the face imprints of those who weren't invited in, can be shut for total privacy.
The upscale, contemporary decor reflects Hodsons' upscale, contemporary American dishes, such as portobello-and-fig pizza, baked dungeness-crab dip, and Asian nachos with mango, avocado, and chilled chicken. Burgers hoist Colorado Angus beef and buffalo, handcut fillets of Scottish salmon await the grill's flame licks, and three-cheese macaroni teems with chunks of Maine lobster and applewood bacon.
Signature drinks—including blueberry basil-tinis with Little Black Dress vodka and muddled basil and blueberries—and the food pair better than Elvis and sequins. Servers also pour glasses of wine and tap brews such as Left Hand Sawtooth ale and Angry Orchard cider.
6851 South Gaylord Street
Centennial
Colorado
720-457-3852
For the four Denver residents who founded The LocaL, their community is the driving force behind their hearty eats. The team's commitment to all things local begins in their kitchen, where chefs forge Mexican-inspired cuisine classics for breakfast, lunch, and early dinner using locally sourced ingredients whenever possible. Throughout the day, the staff brews coffee made with Denver-roasted Pablo's beans, arranges strips of antibiotic- and hormone-free bacon alongside local eggs, and grills burger patties formed from The Local's proprietary blend of local beef.
Within their welcoming dining space, cheery green walls and a '50s diner–style counter set the scene for leisurely feeding frenzies. On the outdoor patio, guests can sample the diner's 12 flavors of housemade ice cream under the protective cover of umbrellas.
2217 East Mississippi Avenue
Denver
Colorado
303-425-6225
---