Things to Do in Lamont
---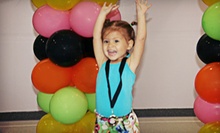 Weekly 45-minute gymnastics classes geared toward pre-school aged children in a 15,000-square-foot facility
---
Recommended Things to Do by Groupon Customers
---
During public skate sessions at SJCH Ice Center of Bakersfield, a SMG managed facility, staffers give experienced skaters a wide berth, but stay on hand to assist novices with the basics, including lacing up their skates and getting back up after taking a tumble on the ice.
Instruction continues at the skating school, where students of all levels and ages can enhance their skating skills during private lessons or 12-person classes with 12 free public skating sessions and progress reports after their first month. The climate-controlled center—always kept at below 60 degrees—also hosts 14-week youth hockey seasons and three divisions of adult hockey league, which accommodate recreational to top-tier players.
Along with action on the rink, SJCH Ice Center of Bakersfield keeps its pro shop stocked with figure skating and hockey apparel. The in-house technicians can spruce up skates with repair and sharpening services. After hockey games or skating practice, guests can reenergize with pizza, popcorn, and hot chocolate from the Slap Shot snack bar, which entertains visitors with video games such as Super Mario Goes Ice Fishing.
1325 Q St., Suite 100
Bakersfield
California
The promoters behind Valley Comedy draw from a rib-tickling lineup of local comedians and touring funny folk to host monthly shows at Shamrock's Irish Pub in Bakersfield, Silver Dollar Hofbrau in Fresno, and the venerable Western-themed Old Town Saloon in Clovis. Valley Comedy also works with the community to arrange public and private events, dispatching standup comedians to fundraisers, corporate events, parties, and glum parent-teacher conferences throughout the Central Valley.
5201 Riverlakes Dr.
Bakersfield
California
After a silent winter and spring, the rock-climbing wall and go-kart track are waiting impatiently for summer to arrive, eager for the influx of laughter and ebullient burst of life that comes with it. The empty cabins and sports fields spread across Camp Cottontail's 200-acre land share the sentiment, as they've been locked in this cycle of yearning for summer since the camp's construction in 1958. The sprawling camp finally comes alive once flocks of young campers take over, orchestrating a symphony of sounds of kids splashing into the pool, giggling over arts and crafts, and singing around a crackling bonfire as night unfolds around them. Following in the footsteps of generations of campers before them, the kids spend each balmy summer day immersed in well-planned daily programs comprised of high-energy activities.
A past camper whose influence is felt throughout the camp is Lynn Pedroza, who assumed ownership of Cottontail in 2009. Having spent every summer since 1984 as a staff member, Lynn bought the camp with the sole intent of upholding the previous owners' dedication to granting campers the best summer possible. Her commitment to the camp's tradition of excellence is reflected in her meticulously selected staff of counselors and instructors, all of whom undergo extensive background checks and are certified in CPR and first aid. The staffers take campers under their wings, teaching them new skills such as how to shoot an arrow or how to save a friendship with a meaningful lanyard bracelet. Optional offsite activities and special trips bolster the camp experience. While daily schedules are determined by each camper, the camp comes together for beloved events including Skit Night, Counselor Dress-Up, and the camp dance.
30910 Sloan Canyon Rd.
Castaic Lake
California
The flight instructors at Just Fly Paragliding steer students over California landscapes in tandem paragliding lessons and USHPA flight-training programs. They teach basic paragliding maneuvers as well as more advanced flips, turns, and a range of landing approaches. Before taking off, though, they prep students for the risks of getting airborne by covering risk assessment, proper gear handling, weather interpretation, and landing under emergency conditions such as high winds or raining meatballs. In addition to helping customers commemorate flights through photos and video, Just Fly Paragliding provides the means to fly with beginner and intermediate gliders by Ozone, Shoo'ka, and Flying Planet.:m]]
10000 Bella Dr.
Bakersfield
California
661-800-6637
---