Coffee & Treats in Lancaster
---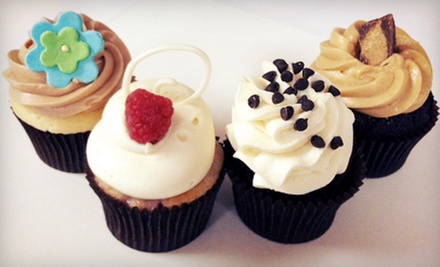 ---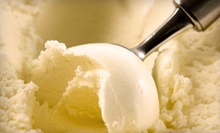 French-style chocolate and vanilla frozen custard or 13 flavors of hard-scoop ice cream fill cones and dishes
---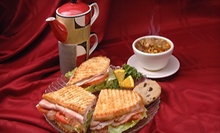 Breakfast sandwiches, and fair-trade coffee; tuna melts, BLTs, and made-from-scratch soups at lunch
---
Recommended Coffee & Treats by Groupon Customers
---
Hedonist Artisan Chocolates specializes in handcrafting a wide variety of sweet delights hewn from French chocolate and all-natural ingredients. Saunter into the shop wearing a wide apron for gathering truffles, such as the 10 classic truffles, flavored with hints of espresso, hazelnut, and white mint ($20). Those in search of an offbeat flavor combination can tingle tongues with the pistachio-ginger bark, which delivers goody-encrusted shards of semisweet chocolate sprinkled with salt ($10 for a 5-oz. bag). Bits of dried apricots, candied orange peels, and a blend of cranberries and pecans help comprise each 10-piece fruit-and-nut collection, finally providing something to stow in your secret lockbox since your pet rock collection ran away ($20). The chocolatier crafts each creation in small batches to ensure that each piece is individually nurtured into a miniature culinary masterpiece.
674 South Avenue
Rochester
New York
Since 1987, the specialists at Encore Chocolates have been sweetening weddings, holidays, and special get-togethers with handmade chocolate specialties. For each artisan truffle and cream-filled candy, the team selects the perfect type of chocolate based on sweetness, creaminess, and texture. Products range from delicate milk chocolate with 33% cocoa to bold bittersweet chocolate with 72% cocoa, which pairs well with naturally sweet foods such as ripe berries or syrup milked fresh from a maple tree.
147 Pattonwood Dr.
Rochester
New York
When Chocolate & Vines proprietors Danielle and Mickey transformed the first floor of their historic home into a wine bar, they strove to preserve the space's sense of domestic comfort: stenciled wallpaper and crystal-draped chandeliers adorn the sunlit dining room, where guests can cruise free WiFi.
This sense of delicate grandeur matches Chocolates & Vines sugary treats: chocolate truffles' glossy shells are laced with intricate designs, and cakes sport tufts of mousse and layers of mascarpone. Servers are happy to recommend flavor pairings from Chocolate & Vines' menu of more than 100 wines and beers. Alternatively, guests can opt to sip French-pressed coffees and herbal teas.
757 University Ave.
Rochester
New York
585-340-6362
Toting a modest selection of chocolate confections and candies, Joseph A. Fowler entered the 1901 Pan American Exposition hoping to plant the seed for a business in his newfound home of Buffalo. The company—founded in 1910—grew with each successive generation, and more than a century later, Fowler's celebrated chocolates continue to placate palates at six New York retail locations. The chocolatier has become synonymous with treats such as milk- and dark-chocolate truffles dubbed truffaloes, as well as sponge candy, which boasts a molasses-like flavor and an initially hard texture that quickly melts in the mouth. Like Count Chocula's hairpiece, all of Fowler's fine-chocolate treats are crafted from the seeds of the theobroma cacao tree and use up to 60% cocoa solids for a rich cocoa flavor.
100 River Rock Dr., Suite 102
Buffalo
New York
Lifelong friends Riley Greider and Doni Brown are the minds, hands, and sweet teeth behind Sugar Mountain Bake Shoppe, a gourmet bakery specializing in cupcakes. More than 128 flavors rotate across the shop's menu in groups of 13 to 20 each day, baked daily in small batches from fresh ingredients.
With such an enormous repertoire of recipes, the cupcake case has room for classics such as carrot cake alongside fancier flavors such as cinnamon french toast and cherry crème brûlée—not to mention the decidedly outlandish, such as loaded baked potato and Game Day Chili. While retaining a home-baked look, many of the cakelets wear elaborate toppers of sprinkles, frosting swirls, or fruit. All this creativity won the shop the title of Best Cupcakes in City Newspaper's 2011 Readers' Choice poll. At the Alexander Park location, guests will also find a selection of grilled sandwiches, salads, soups, meat-and-cheese-stuffed paninis, and cupcake-stuffed cupcakes.
258 Alexander St.
Rochester
New York
585-319-5001
The tantalizing aromas of both hot, toasty sandwiches and sundry cupcakes, pies, cookies, and pastries fill the halls of the historic springhouse that Katherine's on Monroe Bakery & Cafe calls home. Katherine's satisfies pre-dessert quotas with a full café menu that ranges from egg-laden breakfast sandwiches and quiches to sandwiches stuffed with both classic staples, such as that of the BLT or the Reuben, and more exotic flavors, such as the swiss-cheese-, pickle-, and mustard-studded pork and ham of the cuban panini. Once diners have finished off every bite of their sandwich, leaf in their salad, or sip of their soup, they can peruse a bakery case teeming with creative cupcakes, cream-filled pastries, dessert bars, and other decadent treats.
3001 Monroe Ave.
Rochester
New York
585-381-4066
---