Day Spas in Lancaster
---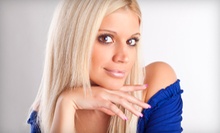 An elegant salon with a fireplace and chandeliers delivers modish cuts, coloring, and manicures
---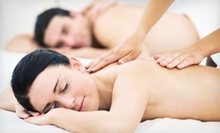 Aesthetician with advanced training in cosmetics & dermatology treats singles or pairs to pampering services that use organic products
---
Recommended Day Spa by Groupon Customers
---
Pink walls, tiaras, and rows of frilly white dresses just waiting to be worn. It's a dream come true for some children, but it wasn't always the dream of Little Diva's Day Spa owner Debi Lamparelli, a beauty-industry veteran who credits her niece with the idea for the kids-focused salon in an article from WNY Woman. Soon, though, she found herself as enthralled by the idea as her pintsize patrons, telling WNY reporter Ashley Johnson, "I love children and would love to celebrate a special time in their lives. I love dressing girls up and making them feel like divas."
The love of dress up is apparent from the moment customers enter the pink-striped salon, where rows of girls aged 2–13 can be found relaxing against candy-colored overstuffed pillows as aestheticians trim and paint nails and accentuate already rosy cheeks with gentle swipes of a makeup brush. Debi and her staff take the idea of royal treatment literally, providing snowy-white princess gowns and sparkling tiaras that their pintsize customers may don to emulate their favorite Disney character or eccentric mayor. The salon also hosts spa–themed birthday parties for up to 12 girls, pampering party guests with age-appropriate indulgences such as facials, pedicures, cupcakes, and sliced cucumbers for each set of eyes.
515 Sunset Dr.
Hamburg
New York
716-649-6007
Muscle kneader Toveh Zaifert knows that every one of her clients is different. That's why each of her massages is different as well. A graduate of the New York Institute of Massage, Toveh specializes in the customization of her treatments to fit each individual's needs. When she begins a treatment, she'll ask if there are any specific aches, pains, or fears of cowbells she can help allay. Clients then can also choose whether they'd like soothing music played or prefer the serenity of silence. Toveh has trained in a number of massage modalities and is particularly skilled at Swedish, deep-tissue, and medical massage.
1045 Union Rd.
West Seneca
New York
716-674-2454
The Village Spa's owner, JoAnn, has spent decades mastering the art of relaxation after becoming a spa esthetician in 1988. Although she specializes in facials, JoAnn and her staff perform a range of treatments that use the spa's signature line of natural-based skincare products. The beauty gurus lead guests to private treatment rooms where they perform everything from massages and microdermabrasion to waxing and manicures. The Village Spa's small, intimate location helps guarantee that clients receive personal attention and angry rhinos cannot get into the building, let alone interrupt services.
944 Maple Rd.
Williamsville
New York
US
716-635-0522
---