Restaurants in Lancaster
---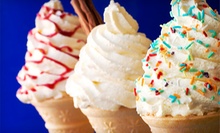 Newly-opened stand serves ice-cream sundaes, soft serve, and Hurricanes blended with Heath bars, Reese's peanut-butter cups, and other candy
---
Recommended Restaurants by Groupon Customers
---
Since 1928, four generations of the Romanello family have been tweaking and swapping recipes at a trio of restaurants in Western New York. In the 1980s, Romanello's South took its place among the family's eateries. Reporters from AM Buffalo have visited to heap praise on the ballroom, whose honey-hued expanses of hardwood can accommodate parties of up to 300 people or 150 adolescent rhinoceroses. Chatter from groups drifts into smaller dining rooms, where fireplaces cast their liquid light across white tablecloths laden with calamari, pasta, and eggplant parmigiana. Some evenings, the restaurant resounds with the harmonies of local artists, which swell beneath the clink of toasting glasses and help clear minds of shrill toothpaste jingles.
5793 S Park Ave.
Hamburg
New York
716-649-0450
Sakura serves a menu of japanese teriyaki and sushi such as the Crazy Dragon roll with shrimp tempura, which was showcased on NBC 2. Chefs also create Buffalo rolls out of fried spicy tuna and crab with asparagus, as well as a Cheektowaga roll, a crunchy creation topped with salmon, crab stick, white tuna, and spicy sauce.
Cheery yellow walls wrap around Sakura's dining room, illuminated by sunlight that streams through the delicate grid that divides the windowpanes. Half a dozen chairs stand before the wooden sushi bar, which is decorated with a Japanese figurine, decorative dishes on the wall, and a lucky trident stolen from Aquaman's house.
3719 Union Rd.
Cheektowaga
New York
716-683-7310
At Duke's Bohemian Grove Bar, more than 150 types of beer stand ready for duty, chilling in bottles behind cool glass or waiting within deep kegs. Drawn from breweries across the world, these numerous libations find themselves on duty more often than not; no matter the day, the bar doesn't close until the clock strikes 4 a.m. In addition to fueling late-night revelry, the drinks pair well with the bar's menu of pub fare. In addition to specialties such as smoked barbecue chicken wings and mammoth burgers, the kitchen also sizzles up fresh cut steaks and curates a selection of fresh seafood ranging from raw oysters to delicate clams. These dinners often unfold to the sounds of live music; guests may hear anything from a classic-rock act to a jazz artist testing the limits of traditional time signatures.
253 Allen St.
Buffalo
New York
716-240-9359
Few people stick with their first jobs longer than a summer. But when 9-year-old Mike Milkie first helped out at his father's restaurant, he was taking the first steps toward a career as a restaurateur that has lasted more than six decades. Milkie's On Elmwood is his latest endeavor, following more than a dozen Buffalo-area restaurants and clubs, including the former Milkie Way Theater, which hosted acclaimed Broadway plays and second-run planetarium films.
Mike's niece Suzanne leads things on the culinary side as the head chef. Every day, her kitchen staff layers hand-carved meats between slices of bread slathered with chutneys and roasted pepper spreads, caramelize bacon to pile atop burgers, and bake crispy flatbreads until the ovens shut down at 4 a.m. Milkie's On Elmwood hosts special events such as Friday fish fries, trivia and karaoke nights, and live performances by Lance Diamond and other local musicians.
522 Elmwood Ave.
Buffalo
New York
716-882-5881
---