Things to Do in Lancaster
---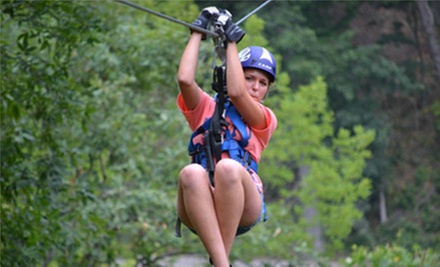 ---
Recommended Things to Do by Groupon Customers
---
Leave civilian life behind and suit up for three hours of extreme high-octane battles to determine whose clothes are the cleanest. Land Paintball provides all the necessities (a $17 value for rental package), including a mask, a marker, an air tank (with enough air to last the day), a hopper, a barrel sleeve, and 100 paintballs (a $5 value)—enough to apply a healthy base coat to any nearby corpus canvas. In the event that you take down 100 opponents with immaculate accuracy, or if you decide to graffiti your name on a nearby tree trunk, additional paintballs may be purchased on-site.
4999 Old Rathmell Ct.
Columbus
Ohio
The rock bridge spans more than 100 feet in length, arching to a height of 50 feet as it connects to the opposing shores of the Hocking River. As kayakers glide beneath it, they look up at eons of natural history: a bridge carved out by centuries of glacial waters that eroded the sandstone away particle by particle. They gaze up at the awesome spectacle until a white-tailed deer dashes along the shore, stealing their focus.
Hocking Valley Canoe Livery and Fun Center's outdoor enthusiasts continue provide connections to moments such as these, just as they have for more than 30 years. The staff furnishes gear such as canoes and inner tubes for river trips, during which sportsmen may glimpse river dwellers such as leatherback turtles and kingfishers sneaking sandwiches from unsuspecting picnickers. Dedicated to keeping the river clean for future generations, Hocking Valley's staff also regularly engages in conservation efforts, including sponsorship of the annual Hocking River Cleanup
Back at the fun center, crews oversee amusements that range from go-kart rides to mini golf. With such a multiplicity of diversions, Hocking Valley's team often customizes recreational packages for its guests that combine several activities. To help visitors enjoy the area for more than a day, the grounds also affords outdoorsmen lodging, including riverside campgrounds and Amish camper cabins.
31251 Cheiftain Dr.
Logan
Ohio
As the oldest historic tour on the national register, the German Village Society's Annual Haus und Garten Tour sends feet pattering across 233 acres of historic landmarks, enchanting gardens, and award-winning restorations. A year ago, the daylong celebration drew a total of more than 6,000 visitors, and this year, an even larger crowd is expected to be on hand to ogle and coax autographs from the 13 homes and gardens scheduled for display.
Tour-takers can meander along the route at their own pace, stopping to explore the shops and eateries in the marketplatz or to peek into classic abodes, which homeowners have transformed into chic, opulent spaces ideal for modern living or showcasing the latest trends in wool socks for coffee tables. In addition to the lineup of architectural stars, the tour will also be stocked with various live performances, including a rendition of The Scarlet Pimpernel in Schiller Park at 2 p.m.
588 S 3rd St.
Columbus
Ohio
614-316-3948
Boasting a course of 18 ziplines and a high-ropes course, Hocking Peaks Adventure Park immerses adventurers of all ages in a multitiered wilderness playground sprawling through the woods and fields of Hocking Hills. Surrounded by a sun-dappled tree canopy, the ropes course combines 60 midair challenges—including catwalks, suspended logs, and rope crossings—that visitors can surmount while strapped into safety harnesses that also help them blend in with current forest fashion trends. For kids, an alternative course and zipline hang a few feet above the ground. Within the same woods, ATV rides cover 15 miles of rambling ground trails, while paintball matches storm a separate wooded area with two levels of play and built-up cover.
As they emerge from the woodland playground, guests can take on the 42-foot high inflatable waterslide, or climb into one-, two-, or three-person transparent Ogo balls to roll down a hillside course more gracefully than a classically trained hamster. Additionally, an 18-hole disc-golf course—designed by professional disc-course planners Innova—sprawls through 6,000 feet of hills, beckoning players to aim for chain-fringed baskets.
15103 State Rte. 664 S
Logan
Ohio
740-385-1627
The staff at Equestrian Ridge Farm has been tending to steeds and riders on its 200-acre estate for more than 10 years. During riding lessons in a medley of styles—including dressage, single driving, and trail riding—trainers educate equestrians of all levels at the facility's two large, indoor arenas. The barn houses between 15–20 horses at any given time, a handful of which are reserved for lessons or reenactments of chase scenes from The Lone Ranger. Equestrian Ridge also offers under-saddle training for horses by an experienced instructor who tailors each session to the steed's temperament and riding style.
26711 Pumpkin Ridge Rd.
New Plymouth
Ohio
740-603-2523
---
---
Things to Do Deals - Recently Expired
---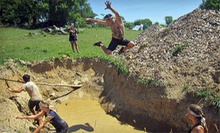 5K course challenges contestants with 21 obstacles, including barbed wire, dodge balls, and mud pits followed by after party
---
---