Coffee & Treats in Lancaster
---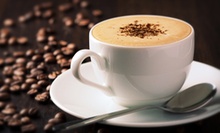 Baristas infuse organic coffee-cappuccino blends with flavors of white chocolate or pumpkin, and patrons nibble on housemade cookies
Use Monday 11:30am - 5:00pm
---
Recommended Coffee & Treats by Groupon Customers
---
The Aztecs used a currency system in which one turkey cost 100 cacao beans and one fresh avocado was worth three beans. So with today's Groupon, where 15 US dollars gets you 35 US dollars worth of Essential Chocolate Desserts creations, that means that you'll be getting more than 100 cacao beans (in their processed, chocolaty form). That's a hefty 57% discount on wicked chocolate cake, uncommon moon pies, chocolate macaroons, and more.
10868 Washington Boulevard
Culver City
California
US
310-287-0699
If you're sick of brown-bag lunches and greasy office delivery, improve your weekday eats with fresh ingredients and a cozy atmosphere with today's Groupon: $10 for $20 worth of food, drink, and free WiFi at Moxie.
1433 W 7th St.
Los Angeles
California
US
Named one of the 20 Best Bakeries by Los Angeles magazine, Platine is a sweet-tooth's favorite and a devout dentist's Kryptonite that has been featured on Food Network and in the LA Times for its all-natural and handmade treats. Platine's snickerdoodles, chocolate galore, and signature oatmeal-raisin cookies are carefully crafted by renowned chef Jamie Cantor. Cantor spent years working at the famous French Laundry (twice named best restaurant in the world by Restaurant magazine) before opening Platine.
10850 Washington Blvd.
Culver City
California
310-559-9933
Begin your yogurtsperience by skiing down a slope made from one of four flavors: natural, pomegranate, mango, or blueberry. Then trigger an avalanche of toppings, engulfing your chosen base in wave after wave of fresh fruits such as lychee, pineapple, and peaches or more toothsome cashews, chocolate chips, and even Captain Crunch. A single serving of plain yogurt goes for $2.50, while a single with up to three toppings costs $3.45. You can also nab a yogurt be-dolloped fruit salad ($4.50–$5.25) or blend it all together for an on-the-go smoothie ($4.95).
1935 E 17th St.
Santa Ana
California
When your army of Easy-Bake Ovens has been deactivated by Y2010K, a tragic pastry-sized void may consume your days. Today's Groupon plays dental assistant to your sweet tooth with $20 worth of cakes and pastries from Torrance Bakery for $10. Locations in Torrance and Gardena, the former housing its own sandwich shop as well, are eager to pack your cheeks with baked and hand-prepared delicacies more pristine than sculpted hedges sculpted by the lasers used for eye surgery.
15934 S Western Ave.
Gardena
California
US
Leo Leonard started the brand-new cold creamery for an upscale take on the spoonable sweet. Start with a frosty cup of fro yo ($4–$6) in exotic flavors including Madagascar vanilla and crème brûlée and pile on exotic toppings ($1.50 for up to four). Blanc features everything from the refreshing (organic fruit) to the requisite chocolate (dark-chocolate bar, fine imported French chocolate truffles) to the truly decadent (toasted coconut, fresh pears, white sponge cake). Blanc's yogurt is also certified kosher, so you can finally take your Rabbi out after your weekly skateboarding outing.
9465 Charleville Blvd.
Beverly Hills
California
---