Education & Classes in Land O' Lakes
---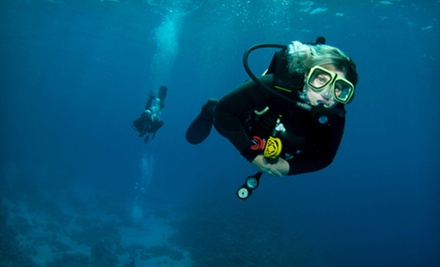 ---
Education & Classes Deals
---
Recommended Education & Classes by Groupon Customers
---
The cultivated culinarians at Young Chefs Academy mold fledgling cuisine crafters into experienced gastronomic artists with fun cooking classes for kids aged 3–16. Students learn the essentials of proper food handling, as well as preparation and kitchen-safety tips, such as avoiding any and all spork fights. Like an indecisive chameleon, classes have a new theme each month and new recipes each week, with kids accumulating kitchen knowledge while using professional equipment in a decked-out kitchen. October is Halloween themed, featuring such recipes as the serpent sandwich, sinister salsa, and jack-o'-lantern quesadillas, while during November kids learn recipes such as herbed turkey bites, pumpkin whoopie pies, eggnog pancakes, and deep-fried pilgrim hats.
1576 Bloomingdale Ave.
Valrico
Florida
813-643-7025
For the past two decades, Brent Beatty has been singing, songwriting, and performing for fine fans of blues and rock 'n' roll. With two CD releases and more than 100 written and co-written songs under his belt, Brent now turns string slappers into educated strummers after a few short lessons. During each session, students develop technique, theory, and songwriting skills in addition to producing an in-session recording for practical study at home. This tangible reference point promotes an abbreviated learning curve for hardworking students who, if they so chose, may perform in Brent's semi-annual Barn Yard Jam recital. Give the gift of guitar appreciation to a young musician, or reenlist yourself in the nation's guitarmy, where every battle of the bands is fought with honor, discipline, and occasional pyrotechnics.
2692 Enterprise Rd. E, Apt. 1301
Clearwater
Florida
Scuba West's expert instructors impart the skills and certification needed for unsupervised journeys into the deep blue. Participants can earn their PADI open-water certifications at Scuba West's full training facility, which features classrooms, an on-site heated pool, an open-water training site, and a retail area with equipment that can be rented or purchased. Students can further their water skills in courses or even get their PADI open-water certification, which enables them to explore most bodies of water without a manatee chaperone.
6815 Tower Dr.
Hudson
Florida
727-863-6911
Built in 1918, the Craftsman House's expansive, adobe-toned bungalow collapses time as visitors step onto a breezy veranda, walk past a lush carpet of flowers and fronds, and witness more American craftwork than they can shake an intricately whittled stick at. Blown glass, turned wood, and fine pottery and jewelry provided by a 300-strong network of local and national artists are just a few of the pieces that settle in at this homey abode. The building is so homey, in fact, that one artist hardly ever leaves. Surrounded by the courtyard, what was once an old-time carriage house is now the clay-caked studio of professional potter Stephanie Schorr. There, visitors can find her partway through many projects at once, crafting functional wares and feeding the carnival fire breathers that keep her kiln hot.
The historic hub of creative know-how hosts a multiplicity of events, including live music, gallery tours, and artistic workshops. In honor of the gallery's tireless community efforts, Craftsman House was named the 2011 Top Retailer for a Charitable or Philanthropic Event by Niche magazine.
2955 Central Ave.
St. Petersburg
Florida
727-323-2787
Professional nature photographers Les Voorhis and Jason Hahn strive to find the perfect balance between modern technology and the raw majesty of mother nature. Through multiple decades of experience, they each got pretty good at it, and decided to start Outdoor Photo Workshops to share their knowhow with aspiring shutterbugs.
6800 Sunshine Skyway Ln.
St. Petersburg
Florida
Far from being an artist possessed, Patty Sisco derives the same benefit from painting as she does from a long bubble bath. "All you are thinking about is your brushstrokes, not your bills," she told the Bloomingdale-Riverview Patch, speaking to the therapeutic value of her classes at Sketch and Sip. These sessions supply students of all backgrounds—including those who have never before lifted a brush—with canvas, tools, and a step-by-step demonstration on how to create their own vibrant masterpieces. As they work, Patty encourages her guests to imbibe drinks they've brought from home and plays serene music to prompt creative flow. She moves throughout the room to offer tips on technique and helps with corrections in case students' hands slip or they change their minds about adding a goatee to their horse portrait.
Though the classes, which have been featured on NBC's Daytime, are responsible for much of the studio's reputation, Patty also plans other community craft events. Each week on Wacky Wine Glass Wednesday, visitors embellish cups with fetching colors and patterns, and a full-time potter teaches specialty ceramics lessons that result in handmade tableware. Artists can even customize an image for their friends or family to paint during private parties, teaching children to color in SpongeBob SquarePants and encouraging coworkers to bond by sketching each other's staplers.
11242 Winthrop Main St.
Riverview
Florida
---