Education & Classes in Langford
---
Education & Classes Deals
---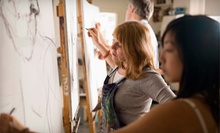 Adroit teachers guide students of all ages & levels to explore pencil, charcoal, pen & watercolor & help drawing techniques & general skill
Use Wednesday 1:00pm - 2:30pm
---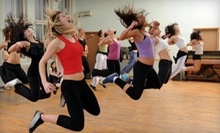 Use Friday 6:15am - 8:15am
---
Recommended Education & Classes by Groupon Customers
---
When Joan Barnes founded Gymboree Play & Music in 1976, she envisioned a facility where parents and children could play together in a safe and age-appropriate environment. In the following decades, Gymboree Play & Music spread to more than 30 countries across the globe, helping youngsters from infants to 5 years old develop cognitive, physical, and social skills. The company's instructors lead classes such as Play & Learn, its flagship course, in which parents and kids move through a seven-level program filled with storytelling, play activities, and debates on the merits of sandwich crust. Talented staffers also prep youngsters for school and foster development in areas such as music, art, and sports. Throughout all classes, they make use of custom play equipment designed by acclaimed playground designer and seesaw-tamer Jay Beck.:m]]
4609 14th Ave. NW, Suite 103
Seattle
Washington
At Yunomi Studio & Gallery, potter Monika Burrell, a graduate of Nova Scotia College of Art and Design, welcomes children aged 6-12 to make use of the space's 10 wheels and three kilns. Three- and six-lesson packages give kids the chance to spin, sculpt, and fire their own masterpieces. Adults looking to work independently can use the studio on their own. Yunomi sells clay and includes glazes and firings in the studio usage cost.
3164 B Gamma St.
Victoria
British Columbia
Sylvan Learning's teachers work to help kids get ahead in school by constantly analyzing skills and monitoring process to keep lessons challenging and targeted to individual abilities. This personal tutoring approach generally begins with a Sylvan skills assessment, which is designed to reveal any trouble spots or the ability to stop a train if it is leaving town at 43 miles per hour. In tailored tutoring sessions, students focus on topics such as math, reading, writing, study skills, and algebra. Sylvan also issues regular progress reports, providing parents with a comprehensive look into their son's or daughter's ongoing sessions. Sylvan's hours are flexible, catered to the needs of its students and the height of the tides.
3492 Byron St. NW
Silverdale
Washington
360-447-9035
Since 1974, the Victoria College of Art has minted more than 5,000 fine-arts diplomas for its alumni, making it the largest independent art school on Vancouver Island. The faculty's expertise extends into a panoramic array of artistic disciplines, including painting, design and installation, photography, and art history. The college offers a number of certificates in addition to its fine-arts diploma, including fine-arts-related-occupation certificates in textiles, mould-making, and certificate-painting. Pint-sized Picassos take their first brushstrokes in summer camp classes, which draw on kid-friendly themes such as fairy tales, time travel, and mask-making.
1625 Bank St.
Victoria
British Columbia
250-598-5422
The roll call of instructors at Passion and Performance Studio sounds like the lineup of a variety show. Professional circus performers and cruise-ship dancers work to get adults to shimmy and pirouette with flair across the 900-square-foot studio. The classes are split into two main categories, passion and performance, so all students can feel comfortable obliterating calories in the communal environment. The popular Sweat and Strut class, for example, incorporates a new move each week to work the arms, legs, and abs.
201-661 Burnside Rd.
Victoria
British Columbia
250-889-3435
Owned and operated by veteran competitive swimmer David Tait, Evo Swim School leads fun, structured classes that tutor young pupils in the watery arts. The classes start swimmers at a young age, introducing babes as young as 9 months to the water, and range up to lessons in advanced strokes that prep 12-year-olds for competitive swimming. The school sets parents' minds at ease with low student-to-teacher ratios; entry level and intermediate classes have one instructor in the pool for every four students.
During classes, parents are free to relax in the WiFi-enabled waiting room, where pool-overlooking windows provide an easy way to keep an eye on paddling young'uns. A kids' play area is also on hand to keep water-shy siblings and rust-prone sibling bots occupied while their amphibious brethren frolic in the water.
122 NW 36th St.
Seattle
Washington
USA
206-973-4470
---