Langford, BC Outdoor Activities
---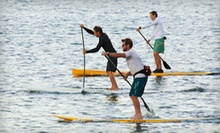 Skiing, kayaking, paddleboarding, and fishing excursions thrive, equipped with gear from brands including Necky, Atomic, and Rossignol
Use Today 10:00am - 7:00pm
---
Recommended Outdoor Activities by Groupon Customers
---
The Salish Sea hosts one of the largest killer-whale gatherings on the planet. From its three large pods of fish-eating resident orcas to the pods of transient orcas that hunt for larger mammalian game, the Salish's waters often churn with a flurry of activity. Five Star's captains give passengers a glimpse of this underwater entertainment by charting courses through the sea's whale-filled waters atop stable catamarans outfitted with four separate viewing platforms. From these lookouts, guests may spot the black and white behemoths, as well as mink, gray, and humpback whales and other marine life. Between sightings, crews keep parties comfortable within the heated cabin by supplying them with complimentary coffee, hot chocolate, and liquefied Herman Melville novels.
651 Humboldt St.
Victoria
British Columbia
250-388-7223
A city is like a walk-through history book with the stories scrawled along its streets and architecture. The sage-like guides of Hidden Dragon use their knowledge of that landscape to share the stories of Victoria. With that goal in mind, their menu of walking tours entices guests to join them through keystone locales that speak to the indigenous, British, and Chinese cultures that define the city, as well as the paranormal tales that comprise its folklore.
The Crown Victoria Native Island tour explores the indigenous people and British colonists that once inhabited the area. Guests walk past the historic Fairmont Empress Hotel situated beside the waters of Inner Harbour, totem poles, and the quaint historic shops of Old Town. The New World Old Chinatown tour inspired the Hidden Dragon name with journeys through the museums, courtyards, and concealed myths of Victoria's Chinese community. For an alternative history of the region, guides divulge the stories of ghosts, witches, and demons found in the rooming houses and alleys of Dark Victoria.
541 1/2 Fisgard St.
Victoria
British Columbia
866-920-0881
Victoria Paintball Adventures envelops gamers in two woodsy fields of play stacked with obstacles, catwalks, and buildings among a diversified topography. Colourful combatants can paint pointillism masterpieces on opponents while traipsing stealthily through the six-acre lower field composed of a maze, catwalks, lush forest, towers, open field, and hideouts. On the four-acre upper field paintballers play splat tag at a faster pace, taking cover behind castle walls or trees and pelting challengers with paint from atop a fort tower or a stilt-walker's shoulders. A minimum of two staff members oversee a medley of 12 themed games throughout the day, such as the humans-versus-zombies melee and old-school capture the flag. Each 10- to 15-minute match is designed to keep field crusaders knee-deep in adrenalin while garnering enough knowledge about the colour wheel to write a biography of Roy G. Biv.
1258 Neild Rd.
Victoria
British Columbia
250-727-3011
Iconic buildings rise up on either side of tour groups as they trail guides who regale them with stories and historical insights. Traversing a total of 12 Victoria and Vancouver neighbourhoods, the Architectural Institute of British Columbia's walking architecture tours illuminate pivotal and noteworthy structures throughout the city. In Victoria, explorers can ramble through Chinatown—the oldest Chinatown in the nation—or feel the waterfront breeze as it braids their hair on the famous harbour's inner shores. Alternatively, Vancouver tourists can embed themselves in the city's first neighbourhood, Strathcona, or investigate industrial expansion by roaming Yaletown.
The tours are just one of the many tools the Institute uses to raise architecture awareness. Established in 1920 to bring the profession's interest in line with the public, the institute doles out annual awards for outstanding architecture, displaying the winners in a public gallery. Meanwhile, their free architectural advice program for do-it-yourself homebuilders prevents common mishaps, such as building a second storey before building the first floor.
800 Yates St.
Victoria
British Columbia
604-683-8588
Before he founded Good Time Dave's Fishing Charters, David Eves spent 10 years fishing off the west coast of Vancouver Island. As a result, he brings a vast knowledge of the water and extensive fishing experience to his trips, as well as a Transport Canada certification, marine first-aid training, and enthusiasm for his work. David chauffeurs patrons out onto the water on a 23-foot Sea Sport that seats four. The vessel aids amateur fishermen in their quest for the perfect catch with a variety of high-tech tools including a Lowrance colour sounder that uses sonar to locate areas with high concentrations of fish and a black box that infuses the water with an electrical current to attract salmon. While on an adventure, patrons can hunt and hook Pacific salmon and halibut, or enjoy the rocky surroundings and fill souvenir jars with crisp clean air.
978 Wild Ridge Way
Victoria
British Columbia
250-383-9252
Born in Victoria, John Chau grew up fishing for salmon in the Sooke area. Thirty years since he hooked his first fish, Chau now shares his expertise with fellow anglers through guided charters on his 25-foot Pursuit Cuddy boat. During the spring and summer, Chau's clients hook chinook salmon anywhere between 15 and 50 pounds. Autumn brings coho salmon, and in the winter, feisty feeder chinook weighing between 4 and 12 pounds roam waters just minutes from the dock.
The Sooke area is typically calm year-round due to the lack of ground swell, and its teeming waters attract wildlife such as bald eagles, sea lions, and killer whales eager to gain a better reputation among fishermen.
3267 Megaw Pl.
Victoria
British Columbia
250-385-0168
---