Things to Do in Langford
---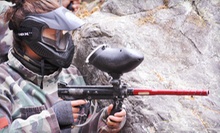 Wooded paintball field stacked with mazes, towers, catwalks and hideouts.
---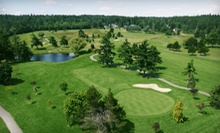 Stationed in coastal Washington, 6,476 yd. course wraps fairways around multiple ponds and sand traps at club with onsite driving range
---
Recommended Things to Do by Groupon Customers
---
Docked inside British Columbia's former Supreme Court building in Bastion Square, the Maritime Museum of BC bridges visitors to the province's past with an affluent collection of nautical and legal treasures. More than 35,000 unique artifacts—plus 40,000 photographs—join forces to ferry eyes through history, including displays and exhibits that showcase notable pirates, explorers, heritage vessels, and shipwrecks.
A fleet of three iconic sailboats has also dropped anchor beneath the museum's roof, and, despite its age and creaky knees from years of playing pond hockey, the oldest operating birdcage elevator in North America still volunteers to tote guests from floor to floor. Aside from its seafaring trove, the museum also runs public and school programs on topics such as immigration, pirates, and women at sea.
28 Bastion Sq.
Victoria
British Columbia
250-385-4222
Before he founded Good Time Dave's Fishing Charters, David Eves spent 10 years fishing off the west coast of Vancouver Island. As a result, he brings a vast knowledge of the water and extensive fishing experience to his trips, as well as a Transport Canada certification, marine first-aid training, and enthusiasm for his work. David chauffeurs patrons out onto the water on a 23-foot Sea Sport that seats four. The vessel aids amateur fishermen in their quest for the perfect catch with a variety of high-tech tools including a Lowrance colour sounder that uses sonar to locate areas with high concentrations of fish and a black box that infuses the water with an electrical current to attract salmon. While on an adventure, patrons can hunt and hook Pacific salmon and halibut, or enjoy the rocky surroundings and fill souvenir jars with crisp clean air.
978 Wild Ridge Way
Victoria
British Columbia
250-383-9252
After years in the IT industry, Danielle was ready for a change. Her tech-based clients seemed to be in perpetually foul moods, and she longed for days filled with smiles and the occasional inspirational conversation. She had always loved to paint, so opening her paint-your-own pottery studio felt like a natural way to fuse her passion for art with her desire to interact with people in a helpful way. Only one more thing was standing in the way of bringing her dream to life: a business partner, which she quickly found in her daughter Jennifer.
Together, this mother-and-daughter team runs Danielle's Paint-Your-Own Pottery Studio. To inspire creativity in others, they stock the studio's shelves with more than 300 bisque pieces, including mugs, bowls, and figurines. The pair guides artists through the creation process, helping them use stamps, stencils, and each other's ponytails to paint personal masterpieces. When not glazing and firing their customers' finished artwork, the duo also teaches classes on glass fusion and hosts special events such as birthday parties.
129-735 Goldstream Ave.
Langford
British Columbia
250-590-7949
Dennis Brady and his glass-blowing brood do more than supply Victoria with a steady stream of colourful crystalline pieces. They also impart the tricks of their trade in easy-to-understand classes, lectures, and workshops. Artists can take advantage of one of the studio's many kilns for rent or use the sandblaster to etch intricate designs into smooth surfaces to practice for a new gig as Jack Frost. The glassomancers' educational programs emphasize the business end of artistry, with numerous classes aimed specifically at improving one's marketability.
566 David St.
Victoria
British Columbia
Canada
250-382-9554
The nature enthusiasts at West Coast Outdoor Adventure Rentals supply sportsmen with Hobie kayaks and stand-up paddleboards to explore the protected waters of the Jordan River, Sombrio Beach, and Strait of Juan de Fuca. Needing no prior experience, single explorers or duos propel their vessels with paddles or fully adjustable kayak pedal systems, which leave hands free for photographing scenery, fishing, or manning the onboard crepe stations. Highlights include wildlife encounters with seals, otters, and eagles.
6971 W Coast Rd.
Sooke
British Columbia
250-664-7794
---