Things to Do in Langford
---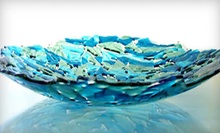 Knowledgeable instructor empowers students to create intricate glass art during single sessions or five-day camps
---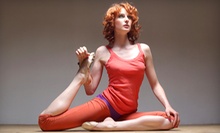 Students learn series of poses & meditative breathing through yoga instruction inside tea bar & yoga studio
Use Thursday 7:00am - 10:00am
---
Recommended Things to Do by Groupon Customers
---
Victoria Paintball Adventures envelops gamers in two woodsy fields of play stacked with obstacles, catwalks, and buildings among a diversified topography. Colourful combatants can paint pointillism masterpieces on opponents while traipsing stealthily through the six-acre lower field composed of a maze, catwalks, lush forest, towers, open field, and hideouts. On the four-acre upper field paintballers play splat tag at a faster pace, taking cover behind castle walls or trees and pelting challengers with paint from atop a fort tower or a stilt-walker's shoulders. A minimum of two staff members oversee a medley of 12 themed games throughout the day, such as the humans-versus-zombies melee and old-school capture the flag. Each 10- to 15-minute match is designed to keep field crusaders knee-deep in adrenalin while garnering enough knowledge about the colour wheel to write a biography of Roy G. Biv.
1258 Neild Rd.
Victoria
British Columbia
250-727-3011
Before he founded Good Time Dave's Fishing Charters, David Eves spent 10 years fishing off the west coast of Vancouver Island. As a result, he brings a vast knowledge of the water and extensive fishing experience to his trips, as well as a Transport Canada certification, marine first-aid training, and enthusiasm for his work. David chauffeurs patrons out onto the water on a 23-foot Sea Sport that seats four. The vessel aids amateur fishermen in their quest for the perfect catch with a variety of high-tech tools including a Lowrance colour sounder that uses sonar to locate areas with high concentrations of fish and a black box that infuses the water with an electrical current to attract salmon. While on an adventure, patrons can hunt and hook Pacific salmon and halibut, or enjoy the rocky surroundings and fill souvenir jars with crisp clean air.
978 Wild Ridge Way
Victoria
British Columbia
250-383-9252
After years in the IT industry, Danielle was ready for a change. Her tech-based clients seemed to be in perpetually foul moods, and she longed for days filled with smiles and the occasional inspirational conversation. She had always loved to paint, so opening her paint-your-own pottery studio felt like a natural way to fuse her passion for art with her desire to interact with people in a helpful way. Only one more thing was standing in the way of bringing her dream to life: a business partner, which she quickly found in her daughter Jennifer.
Together, this mother-and-daughter team runs Danielle's Paint-Your-Own Pottery Studio. To inspire creativity in others, they stock the studio's shelves with more than 300 bisque pieces, including mugs, bowls, and figurines. The pair guides artists through the creation process, helping them use stamps, stencils, and each other's ponytails to paint personal masterpieces. When not glazing and firing their customers' finished artwork, the duo also teaches classes on glass fusion and hosts special events such as birthday parties.
129-735 Goldstream Ave.
Langford
British Columbia
250-590-7949
The nature enthusiasts at West Coast Outdoor Adventure Rentals supply sportsmen with Hobie kayaks and stand-up paddleboards to explore the protected waters of the Jordan River, Sombrio Beach, and Strait of Juan de Fuca. Needing no prior experience, single explorers or duos propel their vessels with paddles or fully adjustable kayak pedal systems, which leave hands free for photographing scenery, fishing, or manning the onboard crepe stations. Highlights include wildlife encounters with seals, otters, and eagles.
6971 W Coast Rd.
Sooke
British Columbia
250-664-7794
Born in Victoria, John Chau grew up fishing for salmon in the Sooke area. Thirty years since he hooked his first fish, Chau now shares his expertise with fellow anglers through guided charters on his 25-foot Pursuit Cuddy boat. During the spring and summer, Chau's clients hook chinook salmon anywhere between 15 and 50 pounds. Autumn brings coho salmon, and in the winter, feisty feeder chinook weighing between 4 and 12 pounds roam waters just minutes from the dock.
The Sooke area is typically calm year-round due to the lack of ground swell, and its teeming waters attract wildlife such as bald eagles, sea lions, and killer whales eager to gain a better reputation among fishermen.
3267 Megaw Pl.
Victoria
British Columbia
250-385-0168
With the waves of Victoria Harbour's Selkirk Waters lapping just below their headquarters, Switch Bridge Tours' staff leads bicycle and kayak tours of Victoria and Vancouver Island's waterways. The business's proximity to the Galloping Goose and Lochside trails facilitates tours on frequently tuned-up bikes that venture into the Cowichan Valley or along the Saanich Peninsula. Kayaks cease their giant kazoo impressions long enough to cut through the Tod Inlet and the Inner Harbour on beginner or advanced tours. Each experienced guide is certified in First Aid and CPR.
106 - 80 Regatta Landing
Victoria
British Columbia
250-383-1466
---