Things to Do in Langford
---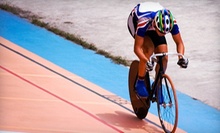 A banked cycling track hosts novices as they learn the basics in an introductory clinic or prepare for actual races on the course
---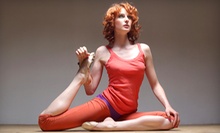 Soup, salad & sandwiches sate guests as sips of various teas warm palates with light & dark tea flavors inside tea-bar- & yoga-studio hybrid
Use Saturday 10:00am - 3:00pm
---
Recommended Things to Do by Groupon Customers
---
A city is like a walk-through history book with the stories scrawled along its streets and architecture. The sage-like guides of Hidden Dragon use their knowledge of that landscape to share the stories of Victoria. With that goal in mind, their menu of walking tours entices guests to join them through keystone locales that speak to the indigenous, British, and Chinese cultures that define the city, as well as the paranormal tales that comprise its folklore.
The Crown Victoria Native Island tour explores the indigenous people and British colonists that once inhabited the area. Guests walk past the historic Fairmont Empress Hotel situated beside the waters of Inner Harbour, totem poles, and the quaint historic shops of Old Town. The New World Old Chinatown tour inspired the Hidden Dragon name with journeys through the museums, courtyards, and concealed myths of Victoria's Chinese community. For an alternative history of the region, guides divulge the stories of ghosts, witches, and demons found in the rooming houses and alleys of Dark Victoria.
541 1/2 Fisgard St.
Victoria
British Columbia
866-920-0881
Victoria Paintball Adventures envelops gamers in two woodsy fields of play stacked with obstacles, catwalks, and buildings among a diversified topography. Colourful combatants can paint pointillism masterpieces on opponents while traipsing stealthily through the six-acre lower field composed of a maze, catwalks, lush forest, towers, open field, and hideouts. On the four-acre upper field paintballers play splat tag at a faster pace, taking cover behind castle walls or trees and pelting challengers with paint from atop a fort tower or a stilt-walker's shoulders. A minimum of two staff members oversee a medley of 12 themed games throughout the day, such as the humans-versus-zombies melee and old-school capture the flag. Each 10- to 15-minute match is designed to keep field crusaders knee-deep in adrenalin while garnering enough knowledge about the colour wheel to write a biography of Roy G. Biv.
1258 Neild Rd.
Victoria
British Columbia
250-727-3011
Before he founded Good Time Dave's Fishing Charters, David Eves spent 10 years fishing off the west coast of Vancouver Island. As a result, he brings a vast knowledge of the water and extensive fishing experience to his trips, as well as a Transport Canada certification, marine first-aid training, and enthusiasm for his work. David chauffeurs patrons out onto the water on a 23-foot Sea Sport that seats four. The vessel aids amateur fishermen in their quest for the perfect catch with a variety of high-tech tools including a Lowrance colour sounder that uses sonar to locate areas with high concentrations of fish and a black box that infuses the water with an electrical current to attract salmon. While on an adventure, patrons can hunt and hook Pacific salmon and halibut, or enjoy the rocky surroundings and fill souvenir jars with crisp clean air.
978 Wild Ridge Way
Victoria
British Columbia
250-383-9252
After years in the IT industry, Danielle was ready for a change. Her tech-based clients seemed to be in perpetually foul moods, and she longed for days filled with smiles and the occasional inspirational conversation. She had always loved to paint, so opening her paint-your-own pottery studio felt like a natural way to fuse her passion for art with her desire to interact with people in a helpful way. Only one more thing was standing in the way of bringing her dream to life: a business partner, which she quickly found in her daughter Jennifer.
Together, this mother-and-daughter team runs Danielle's Paint-Your-Own Pottery Studio. To inspire creativity in others, they stock the studio's shelves with more than 300 bisque pieces, including mugs, bowls, and figurines. The pair guides artists through the creation process, helping them use stamps, stencils, and each other's ponytails to paint personal masterpieces. When not glazing and firing their customers' finished artwork, the duo also teaches classes on glass fusion and hosts special events such as birthday parties.
129-735 Goldstream Ave.
Langford
British Columbia
250-590-7949
Dennis Brady and his glass-blowing brood do more than supply Victoria with a steady stream of colourful crystalline pieces. They also impart the tricks of their trade in easy-to-understand classes, lectures, and workshops. Artists can take advantage of one of the studio's many kilns for rent or use the sandblaster to etch intricate designs into smooth surfaces to practice for a new gig as Jack Frost. The glassomancers' educational programs emphasize the business end of artistry, with numerous classes aimed specifically at improving one's marketability.
566 David St.
Victoria
British Columbia
Canada
250-382-9554
---