Tours in Langford
---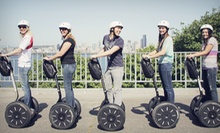 Segways transport groups through Seattle neighborhoods as knowledgeable guides dish facts about passing landmarks and picturesque views
---
Recommended Tours by Groupon Customers
---
Brew up a 4,000-square-foot batch of brew-fun with this Groupon: a brewery tour of Fremont Brewing for seven bucks. Fremont Brewing is a family-owned microbrewery dedicated to brewing really good organic brews. You also get a pint glass and complimentary pint of Fremont's signature Universale Pale Ale or Interurban India Pale Ale with the tour.Follow @Groupon_Says on Twitter.
3409 Woodland Park Ave N
Seattle
Washington
US
A city is like a walk-through history book with the stories scrawled along its streets and architecture. The sage-like guides of Hidden Dragon use their knowledge of that landscape to share the stories of Victoria. With that goal in mind, their menu of walking tours entices guests to join them through keystone locales that speak to the indigenous, British, and Chinese cultures that define the city, as well as the paranormal tales that comprise its folklore.
The Crown Victoria Native Island tour explores the indigenous people and British colonists that once inhabited the area. Guests walk past the historic Fairmont Empress Hotel situated beside the waters of Inner Harbour, totem poles, and the quaint historic shops of Old Town. The New World Old Chinatown tour inspired the Hidden Dragon name with journeys through the museums, courtyards, and concealed myths of Victoria's Chinese community. For an alternative history of the region, guides divulge the stories of ghosts, witches, and demons found in the rooming houses and alleys of Dark Victoria.
541 1/2 Fisgard St.
Victoria
British Columbia
866-920-0881
As Seattle Food Tours takes you on a two-and-a-half-hour perambulation of Pike Place Market, they'll introduce you to their handpicked favorite restaurants, chefs, farmers, gourmet shops, and artisanal food purveyors. Depending on the tour, you might try award-winning local clam chowder, sample fresh English crumpets, or lick authentic Italian gelato made with fresh local fruit. Past tours have also included Chinese herb teas, locally produced cheese, alder-wood-smoked salmon, and a whole bunch of other James Beard award-winning chefs, organic seasonal fruits, international wines, and more. The surprise is much of the fun, so buy extra Groupons for up to three friends, and spend an afternoon telling each other, "Here, you have to try this."
2234 1st Avenue
Seattle
Washington
206-725-4483
Iconic buildings rise up on either side of tour groups as they trail guides who regale them with stories and historical insights. Traversing a total of 12 Victoria and Vancouver neighbourhoods, the Architectural Institute of British Columbia's walking architecture tours illuminate pivotal and noteworthy structures throughout the city. In Victoria, explorers can ramble through Chinatown—the oldest Chinatown in the nation—or feel the waterfront breeze as it braids their hair on the famous harbour's inner shores. Alternatively, Vancouver tourists can embed themselves in the city's first neighbourhood, Strathcona, or investigate industrial expansion by roaming Yaletown.
The tours are just one of the many tools the Institute uses to raise architecture awareness. Established in 1920 to bring the profession's interest in line with the public, the institute doles out annual awards for outstanding architecture, displaying the winners in a public gallery. Meanwhile, their free architectural advice program for do-it-yourself homebuilders prevents common mishaps, such as building a second storey before building the first floor.
800 Yates St.
Victoria
British Columbia
604-683-8588
Colleen Barrow has spent her entire lifetime seeking out and memorizing the coordinates of the most scenic sights dotting British Columbia's Southern Gulf Islands. Rather than trapping them in a photo album or enormous snow globe, the local explorer shares her finds with guests through ITT Wilson's Tours. By partnering with Wilson's Transportation, Barrow coordinates luxury bus tours to castles, lighthouses, botanical gardens, and wineries. With many of the tours, guests receive a midday meal such as rustic oven pizza served at an apple-orchard picnic site, or mutton legs aged to perfection in a castle's meat cellars.
3-463 Belleville St.
Victoria
British Columbia
250-477-3322
Charles Mickelson knows Seattle so well, he can unearth trolls hiding under its bridges—specifically, the Fremont Troll, an 18-foot-high stone troll statue nestled beneath the Fremont Bridge. This is just one of the landmarks that Charles's company, Seattle Qwik Tour, showcases on its signature 90-minute mini-coach tours. Their tour routes also pass the Space Needle, the Central District, and Viretta Park, one of Kurt Cobain's old haunts. As the group rolls through the city, passengers learn statistics and historical tidbits from their guides while snapping photos of the scenery during periodic stops.
400 Broad St.
Seattle
Washington
206-743-1884
---