Shopping in Langley
---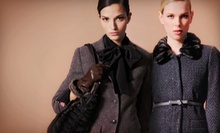 International designer lines displayed next to artisanal baubles at boutique carrying sizes 0–20, onsite tailor and wardrobe consults
---
Recommended Shopping by Groupon Customers
---
Escents Aromatherapy crafts more than 300 all-natural products to nurture the body and home, derived from 100% pure essential oils and scented with more than 120 fragrances. Handmade, geometrically calibrated bar soaps such as the lime and eucalyptus renewal bar ($4.95/5 oz.) prepare skin for a comforting embrace of calm hand and body lotion ($16.95/8 oz.), which blends pleasing sniffs of frankincense and orange with moisturizing avocado oil, shea butter, and aloe vera. An extensive selection 100% pure essential oils refill aromatherapy diffusers, ranging from Australian tea tree essential oil ($8.95/0.17 oz.) to signature blends such as wild gardenia($10.95/0.17 oz.) swirling ylang ylang and jasmine. For domiciles demanding refreshment, the osmanthus soy jar candle ($15.95/7 oz.) ushers in the outdoorsy scents of cedar leaf and lemon without the hassle of buying fresh lemons or planting a tree in the ottoman.
2002 Park Royal South, Unit 1022
West Vancouver
British Columbia
Rocky Mountain Soap uses 100% natural ingredients packed with healing and nurturing powers to hand-make its line of bath-and-body products. Rejuvenate worn-down skin skates with Rocky Mountain Soap's foot butter ($13.49), containing fir-needle essential oil, carrot-root extract, and Alberta beeswax, or Halloween your hands clean with the pumpkin-patch soap ($4.99), ideal for soothing rough skin while reducing itchiness. Rocky Mountain Soap's cold & flu bed & body mist ($12.49) harnesses a murderer's row of antibacterial essential oils to provide airbourne alleviation of sneezes and sniffles, and the blossom fresh deodorant ($7.99) keeps armpits as fresh and aromatic as the armpits of a wildflower. Other items include aromatherapy products, lotions, and lip butters.
3057 Granville Street
Vancouver
British Columbia
Cigars can be made one of two ways: by machine or by hand. The latter is usually preferred, but requires a significant amount time. For starters, the tobacco leaves must cure for six weeks before the torcedor—or cigar roller—even begins their work. From there, the artist painstakingly sorts the leaves by colour and fermentation, removes the veins, and finally begins stretching and rolling them into a handmade masterpiece.
As an appointed dealer for Habanos—one of the largest Cuban cigar manufacturers—Cigar Connoisseurs is the bridge between torcedor and aficionado, offering popular brands such as Romeo y Julieta, Cohiba, and Montecristo. All customers have to do is walk into the shop's humidor and choose which handmade stogies they want to smoke or use as Lincoln Logs. True connoisseurs can even enroll in the shop's cigar club and receive three or four gourmet cigars each and every month.
346 Water St.
Vancouver
British Columbia
A family-owned endeavour, Framehouse Boutique's skilled framers understand the importance of carefully preserving family photos, and they pool their more than 20 years of experience to beautify pictorial memories with custom framing services. Masters of artful borders and precise matting, the team's wide-ranging skills allow them to dexterously frame pieces of varying shapes, from jerseys and needlepoint to canvas art and small 3-D objects such as Danny DeVito. In addition to framing, the multitalented crew also performs dry mounting, canvas stretching, and glass replacement. To assure quality craftsmanship and a quick turnaround—usually seven days or less—most of their frame mouldings come from local suppliers.
45 W Broadway
Vancouver
British Columbia
604-879-9163
The winter-sports division of Mad Dog's Source For Sports began with a meagre stash of five skis, five bindings, and eight boots. Over the past 30 years, the superstore has expanded into all seasons and terrains, equipping athletes with name-brand gear and personalized services. Staff prep hockey players for the ice with custom skate fittings catered to each player's foot type, and keep preowned blades crisp with their Blademaster sharpening system. Baseball and softball players charge out into the dirt with new cleats, gloves, or slow-pitch aluminum bats, and lacrosse players glide over the grass with a newly strung STX Proton head. The multiskilled staff strings tennis racquets for hard-court play, and tests each hockey stick they vend to make sure their flavour pairs well with this season's stick tape.
2556 Montrose Ave.
Abbotsford
British Columbia
604-859-4112
Every autumn, when the cool air puts an end to the growing season, the gardening experts at Art Knapp Plantland reorganize their Port Coquitlam greenhouse into Art Knapp's Funland. This harvest festival beckons young and old alike with games and rides that range from the popular and scary haunted tunnel to carnival classics, all of which operate on a ticket system. This year, kids can romp on a tire swing and in a bouncy castle, as well as enjoy the cricket ride, octopus ride, and bear-and-monkey ride. Amid the rides and games, vendors serve carnival treats, and bright-orange pumpkins sit atop rows of straw bales. Inside Art Knapp's store, meanwhile, an ornate Halloween display presents frightening spectacles such as one-eyed skeletons and a miniature haunted town where inhabitants can only get dial-up Internet service.
1401 Hornby St.
Vancouver
British Columbia
604-662-3303
---