Things to Do in Langley
---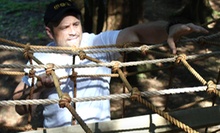 Personal trainers lead individuals or small groups through rigorous exercises indoors or out on wooded trail
---
Recommended Things to Do by Groupon Customers
---
Owned and operated by a cohort of passionate paintball players since 2001, Ambush Paintball's three recreational fields, with a fourth opening May 27th, constantly undergo grooming to ensure their safety and to accommodate new, challenging obstacles. A 200-foot-long tire wall, two-storey clock tower, and 50-foot easel for target practice adorn the massive 450'x250' Ambush City Field, whose square shape and symmetrical layout prevent either team from naming their strategies after famous couture dresses. Meanwhile, two mobile homes, nicknamed the Redneck Fortresses, shelter participants on the Grassy Mounds Field when they're not navigating the trenches and maze-like grassy paths on the outside. More paths abound on the 5-acre diamond-shaped Lost Forest Field, whose tree forts and barricades have hosted as many as 200 players at a time. Elsewhere, a celebrated speedball park hosts a range of guests––from first-timers to pros of the sport––for tournaments every Sunday.
7550 160 St.
Surrey
British Columbia
604-812-2379
At Panther, tall cedars and thick brush help to conceal the tactics of opposing shooters, who dive into the real-dirt trenches and other hiding spots that characterize the facility's 57 acres. Drop-in players as well as party groups can sling their BBs across no fewer than 12 variously configured battlefields strewn with tires, beaver-dam bunkers, dirt mounds, and other obstructions. The fields lend a realistic ambience to Panther's scenario-play events, during which vigilant referees oversee themed play. Panther recently added airsoft to its arsenal, which doesn't weigh down players with big hoppers or bulky air tanks.
19022 16th Ave.
Surrey
British Columbia
604-533-0890
With a climate-controlled indoor riding arena as well as an outdoor riding ring and paddocks, A&T Equestrian provides grounds for year-round instruction in the art of equine piloting. During lessons, students climb into saddles as instructors expound upon the essentials of English riding such as walking, jumping, and cantering whilst pouring tea. Lessons focus on fun and the development of new skills while also emphasizing the importance of proper riding gear and safety practices. Instruction is available for adults as well as children as young as 3 with parent participation, and A&T further caters to youngsters with a variety of party packages specially designed for kids and teens.
4615 190th St.
Surrey
British Columbia
604-574-3211
Dell Lanes hosts friendly competition among players throughout the week with regular bowling hours or laser bowling sessions on its collection of classic five-pin lanes furnished with plush couches and automatic scoring. The alley dims its lights and dusts off its futuristic hues for laser bowling each Thursday, Friday, and Saturday. At the on-site bar and lounge, the kitchen staff fires up a full menu of traditional pub fare including house-made pizza, burgers, and beef sandwiches. Dell Lanes also hosts leagues for children, adults, and seniors, allowing the entire family to hone its skills for settling the neighbourly feud with the sparrows in the backyard birdhouse.
10576 King George Blvd.
Surrey
British Columbia
604-581-8230
On Father's Day weekend, few gifts could be better than letting dad browse motorcycles, whiskys, and golf gear—all at the same location. Enter The Vancouver Men's Show, which will host 250 exhibitors that appeal to men, ranging from liquor distilleries to fishing adventure companies to snowmobile manufacturers. Three days' worth of events supplement the exhibitors' offerings. Visitors can sample an international selection of beers and wines, and those with a bachelor's degree in grunting can compete in the arm-wrestling and bench-press competitions. Throughout the weekend, House of Q serves its barbecue and leads cooking shows, and Cascades Casino hosts a Texas Hold 'em poker tournament on Saturday and Sunday. Among the charitable events is Bash a Car for Kids, which gives participants several swings at an automobile with a sledgehammer in exchange for donations to BC Children's Hospital.
1190 Cornell St.
Abbotsford
British Columbia
Darting out from behind a tree, the marksman sidles up behind a barrel before swiftly aiming his Tippmann 98 marker at an unsuspecting opponent crouched beside a stack of firewood. Such are the tactics that Go Big Paintball referees—themselves dedicated paintballers—witness at each bout on the outdoor field. The refs distribute players of all skill sets and experience levels between two teams before sending them off to fire 100% biodegradable paint at one another across more than 21 acres. Between rounds, the indoor facility facilitates reenergizing with air fills and concessions. Go Big also hosts birthday parties and puts together customized packages for groups that want a little more time or ammunition during their adventures.
2149 E Badger Rd.
Lynden
Washington
360-318-7637
---