Shopping in Laplace
---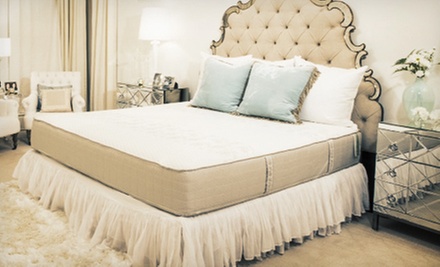 ---
Recommended Shopping by Groupon Customers
---
Bath Junkie's Metairie branch welcomes crafty visitors who aim to create their own customized bath products without welding together bathtubs or sewing shower curtains into tuxedo capes. Amid a vibrant and colorful atmosphere, the helpful staff assists customers in selecting non-tinted and unscented products such as salt scrubs, bath crystals, lotions, body washes, shampoos, conditioners, oils, perfumes, and magical elf ointments that instill tree-talking abilities. Next, around 200 scents are available to be fused into each product before a final tint application transforms skin-soothing concoctions into aesthetically striking bathroom accessories. Surprise your mom with a hydrating body mist ($8.75, 2 oz.) that matches her bedroom décor or pick up any bottled product ($11.75, 4 oz.) such as a conditioner, body wash, or bubble bath. Add pizzazz to bath time with fragrant bath crystals ($24.50) and an exfoliating salt scrub ($30). The fun, hands-on process provides all the childlike excitement of spontaneous soda-fountain chemistry while avoiding sugar-induced headaches and upset stomachs. Every product is suitable for sensitive skin and almost all are paraben- and SLS-free.
3313 Severn Ave
Metairie
Louisiana
At Dirty Coast, visitors can acquire a bevy of fetching T-shirts, apparel, and merchandise that showcase a proud New Orleans swagger. Featuring designs illustrated by local and international artists, Dirty Coast's products aim to spark conversation and the occasional thumb-wrestling match with city-wise graphics and topical opinion-expressers. Peruse a variety of shirts with a head-turning graphic reminder of all the things you'll need for NOLA's never-ending festival season ($15), or a charming hot-sauce-doused Dirty Coast design ($20). Cruise sidewalks and spaceship command decks in style with merchandise such as the environmentally friendly shopping bag ($20), or surf the web and lava rivers with a water meter mouse pad ($9). Customers can purchase multiple Groupons as gifts, allowing them to help update Uncle Bob's dated wardrobe, which consists of steel chain mail and cargo shorts.
5704 Magazine St.
New Orleans
Louisiana
Catherine and Scott McKearn leave no corner of the world unsearched in their quest to discover artisan furniture builders. The couple frequents faraway destinations in India, Indonesia, China, and Morocco to unearth beautiful solid-wood furniture to import directly to their three shops. In order to save their customers money, they buy pieces wholesale and ship them in 40-foot containers, bypassing both middlemen and price-gun-wielding pirates. Their furniture ranges in style from industrial to French country, and the eclectic selection rotates every few weeks to accommodate new shipments.
318 N Rampart St.
New Orleans
Louisiana
For more than two decades, the professional framers at Cannon Framing & Artworks have converted photographs and works of art into tasteful wall displays with matting, protective glass, and frames in classic or contemporary styles. The staff helps clients choose colors that complement a painting's blues and greens, simple mouldings that draw the eye toward the photos inside, or thick baroque frames that distract police inspectors from noticing stolen Mona Lisa_s. While waiting for the framer to take measurements, peruse the store's gallery of paintings, posters, and sports memorabilia, many of which reflect owners Kay and John's enthusiasm for for collegiate sports and pro football.
4941 W Napoleon Ave., Suite A
Metairie
Louisiana
In 1910, Harry Offner opened his first hardware shop on South Rampart Street in downtown New Orleans, setting the foundation for a local network of three retail stores with more than 27,000 items in stock and 90,000 more available through catalogs or the Ace Hardware website. Like a treasured heirloom or the gene for double-jointed elbows, the business has passed through three generations as Harry's grandkids currently mind the store to help homeowners and handy folks find cleaning and painting supplies, lawn-care implements, housewares, and tools from well-known brands. The knowledgeable staff also assists shoppers with a variety of services, from cutting keys and threading pipes to minor household repair jobs performed by licensed and insured handymen.
4817 General Meyer Ave.
New Orleans
Louisiana
French children's books. Rare, local cookbooks. Novels set in the muggy air of Louisiana. All of these tomes line the blonde wood shelves at Blue Cypress Books, home to a trove of more than 12,000 new and high-quality secondhand books. Gathered by the owner and chief bookkeeper, the store's selection runs the gamut from New York Times bestselling paperbacks to antiquarian sets kept in slipcase in order to guard against spilling coffee or liquid nitrogen on their leather covers. The resident gray-and-white tabby cat, Kitty Meow, lounges amid browsers as they peek at the affordable prices penciled on the inside pages of an extensive youth collection.
Something always seems to be happening at Blue Cypress, too. Children's book readings captivate little ones, and author signings let guests hobnob with professional wordsmiths. The shop also hosts performances of local music as well as monthly book-club meetings, during which locals share favorite recipes for broiling mystery novels.
8126 Oak St.
New Orleans
Louisiana
---