Beer, Wine & Spirits in LaPorte
---
Beer, Wine & Spirits Deals
---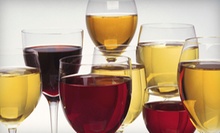 Sample wine from around the world at home with help from a wine connoisseur
---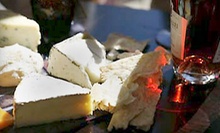 Use Saturday 12:00pm - 9:00pm
---
Recommended Beer, Wine & Spirits by Groupon Customers
---
Just Grapes brings the passion of wine country to Chicago by simplifying the world of wine for local consumers. A wine shop supporting the idea that wine education should be simple, fun and functional, Just Grapes specializes in private and corporate wine-tasting events, wine retail and wine education.
560 W Washington Blvd.
Chicago
Illinois
312-627-9463
WineStyles Belmont's Dionysian staffers dazzle palates with a globe-spanning array of world-class wines served at stylish private tasting events. Customers can select 14 lucky friends aged 21 and older to join them for the two-hour tasting, which can add glamour to holiday parties, casual comfort to corporate get-togethers, or refinement to rugby-match after-parties. At each tasting, guests mingle in cask-filled crannies of the elegant Belmont shop as they sample six unique, complex vinos. Knowledgeable staffers highlight each wine's subtle notes and flavors, and answer questions about origin, grape varietals, and which wines pair best with cotton candy. Between tastings, guests can cleanse palates and sate appetites with nibbles of fine cheeses and crackers.
1433 W Belmont Ave.
Chicago
Illinois
US
773-549-2227
The experts at Wine Discount Center taste wine like it's their job—because it is, actually. Every month, they taste hundreds of wines, assessing each one's color, aroma, flavor, body, knowledge of American history, and finish in the same manner that the critics of Wine Spectator and Wine Advocate use to grade wines on their 100-point scales. This never-ending sampling and scoring lets Wine Discount Center's team continually update and hone the selection at each location, regularly announcing new finds on the company's website and ensuring each bottle it stocks is worthy of 85 points or more. The oenophiles further enhance guests' enjoyment of their wines by leading in-store tastings every Saturday at noon.
1826 N Elston Ave.
Chicago
Illinois
Following layoffs from corporate jobs, Jeffrey Durbin and Michael Banko decided to pursue their passion for wine. Drawing on travels to wineries all over the country, they opened The Gourmet Grape in 2003. During weekly two-hour tastings, they guide customers on a culinary tour across the globe, with stops including the United States, Chile, and New Zealand. Racks of fine international wines stock the shelves, as well as gourmet olive oils, vinegars, chocolates, tea, glassware, and decorative tableside accents. Like the stork when he's in a pleasant mood, the duo bundles its wares in gift baskets, which cradle wines, chocolates, candles, and specialty flavored cheeses.
3530 N Halsted St.
Chicago
Illinois
773-388-0942
Food & Wine magazine has drawn editor-in-chief Dana Cowin's expertise of all things edible for 17 years. The monthly publication introduces readers to unique ingredients and up-and-coming chefs, as well as home-entertainment tips and wine-pairing advice. Restaurant reviews suggest new eateries to try when you don't want to dirty your dishes or attempt to pronounce "worcestershire sauce," and articles about international food provide constant culinary inspiration.
"Travel + Leisure is a celebration of travel," says editor-in-chief Nancy Novogrod. Browsing the magazine's table of contents reveals the truth of this statement; an affection for the road shines through in articles about domestic and international destinations, tech tips for sightseers, and glossy photos of stunning locales. Writers bring to life seasonal festivities around the world and weigh in on the best hotels, resorts, and wax museums with unobservant guards. Themes covered include adventure vacations, eco-travel, and kid-friendly trips.
600 W. Chicago Ave.
Chicago
Illinois
What was supposed to be a vacation to Napa changed Christopher Libby's life. Visiting California's thriving vineyards made him realize that life was too short to dislike his career, so he quit his job. He then enrolled in school, became an executive sommelier, and beat Liza Minnelli in a game of Rock, Paper, Scissors to win the right to name his wine shop Life's A Cabernet. Inside, floor-to-ceiling cubbies highlight Libby's main fare—500 unique bottles of wine—though his shelves also display a collection of 75 craft beers, small-batch scotch and whisky, and handcrafted gin and tequila. In the spirit of wine appreciation, Christopher leads a club through which members receive a bottle of wine each month that he chooses, often a white, red, or bubbly vintage that pairs with the seasons.
1937 W North Ave.
Chicago
Illinois
773-360-5536
---