Concerts & Events in Largo
---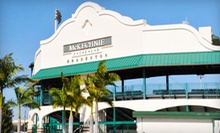 The Class A Advanced affiliate of the Pittsburgh Pirates face Florida State League foes at recently renovated McKechnie Field
---
Recommended Concerts & Events by Groupon Customers
---
With the 2011 season looming large, FC Tampa Bay will attempt to pass, tackle, and score its way to NASL glory at the club's new home at Al Lang Stadium in St. Petersburg. Currently headed up by English coach and retired professional footballer Ricky Hill, the FC Tampa Bay team are chest-trapping, banana-kicking, and head-butting their way back into the world of black-and-white-spotted balls. Watch them take on the Puerto Rico Islanders, who are hungry to work their way up the 2011 standings, or root on the roster as the team guns for the fleet-footed Atlanta Silverbacks, slippery Carolina Railhawks, or northerly FC Edmonton. General-admission seats allow frenetic fans to observe the fantastic flairs of NASL soccer savants as they attempt to sneak the European pigskin between an opponent's legs and through the goal zone. The $20 gift voucher can be put toward merchandise such as a jersey, a scarf, or an oversized foam yellow card.
3802 W Dr. Martin Luther King Jr. Blvd.
Tampa
Florida
Florida Orchestra has delighted ears across the Tampa Bay area for 44 seasons filled with time-tested masterworks and sprightly pops concerts. Created in the 1968 merger between the St. Petersburg Symphony and the Tampa Philharmonic, Florida Orchestra ties the two sides of the bay together into one musical tradition. The ensemble has continued its program of outreach ever since, which has recently included cultural exchange programs with Cuba, collaborations with local institutions, and the tradition of allowing one lucky child to sleep inside a tuba during each performance.
244 2nd Ave. N
St. Petersburg
Florida
727-892-3337
Inspired by his own love of exotic cars, Joe Sabatini's Festivals of Speed has been parading a fleet of the world's snazziest automobiles before crowds at several fancy Florida hotels and resorts for a full decade. His who's who list of cars includes vintage and contemporary models from Porsche, Lamborghini, Bugatti, Rolls-Royce, and Aston Martin, some so frighteningly aerodynamic that the wind refuses to blow on them. All rest in silent repose, waiting to be unleashed to qualified drivers through a special Ride and Drive program.
To complement the automotive elegance, the event planners have made arrangements for soft jazz, luxury lifestyle displays, and sumptuous snacks perfect for tossing to Bentleys as they hop up on their hind wheels. The festival also attracts speedy species of watercraft, aircraft, and custom motorcycles, as well as classic and restored cars submitted by local auto enthusiasts. Alongside its vehicle lineup, the festivals also showcase jewelry, fine art, real estate, and culinary gems to cater to all manner of luxury aficionado.
10400 County Rd. 48
Howey-in-the-Hills
Florida
Inside Terror on the Lake's haunted confines, actors garbed in macabre outfits, detailed animatronics, and holographic projectors immerse visitors in a horrifying environment where scares lurk around every corner. Ghouls, ghosts, and madmen prowl the halls of the haunted house in search of fresh screams. The Buried Alive! simulator gives visitors a taste of being trapped inside a coffin that is being lowered into the ground. Zombies dead set on feasting on flesh stand poised to break through the grounds at the zombie-shooting gallery, where only the sharpness of players' sight can save them and their friends from becoming something's snack. The only safe area at Terror on the Lake is in the fortune teller's tent, defended by carved jack-o'-lanterns that keep monsters at bay by offering poor directions.
Cagans Crossing Town Center, 700 Avenida Cuarta
Clermont
Florida
863-535-6266
The third annual St. Pete Oktoberfest, hosted by the Grand Central District Association, is St. Petersburg's largest beer festival, featuring craft-beer tastings and live music. Attendees can tipple samples from dozens of breweries, including Bell's Brewery, Dogfish Head, Sam Adams, Angry Orchard, and many others. A home brewer's challenge on Friday tests out homebrewed beers against old favorites, so home-beer enthusiasts can test out their recipes on actual people instead of the wild deer that show up in their backyards.
In addition to the extensive selection of microbrews and iconic beers, the two-day street festival also features live music, including performances from singer-songwriter John Kelly on Friday. Saturday's music merges rock, blues, jazz, and funk, with performances from Florida-native Damon Fowler, Bobby Lee Rodgers Trio, and Serotonic.
2400 Central Ave.
St. Petersburg
Florida
727-828-7006
Formerly the Lingerie Football League, the Legends Football League stands as the "fastest-growing pro sports league in the nation" according to NBC Sports correspondent Rick Chandler. That success owes much to the league's unique format, which pits two exclusively female teams in alluring uniforms against each other in full-contact football games on a 50-yard field. Donning football pads and helmets over their revealing performance wear, the female athletes block, juke, and sprint uninhibited by such frivolous gear as the NFL's heavy chainmail hauberks.
401 Channelside Dr.
Tampa
Florida
---