Gourmet & Healthy in Largo
---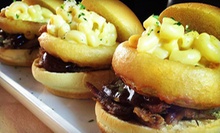 Global-inspired tapas such as a ceviche flight and edamame hummus pair well with champagne mimosas and cucumber gimlets
---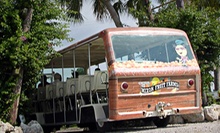 60-minute tram tours wind through citrus trees and past a wildlife refuge before dropping visitors off at the café for ice cream
---
Recommended Gourmet & Healthy by Groupon Customers
---
On Friday and Saturday evenings, it's not uncommon to hear Johnny Cash tunes echoing across Showcase of Citrus farm's 2,500 acres as members of the Arnold family shake off another satisfying workweek with their friends and customers. Fourth-generation growers John and Julie Arnold and their four sons can usually be found tending to their heads of cattle, strolling through their groves of orange trees, collecting eggs from their organic chickens, or sipping all-natural orange juice slushies made onsite.
Located just minutes from Disney World, the Arnold family farm produces more than 50 varieties of citrus fruit and blackberries without using pesticides, herbicides, or magic beans. The fruit–as well as jams, jellies, marmalades, and honey—are all available at the onsite country store. The family's earth-friendly practices help protect the cranes, macaws, coyotes, wild turkeys, raccoons, fox squirrels, and alligators that guests can spot on one of the farm's monster-truck eco-safari tours.
5010 US Highway 27
Clermont
Florida
To call Harr's Surf & Turf Market a family business is a bit of an understatement. Stephen Innocenzi, the manager and head chef, has been joined by his mother, two aunts, a grandmother, a sister, a brother, and his two grandkids—38 employees in all. The meat industry comes naturally to the clan; Stephen's stepfather, Ervin Harr, first picked up a filleting knife in 1961, and the pristine white aprons and cases full of crystalline ice eventually called to Stephen as well.
"Back in '87," he says, "I was working at a restaurant and studying to be an architect. I found passion for food, so I came to the family business."
In the shop, deep glass display cases teem with more than 20 varieties of fish each day, including Florida black grouper and wild-caught salmon. Staff members carefully wrap shellfish, shrimp, and crab legs, and can fly in live Maine lobster with one day's notice. Stephen walks among the aisles, going out of his way to dispense pairing advice and cooking suggestions.
"We have a customer that comes in, she'll have us write the cookbook's name and page number on the wrapper so she can remember what goes where. I think someone somewhere else would look at the woman, and say 'Huh?' But those of us that have been here, we're fine doing it. We don't mind."
While planning dinners, patrons draw from a stock that includes dry-aged prime beef, pork, lamb, hormone-free poultry, and Boar's Head deli products, all custom-cut in house. Bottles and jars stand on the shelves in sleek ranks, the colorful labels of 350 beers and wines displaying countries of origin that include Spain, Germany, and France. Stephen also takes particular interest in crafting complete meals for patrons to take home.
"We have 22 different types of kebabs made every day. We also have giant, stuffed twice-baked potatoes, we sell about 4,000 of those a week," he says, adding that much of what he prepares is dependent on trends. "My wife and I like to go to eat once or twice a week, and after, we'll brainstorm with the family, see what's popular."
3235 Tampa Rd.
Palm Harbor
Florida
Tampa Olive Oil Company vends gourmet olive oils, balsamic vinegars, and other culinary accessories designed to add depth and character to meals. Fruity or grassy olive oils from Greece, Italy, and Morocco sidle up to their flavored brethren, which are infused with aromas such as basil, truffles, or roasted peppers. Customers can use the oils to flavor hearty roasts and sautés or combine them with classic and flavored balsamic vinegars for a light, tangy salad dressing.
Other artisanal offerings, including spices, specialty oils, and scented sea salts, round out Tampa Olive Oil Company's selection of edibles. In addition, serving accessories such as oil sprayers, pour spouts, and dipping saucers help customers discontinue their usual practice of serving condiments through a fire hose.
384 Saint Armands Circle
Sarasota
Florida
941-388-2640
Since its humble beginnings in 1935 as a small health-food store that specialized in yogurt, GNC has evolved into the world's largest specialty retailer of nutritional products. The chain's more than 4,800 retail locations throughout the country stock numerous vitamins and supplements, all of which meet the company's strict standards for truthful labeling, ingredient safety, and product potency. They carry supplements that aid in sports nutrition, protein intake, diet, digestion, and beauty. Equally as dedicated to customers' shopping experiences as it is to product quality, the company created GNC University, an online learning platform, to help staff members bone up on nutrition and fitness knowledge. The knowledgeable sales associates field questions about everything from weight-management plans to stacking supplements for optimum earlobe strength.
134 Southgate Mall
Sarasota
Florida
941-917-0999
Total Nutrition Center's staffers steer patrons through a wide-ranging selection of groceries, supplements, and homeopathic remedies, happily answering any questions with healthy lifestyle tips. Bottles of multivitamins, canisters of amino acids, and various antioxidants line shelves, and fibers, oat bran, and other digestive products keep insides humming as smoothly as a forgetful Barry White. The grocery section, replete with preservative-free options and gluten-free staples, simplifies the practice of healthy eating, and natural bath and bodycare products allow customers to shower themselves in eco-consciousness.
1530 N McMullen Booth Rd.
Clearwater
Florida
727-724-1111
---