Things to Do in Largo
---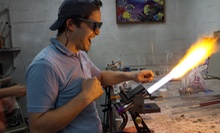 Experienced artisans enlighten students on how to forge and finish their own wineglasses and private projects from provided materials
---
Recommended Things to Do by Groupon Customers
---
When crafters step into Pottery Bears 'n Beads' vast studio, shelves brimming with more than 1,000 paintable ceramic pieces and finished works by other artists dash away inhibition and flood minds with inspiration. Picassos and fledgling artists create side-by-side, forming a social community buttressed by friendly staff members who lend guidance and break down creative barriers with templates and design suggestions. Whether painting pottery with a floral pattern or painting canvas with a portrait of a family pet, crafters draw from a rainbow of paints and a full arsenal of supplies. Artisans of all ages can also hand-stuff a bear, leopard, frog, dog, or other animal, outfitting finished friends with birth certificates, sounds, or outfits to ready them for a tea party or NATO convention.
While letting their creative sides flourish, patrons can munch on BYO snacks, order in from several nearby restaurants, or enjoy complimentary adult beverages on Friday ladies' nights. To document the good times and give clients a solid alibi, Pottery Bears 'n Beads gifts a free photo of the festivities. Also, to encourage good grades in its younger crafters, it waives the studio fee for students who present a report card with an A.
4760 E Bay Dr.
Clearwater
Florida
Judie Dazzio believes that everyone can be an artist. And at Dazzio Art Experience—a comprehensive art school—she helps everyone from children to adults and novices to professionals harness their creativity. Though she's a painter herself—having won awards for her work with watercolors and acrylics—she caters to range of artistic interests, offering classes in acrylics and watercolors but also branching out into sculpture, illustration, and Photoshop. For the experienced artist, she and her instructors provide developmental classes to help them produce portfolio pieces and host group critique sessions.
Beyond teaching her students the techniques to create, she also displays their works in a gallery attached to her school. Here, rows upon rows of painted canvases, sculptures, and handcrafted jewelry showcase their newly acquired talents.
627 Central Ave.
St. Petersburg
Florida
727-656-8277
Mac's Sports was born as the Beach Store in 1938, a general shop that supplied visitors of the neighboring beach with groceries, newspapers, fishing gear, and snack food. After the owners and their kids moved to New Mexico during World War II, the shop was renamed Mac's and became a hit with youngsters due to its sought-after candy bars and heroic staff of swamp things. Though the original owners would soon repurchase their former business, its new name stuck, and the store would eventually evolve into Mac's Dive Shop with a renewed emphasis on watersports and outdoor recreations. Mac's has since opened two more in locations in Tampa and Clearwater, and its team boasts well over a century of cumulative scuba-diving experience.
Underwater jaunts remain the central focus of the shop, where instructors help students earn their gills with conveniently scheduled scuba-diving courses. After graduating from the open-water certification program, beginners can finally pull back the kelp curtains of their suspiciously private aquatic neighbors, and experienced divers can seek advanced education in higher-lever diving techniques and digital underwater photography. Group classes and guided dives take place nearly every day, and the shop's MacDaddy boat bobs in anticipation of chartered dives and fishing trips throughout the week.
2058 Bayshore Blvd.
Dunedin
Florida
727-733-6227
As a former national-level figure skater and ISSA-certified personal trainer, Jessica knows what a full-body burn feels like. However, she didn't know that a stationary bike could replicate the feeling, until a fellow trainer encouraged her to climb aboard a RealRyder cycle. Jessica became a devotee after just two rides. Determined to share her newfound passion with others, she gathered a team of certified instructors, populated two studios with RealRyder ABF8 bikes, and opened their doors to prospective pedalers of all fitness levels.
Inside Ryde For Life, Jessica and her staff host 45- to 60-minute classes synced to each teacher's music playlist. They lead stationary teams atop RealRyder bikes, whose specialized frames allow riders to lean, bank, and steer as they would an on-road bike. In addition to pumping up cardiovascular systems, sessions engage the core, upper body, legs, and the scalp muscles that hold helmets in place.
12719 Race Track Rd.
Tampa
Florida
813-475-5915
---