Shopping in Las Cruces
---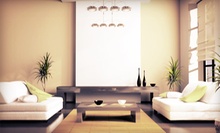 Varied selection of furniture and home decor includes two-piece living-room sectionals, high-top dining-room tables, urns, and candlesticks
---
Recommended Shopping by Groupon Customers
---
Beneath opulent chandeliers, J. Luxe Boutique's hangers sway with an ever-altering stock of women's apparel and accessories from renowned brands and independent designers stationed across the globe. The shop strives to unearth exclusive duds from up-and-coming designers, while ordering items in limited quality to ensure few-of-a-kind ensembles. Tabletop displays showcase original handbags, hairbands, and jewelry, while fur rugs and elegant armchairs scattered throughout the shop effect a more pleasant experience than the fluorescent sterility, stampeding shoppers, and stampeding bison of many major retail stores. Commodious, illuminated changing rooms allow shoppers to explore outfits before making ultimate purchases, while full-length mirrors showcase the full breadth of gem garments.
230 Cincinnati Ave.
El Paso
Texas
915-500-1198
Using flowers as their medium, 150 Sunset's landscape architects transformed the company's grounds into a stunning work of art. Flower beds and alfresco lounges double as a show room, exemplifying the company's landscaping and outdoor-kitchen-construction services. The grounds also flaunt 150 Sunset's range of flowers, shrubs, and garden art.
Throughout the year, events, weddings, or upscale comic-book conventions convene against this elegant, peaceful backdrop. Inside the adjoining event center, party planners create tableaus to suit any taste. Gilded blue napkins peek out of fine-crystal goblets, elaborate place settings provide forks aplenty, and satin tablecloths depict ornate, three-dimensional roses. Minimalists may opt for black-and-white décor, modern furniture, and neon-lit paper light fixtures.
150 E Sunset
El Paso
Texas
915-585-0801
Trend Society stocks a frequently changing collection of hip clothing and accessories for women. As they scan the boutique, shoppers find a collection of striking flats, heels, and boots as well as light, flowing blouses and dresses. Fun, original jewelry, such as earrings and necklaces from Trend Society's Spring 2012 collection, catches perusing eyes, and patrons can make their daydreams a reality by using one of Trends' assortment of handbags to sneak 500 Kit Kats into a movie.
6127 NMesa, Suite E
El Paso
Texas
915-842-8830
The four holograms on True Balance's bracelets hug each wearer's wrist, boasting the ability to improve performance during athletic events and everyday activities. Designed to last a lifetime, the thin polyester-film holograms possess a waterproof exterior that prevents damage when wearers sweat, swim, or let finger puppets bob for apples. Because the bracelets may affect each body differently, a 30-day money-back guarantee protects users who see limited results.
8401 Gateway W Blvd., Suite 54
El Paso
Texas
915-771-7227
---