Restaurants in Las Vegas
---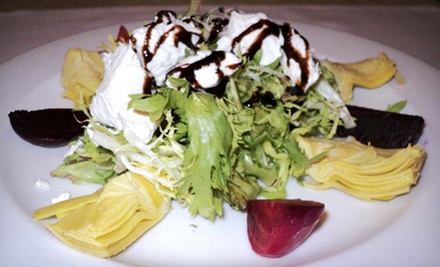 ---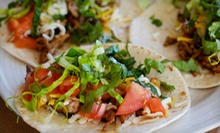 Made-daily authentic Mexican fare, including burritos & tortas, crafted from family recipes with lean steak, skinless chicken & no lard
---
Recommended Restaurants by Groupon Customers
---
Throughout the day, The Chocolate Maven Bakery & Café buzzes with visitors who dine on kitchen specialties while savoring aromas of fresh pastries from the onsite bakery. With a commitment to locally sourced ingredients and a flavor for international fare, the kitchen crafts dishes such as crispy Mediterranean pizzas with sun-dried tomatoes or empanada pastries with butternut squash. They regularly turn out decorative cakes, bread, and sweet treats as well. True to the eatery's name, the bakery offers vegan sweets and a selection of chocolate goods praised by the Santa Fe Reporter for being "utterly decadent."
821 W San Mateo Rd.
Santa Fe
New Mexico
Anna and Sancho Soeiro operate their Canyon Road café five days a week, serving organic fare largely sourced from local farmers' markets. Dish n' Spoon Cafe's menu spans soups, salads, and sandwiches (made with chicken-curry salad, for example, or roast beef and horseradish), and caters to the noncarnivorous with veggie burgers and veggie lasagna. The café itself is housed in what was a one-room grocery store for 70 years; after moving in, the Soeiros decided to reflect the welcoming environment and community loyalty it represented in the repurposed space.
Cubbies of knickknacks, sculptures, and other gewgaws and gifts line the walls, creating an atmosphere of cozy, quaint chaos. The faces of frequent customers smile from a Star Wall of pictures, and kids chomp organic PB&J or grilled-cheese sandwiches before running off to play in the restaurant's special kids' corner. A Santa Fe Reporter write-up notes some of the café's Santa Fean charms—"quirkily mismatched" plates and silverware, and a patio where patrons can sprinkle sunshine and shredded clouds on their meals.
New Mexican correspondent Rob De Walt describes how, in 2009, Mayor David Coss declared August 14 Dish n' Spoon Day in honor of the Soeiros' consistent dedication to volunteer work and community service—they've been involved in historic preservation, the Buckaroo Ball, and a court-appointed advocate program for survivors of juvenile abuse or neglect. Every Monday, Dish n' Spoon runs on a pay-what-you-can price structure, allowing patrons to live within their means or finally use that stash of leprechaun gold that banks refuse to convert to U.S. dollars.
620 Old Santa Fe Tr.
Santa Fe
New Mexico
505-983-7676
Pizzeria Espiritu's founding chef Tom Berkes formulated his pizza dough recipe around Santa Fe's unique altitude, tweaking each thin crust and thick crust pie to cook just right. In addition to specialty pies and calzones brimming with fresh toppings, Pizzeria Espiritu plates old world favorites including pastas drenched in cream sauce and oven-baked salmon. At lunchtime, sandwiches and individually sized pies make for more satisfying midday meals than anything you could find under your car seat.
1722 Saint Michaels Dr.
Santa Fe
New Mexico
505-424-8000
Dionne Christian opened The Teahouse in 2003, determined to supply tea lovers with exotic flavors culled from her travels in China, Malaysia, Indonesia, and South Africa. Between the shop's own matcha blends and wholesale concoctions, The Teahouse distributes more than 150 international teas. Patrons can pair teas, lattes, wines, or beers with items from The Teahouse's massive menu, whose pastries, sandwiches, and other treats are created with organically grown and locally produced ingredients and hints of tea. To share their love of herbal beverages, The Teahouse's specialists host 90-minute workshops that cover a variety of tea-related topics such as tea blending, hot spiced tea, and how to spot iceberg seeds in pitchers of iced tea.
821 Canyon Rd.
Santa Fe
New Mexico
In the heart of the Railyard District, Junction harnesses fresh, local ingredients to populate an eclectic menu where Frito pie and baby back ribs are equally at home—making for "better food than any other sports bar in town," according to the Santa Fe Reporter. New Mexico grass-fed beef stampedes through gourmet burger toppings such as green chili, New Mexico cheddar, and jalapeño rajas. Bartenders garnish boutique liquors such as Hendrick's gin with orange-blossom water, maple cherries, and fresh juices and herbs, High ceilings angle above a bright, minimalistic interior set up for communal revelry and hung with nine flat-screen HDTVs, including a massive central 83-inch screen constantly endangered by passing basketball players trying to join the action.
530 S Guadalupe St.
Santa Fe
New Mexico
---