Las Vegas Beauty and Salons
---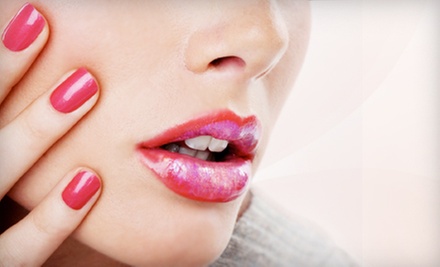 ---
Las Vegas Beauty Guide
Las Vegas is a town that calls for looking one's best. With so many opportunities to go out for a fancy dinner, and then a night of dancing afterward, it's great that there are Las Vegas hair salons that provide quick and convenient services. Las Vegas also has its share of retail shops that sell exquisite beauty products like tanning creams, styling lotions and mud masques: perfect for a stay-at-home spa day! Some of the best all-inclusive beauty salons, where hair stylists, manicurists and estheticians are on staff, are at the top casinos in Vegas. Nurture, The Spa at the Luxor is a great place to get a facial and blow-out or updo for any big occasion. Spa Mandalay, at the Mandalay Bay, is another hot spot for the royal treatment, including a relaxing massage before a hair color or cut. Other Las Vegas hair salons, such as
Organelle Spa
sit off the Strip, so there's no need to battle traffic or crowds pre-visit. Sometimes it's easier to take care of any beauty needs personally, rather than trek to a spa or salon. In this case, many of Vegas' retail beauty shops sell fine products like Italian imported creams, organic body scrubs, and botanical-based hair serums. Sephora has several locations throughout Las Vegas and is a favorite with locals and visitors alike for finding unique items.
Aveda
, in the Miracle Mile Shops, sells natural skin and hair remedies, and Naturopathica at the Wynn is filled to the brim with wonderful products made from plants and herbs. Whole Foods Market's Whole Body section is a gem for uncovering inexpensive butters, polishes, and other fixes that are responsibly-manufactured and smell absolutely sinful. When a big night on the town is in the cards, Las Vegas beauty salons and shops deliver big returns!
Some of the best all-inclusive beauty salons, where hair stylists, manicurists and estheticians are on staff, are at the top casinos in Vegas.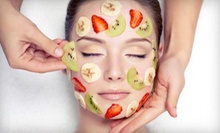 Savvy aestheticians use organic skincare products to cleanse, exfoliate, and mask faces before applying foundation, blush, and lip color
---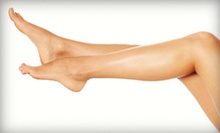 Energy from a laser causes unwanted vessels to coagulate, collapse, and finally dissolve to be swept out by the body's natural processes
---
Recommended Beauty by Groupon Customers
---
As a division of Valhalla Wellness and Medical Centers, Valhalla MedSpa puts an emphasis on medical-grade care with a team that includes a registered nurse and laser specialist. Instead of fighting sickness, this team works to roll back the clock and help clients reach their aesthetic goals. Specialists administer facials with scientifically formulated SkinCeuticals products and smooth wrinkles with Botox, fillers, or strategically applied Scotch tape. Zerona laser treatments provide a quick fix for clients who want more pronounced curves, and custom weight-loss programs offer a more sustained approach to weight loss. The wellness centers also promote overall well-being with chiropractic care, internal medicine services, and massage therapy.
6804 W Cheyenne Ave.
Las Vegas
Nevada
702-658-0204
For more than a decade now, Bree and Jason Goldwater's BOX human landscapers has garnered acclaim from local publications and national fashion magazines for its sole service: waxing. Using a special solution that the duo has perfected over the years, Bree quickly and carefully clears hair from anywhere and everywhere on clients' bodies. The vintage-chic waxing salon—complete with dark floral-print furniture, regal drapery, and dangling chandeliers—offers customers jellybeans, cookies, and wine that can be enjoyed while flipping through fashion magazines or bench-pressing coffee-table books.
4750 W Sahara Ave., Suite 28
Las Vegas
Nevada
702-893-9993
Renew Medical Spa emerged from a combination of Dr. Jin Lee's medical expertise and her own quest for flawless skin. She holds her aestheticians to a high standard as they perform the same laser and medical-grade cosmetic treatments with which she found personal success over the years. From rejuvenating spa facials and peels to microcurrent, radio-frequency, and television-static skin tightening, the med spa's services help clients fight the signs of aging and feel beautiful.
6980 W Smoke Ranch Rd., Suite 150
Las Vegas
Nevada
702-547-3639
Dr. Aseem Chawla, the founder of Bella Smiles, utilizes the latest technology while performing restorative and cosmetic dental services. From his boutique-style dental office, Dr. Chawla performs a range of services, from applying veneers and fitting crowns to straightening teeth with clear Invisalign aligners. Always conscious of his patients' health, Dr. Chawla only uses metal- and mercury-free restorations, ensuring that meddlesome magnets don't attack patients' teeth in their sleep. In efforts to go green, Bella Dental has gone entirely digital and never fills its water coolers with the tears of trees.
6040 S Rainbow Blvd., Suite B2
Las Vegas
Nevada
702-307-7777
Both a licensed reflexologist and aesthetician, Frances A. Murray of Reflexology Relief beautifies her clients with an expansive menu of services. She specializes in reflexology, helping clients relax by working to reduce stress via the feet and hands. She also performs soothing facials, waxing for all areas of the body, and essential-oil treatments the help reduce stress, improve circulation, and decrease spasms and inflammation.
8751 West Charleston Boulevard
Las Vegas
Nevada
702-461-0757
Board-certified dermatologists Robert B. Strimling and Lionel J. Handler call upon their mutual expertise in cosmetic and laser services to help patients maintain healthy and radiant exteriors. In additional to general dermatology treatments for acne, rosacea, and other topical blemishes, the doctors perform a multitude of laser-powered cosmetic treatments to rid skin of hair, varicose veins, and tattoos of relocated sports teams. The advanced dermatology center also restores façades to factory conditions with skin-renewing services such as chemical peels and FDA-approved injections of Botox and Dysport.
10105 Banburry Cross Dr., Suite 350
Las Vegas
Nevada
702-243-6400
---