Las Vegas Health and Fitness
---
---
Las Vegas Health And Fitness Guide
Las Vegas fitness centers are taking in client after client. It seems as though the city either lends itself to a little overindulgence, or the men and women of Vegas just need to stay in tip-top shape in order to fit into that favorite pair of jeans. There are so many great gyms in the city that focus on physical roads to weight loss, as well as Las Vegas doctors that offer a mental approach to losing weight. Finding the right facility is just a matter of knowing which approach to health will be most effective. The standard route to losing a few pounds is usually a health club, and many of the finest are in Las Vegas hotels. The Sheraton Fitness Center is a great place to get hearts pumping and start trimming away the inches. The fitness center in the Vdara and The Spa & Salon at the Aria treat their clientele to an upscale club experience like no other. Off the strip, Element Fitness Center in Summerlin is popular with locals and visitors alike. Sometimes, working out day after day produces little weight loss because of underlying emotional issues that may hinder progress. In these cases, Las Vegas doctors like Dr. Pfau and Dr. Mongie at the
Renaissance Health Center
are on hand to offer homeopathic treatment for health problems, such as hormone imbalances and stress. Often, being healthy is not a matter of losing weight but just learning what to eat and do to achieve optimal wellness. Dr. Peter Huddleston, Doctor of Naturopathy at Transformations Las Vegas has some great anti-aging tips, and the Nevada School of Massage Therapy helps their patients de-stress and relax. A city that seems to grant every wish doesn't fall short when it comes to incredible options to stay healthy and fit!
The standard route to losing a few pounds is usually a health club, and many of the finest are in Las Vegas hotels.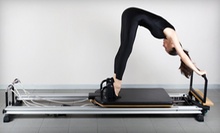 Use Friday 12:00am - 8:30am
---
Recommended Health & Fitness by Groupon Customers
---
Because they believe movement is a precise science, the teaching team at Pilates + Yoga only recruits experts. Each certified instructor must have a background of 10 years or more in their movement-based art, whether they practice Pilates, yoga, dance, or interpretive sitting. They wield their knowledge during the studio's classes, adapting mat-based and apparatus moves to suit beginners and Pilates pros alike. Their wealth of experience also allows them to structure specialized lessons for pre- and post-natal women. From moves aboard the reformer machine to Vinyasa sequences to boot-camp circuits, they compose workouts that hone both strength and mental focus. The Pilates + Yoga studio reflects the same level of commitment toward the environment that the teachers display for their practice. Students stretch on bamboo flooring, their silhouettes dimly illuminated by low-lighting sconces, and solar blankets deter the sun. Reusable cups and cloth towels cut down on waste, and the Return Your Mat policy ensures that no mat purchased at the studio is thrown out or forced to work under wrestling Barbie dolls.
500 E Windmill Ln.
Las Vegas
Nevada
702-202-1200
At Bodysport Fitness Center, highly trained instructors motivate pupils of all athletic abilities during high-intensity group boot-camp classes designed by personal trainers. During each coed session, a barrage of full-body workouts replaces lazy fitness routines and helps build lean yet strong physiques. Each trainer adapts his or her program to fit the personalities and abilities of the students, and changes the regimen routinely to confuse muscles, enraging them until they get strong enough to do something about it.
Exercisers feed off each other's energy during the fun one-hour sessions, cultivating a group bond and camaraderie based on mutual success and encouragement. The recently revamped program may incorporate elements of kickboxing, Bulgarian bags, and even yoga alongside classic boot-camp musts, including core workouts and primal screaming. During comfortable weather, students kickbox away excess calories in scenic outdoor parks and move into the gym's 4,000-square-foot facility in cases of extreme heat.
1400 N Rampart Blvd., Suite 103
Las Vegas
Nevada
Core Pilates' staff of former ballet dancers, registered nurses, and doctors discovered Pilates in various ways, but having experienced its health benefits firsthand, they've joined forces to share their knowledge of the rehabilitative, low-impact exercise. Mat, reformer, and barre group classes tone cores seven days a week, and seasonal instruction in hoop fitness, yoga, and VertiMax add new flavors to exercise routines. Serious practitioners can seek teacher certifications, which are spiced with a liberal helping of anatomy and medical science, essential for helping students recover from injuries from disastrously ambitious toe-touches.
6070 S Ft. Apache Road Suite 110
Las Vegas
Nevada
US
Fit2YourCore launches a tripronged attack on flab with a mix of varied workouts, nutrition guidance, and determined attitudes. During their morning and evening boot-camp classes, trainers target unwanted weight with a blend of cardio and strength exercises. They'll stave off muscle boredom by modifying their drills through the three-level program that, like Algebra: The Video Game, continuously ups its difficulty as participants progress.
3776 W Ann Rd., Suite 155
Las Vegas
Nevada
The Tree for Life CEO Brent Luck transformed his body and boosted his health with natural supplements and healthy fare outlined in the HCG diet. Now, Brent strives to educate and equip customers to hone their own healthy habits. Within the emerald-green, sunlit storefront, staff happily consults with customers seeking healthful supplements and earmuffs to blot out the siren song of jelly donuts.
3858 Meadows Ln.
Las Vegas
Nevada
US
Inferno Hot Pilates founder Gabriella Walters is a one-woman decathlon. In her native Budapest, she was an emerging track-and-field athlete and competitive diver. After winning long-jump events and 400-meter races, she moved to the U.S. in 2002 to try her hand at IFBB fitness competitions when she suffered a severe knee injury. After she physically recovered with equal parts meditation, yoga, and Pilates, she traveled to India and learned deeksha and meditated for several months. When she returned to the States, she became a certified Pilates instructor and opened Inferno Hot Pilates. There, her resolve is on full display during high-energy and results-oriented fitness classes, including Zumba dance fitness, TRX-suspension training, and more than 30 weekly hot-Pilates classes that are staged inside a 95-degree room where the atmosphere is 45% humidity and 55% exported from the top of Mount Olympus.
5752 S Fort Apache Rd., Suite 155
Las Vegas
Nevada
702-262-5557
---