Nightlife in Las Vegas
---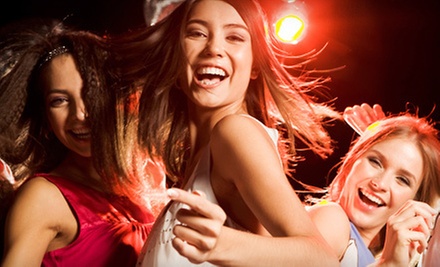 ---
Las Vegas Nightlife Guide
Just like the casinos and shows, Las Vegas nightlife goes from dusk to dawn and keeps the party bumping and the drinks flowing non-stop. From chic celebrity-spotting stakeouts to chill Las Vegas bars, Sin City always delivers.
In terms of nightclubs, a trip to Pure, the 36,000-square-foot club inside Caesar's Palace, is just about mandatory. Pure is chic, packed, loud, expensive, seemingly irresistible to celebrities, and even offers a postcard view of the Strip. This bright, white-walled nightclub was voted the Las Vegas Mega-Club of the Year in 2011 by the Nightclub & Bar Awards. E! Entertainment named it the Number One Club in the U.S..
If Pure sounds a little too intense, there are many Las Vegas bars that offer a more casual environment. One of the most distinctive is Frankie's Tiki Room, a short trip from the Strip at 1712 West Charleston. Branding itself as "south seas exotica and modern primitivism" with a shot of "Las Vegas kitsch," its caricature island warrior statues gape and stare as patrons order from a long list of cocktails, each served in a Tiki mug guests can take home with them for $23. Frankie's Tiki Room is cozy, cheerful, tacky, tight, and inviting.
For guests who would prefer to sit and sip, pubs don't get much better than The Pub at Monte Carlo. The Pub has a separate menu for the more than 300 beers they serve. The Pub also offers 35 television screens, a long bar, a full menu of food, and a challenge that few patrons can accept: eat an eight-pound hamburger in half an hour and receive it for free, along with a souvenir shirt.
With Las Vegas nightlife running the gamut from trendy to kitschy to sporty, every party animal will find the perfect habitat. Finding their way back home after is another matter.
From chic celebrity-spotting stakeouts to chill Las Vegas bars, Sin City always delivers.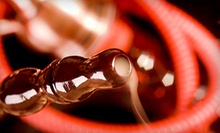 Plumes of exotic smoke in 21 flavors rise from elegant hookahs, curling around patrons' heads like ephemeral halos
Use Today 9:00pm - 11:45pm
---
Recommended Nightlife by Groupon Customers
---
Strolling along Las Vegas Boulevard, visitors seeking laughter end up at L.A. Comedy Club, which is located in the Windows at Bally's. Performers have included A-list standups such as Loni Love and Doug Benson. Before entering Bally's, visitors can gaze at the Technicolor splendor of the Las Vegas Strip and the nearby Paris Las Vegas hotel and casino, whose electronic replica of the Montgolfier balloon whisks comics back to their hotels after their sets.
3663 S Las Vegas Blvd.
Las Vegas
Nevada
Rock & Rita's, touted as "all fun" by Las Vegas Magazine, houses a bevy of cooks who sizzle up barbecue grub as bottle-twirling bartenders serve cool drinks amid psychedelic décor. The restaurant's philly cheesesteak "is a beauty," according to Las Vegas Magazine, sending taste buds into nostalgic revelry with a down-home blend of Cheez Whiz and paper-thin beef. Icy draft beers, well drinks, and 44-ounce fishbowl beverages fill the full bar, fashioned from a large prismatic bus, and bartenders toss bottles, juggle glasses, and balance barstools while pouring drinks and reciting the list of past mayoral candidates from memory. Rock & Rita's showcases karaoke on Thursdays and live-music entertainment on various nights throughout the week.
2880 Las Vegas Blvd.
Las Vegas
Nevada
The Duke City Improv Festival welcomes 13 comedy acts, from local performers to visiting teams from Chicago, Phoenix, and Oklahoma. Support The Gryffindorks, Albuquerque's longest-running improv team, or indulge sadistic funny bones with Stretchin' It, an adult-oriented troupe from Oklahoma City that employs media and song to entertain and offend in equal measure. Three different groups from Phoenix battle for back-home bragging rights and to determine who will perform at halftime of the next Super Bowl, and the local laugh-lobbers from No Holds Bard improvise their way through "forgotten" Shakespearean texts. Frosty brews from the nearby Tractor Brewing Company grease gullets on Saturday nights, and a slate of improv-enhancing workshops are available for an additional $15 each.
4750 West Sahara, #28
Las Vegas
Nevada
US
The Lady Silvia's stylish loft space, inspired by Prague's Strahov Monastery Library, encircles revelers in a laid-back atmosphere divested of obtrusive signage and oppressively loud background noise. The bar's weekly schedule brims with art events, nightly happy hours, and the deft turntabular spinnings of resident DJ Shoe, whose swanky beats cause involuntary toe tapping against the checkerboard floor on Wednesday, Friday, and Saturday nights. Signature cocktails, bottles service, and a well-curated wine list round out their menu of imbibables, which is expertly mixed and poured bar-side by a veteran team of mixologists.
900 S Las Vegas Blvd.
Las Vegas
Nevada
702-202-4120
---