Things to Do in Las Vegas
---
---
Las Vegas Things To Do Guide
Mentioning Las Vegas usually conjures up images of spinning roulette wheels and stone-faced poker players. If you're looking for things to do along those lines, you'll want to make a beeline for the casinos lining the neon-lit Strip. But for lower-stakes gambling in a throwback Vegas atmosphere, head downtown to Fremont Street. Vintage signs and showgirls crowned with headdresses recall the days of Sinatra and Martin, but this Glitter Gulch burns much brighter today than it did in the Rat Pack era: beginning at dusk, a canopy of more than 12 million LED lights erupts in a psychedelic light and music show every hour. The
Mob Museum
 serves as a potent reminder that Sin City didn't earn its nickname from such harmless festivities. Exhibits profile legendary Mafiosi from Capone to Gotti, and mob artifacts include the bloodstained, bullet-pocked brick wall from the St. Valentine's Day Massacre. Within the former federal courthouse, you can fire a Tommy gun simulator, participate in a police lineup, or explore an actual courtroom where the Kefauver Committee held hearings on organized crime in 1950. Thankfully, you don't have to fight crime to experience thrills in Vegas. You can just ride the
X-Scream
, a thrill ride perched 866 feet above the Strip on the Stratosphere Tower. The ride is sort of like an oversized teeter totter, only as one side rises and the other falls, a roller-coaster car rushes from one end to the other, creating the sensation that riders are about to fly off the edge of the tallest hotel and casino in the state. The views are impossible to beat, if you can keep your eyes open. For a steadier view of the Strip at night, head to
LAVO
at The Palazzo. At this Italian restaurant and nightclub, an outdoor terrace affords a panorama of the palm tree-lined Las Vegas Boulevard. Of course, your senses might be otherwise engaged by elegantly plated dishes such as baked clams oregatana or by a crowded dance floor awash in blood-orange lighting. Recover in time from dancing into the early morning and you may want to check out some attractions that operate at more normal hours, such as the
Marjorie Barrick Museum of Natural History
. Located on the University of Nevada, Las Vegas campus, this treasure trove of ancient artifacts hosts figurines, winter moccasins, and knife blades handcrafted by Hopi and Paiute Indians. Kids may like the museum's collection of native lizards, which includes an open-air habitat for desert tortoises. Those tortoises would feel right at home at
The Spa at Green Valley Ranch
, where life moves at a slower, more serene pace. The 40,000-square-foot oasis is renowned for its green tea wrap, which infuses skin with seaweed, ginger root, and grape seeds from California's Napa Valley. Romance ensues in the spa's two couple's rooms, both of which feature a hydrotherapy tub and outdoor cabana.
The top of the tower features indoor and outdoor observation decks, thrill rides, restaurants, bars and a sky jump.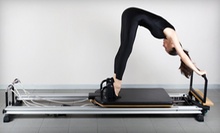 Use Wednesday 6:00am - 10:30am
---
Recommended Things to Do by Groupon Customers
---
Preaching the importance of variety in fitness, The Pilates Studio contours and controls physiques through an array of group classes appropriate for any fitness level. Novice yogis can partake in a Hatha yoga session to learn the basics of breathing, poses, and meditation. Vinyasa flow takes a more active approach by incorporating a variety of yoga positions that build on one another, improving alignment and overall fitness. High temperatures and more than 30% humidity sends toxins on a Class VI rafting expedition down rivulets of sweat during a 95+ Pilates class, while TRX Suspension Training bolsters strength through bodyweight exercises instead of using traditional weight-training techniques. During Intimate Chair Expressions, learn a sensual, choreographed chair dance while sculpting your body, and put your new skills to practice when the next company meeting starts to drag.
3655 S Durango Dr., Suite #26
Las Vegas
Nevada
Madame Tussaud began crafting wax likenesses in 1770s Paris, and a sense of history clings to her wax museums around the globe today—according to the Travel Channel's Ghost Adventurers, the location is haunted by unsettled spirits. By day, the collection of wax sculptures fills the serene exhibits with characters ranging from daredevil Evel Knievel (complete with his original Harley Davidson and good-luck teddy bear) to Lady Gaga and Whoopi Goldberg. A Hugh Hefner figure, wearing the Playboy magnate's signature smoking jacket, reclines on a bed, and a nightclub-themed section of the museum honors Las Vegas's entertainment history with a waxen Elvis and Wayne Newton.
Velvet ropes no longer cordon figures off from the public, granting guests up-close-and-personal photo ops. Madame Tussauds Las Vegas honors its spooky roots with special late-night Scream events, a shriek-inducing tour through a maximum-security prison set interspersed with ghoulish wax figures and live actors.
3377 Las Vegas Blvd. S , Suite 2001
Las Vegas
Nevada
Because they believe movement is a precise science, the teaching team at Pilates + Yoga only recruits experts. Each certified instructor must have a background of 10 years or more in their movement-based art, whether they practice Pilates, yoga, dance, or interpretive sitting. They wield their knowledge during the studio's classes, adapting mat-based and apparatus moves to suit beginners and Pilates pros alike. Their wealth of experience also allows them to structure specialized lessons for pre- and post-natal women. From moves aboard the reformer machine to Vinyasa sequences to boot-camp circuits, they compose workouts that hone both strength and mental focus. The Pilates + Yoga studio reflects the same level of commitment toward the environment that the teachers display for their practice. Students stretch on bamboo flooring, their silhouettes dimly illuminated by low-lighting sconces, and solar blankets deter the sun. Reusable cups and cloth towels cut down on waste, and the Return Your Mat policy ensures that no mat purchased at the studio is thrown out or forced to work under wrestling Barbie dolls.
500 E Windmill Ln.
Las Vegas
Nevada
702-202-1200
Kids can't be expected to care about their health when video games, cartoons, and outdoor adventures are vying for their attention. That's why the adult leaders of the Memorial Health Foundation devised a plan to get kids excited about health: HealthWorks! Kids' Museum. Born of the founders' desire to foster a healthier current and future community, the museum appeals to youngsters through educational forms of entertainment. Its exhibits incorporate amplified versions of many of kids' favorite pastimes, including a life-sized rendition of Operation and numerous computer games. A rock-climbing wall and tree house with a slide encourage kids to learn through movement, which is exactly how adults learn how to escape charging bulls. Youngsters can explore the space with their families or partake in programs such as children's camps.
1100 East Sahara Avenue Suite 100
Las Vegas
Nevada
United States
702-212-4325
Core Pilates' staff of former ballet dancers, registered nurses, and doctors discovered Pilates in various ways, but having experienced its health benefits firsthand, they've joined forces to share their knowledge of the rehabilitative, low-impact exercise. Mat, reformer, and barre group classes tone cores seven days a week, and seasonal instruction in hoop fitness, yoga, and VertiMax add new flavors to exercise routines. Serious practitioners can seek teacher certifications, which are spiced with a liberal helping of anatomy and medical science, essential for helping students recover from injuries from disastrously ambitious toe-touches.
6070 S Ft. Apache Road Suite 110
Las Vegas
Nevada
US
Inferno Hot Pilates founder Gabriella Walters is a one-woman decathlon. In her native Budapest, she was an emerging track-and-field athlete and competitive diver. After winning long-jump events and 400-meter races, she moved to the U.S. in 2002 to try her hand at IFBB fitness competitions when she suffered a severe knee injury. After she physically recovered with equal parts meditation, yoga, and Pilates, she traveled to India and learned deeksha and meditated for several months. When she returned to the States, she became a certified Pilates instructor and opened Inferno Hot Pilates. There, her resolve is on full display during high-energy and results-oriented fitness classes, including Zumba dance fitness, TRX-suspension training, and more than 30 weekly hot-Pilates classes that are staged inside a 95-degree room where the atmosphere is 45% humidity and 55% exported from the top of Mount Olympus.
5752 S Fort Apache Rd., Suite 155
Las Vegas
Nevada
702-262-5557
---