Museums & Galleries in Lathrop
---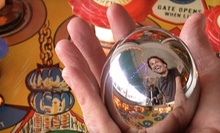 90 colorful, fully playable pinball machines line museum's walls & chronicle development of one of America's great pastimes
Use Tuesday 2:00pm - 9:00pm
---
Recommended Museums & Galleries by Groupon Customers
---
Dust off your explorer's exploring khakis and your museum monocle for today's deal: a one-year Friend of Horus membership to the Rosicrucian Egyptian Museum for $15 (a $35 value). Membership includes free individual admission, 10% off museum store items, and priority entrance to new featured exhibits. The only hieroglyphic capable of expressing your delight will be an owl hugging a jackal's head on top of a human eyeball. Follow @Groupon_Says on Twitter.
1664 Park Ave.
San Jose
California
US
Your ticket includes a mind-expanding movie about the cosmos, some live music you can dance to, and access to the observatory and all of Chabot's exhibits. Current exhibits delve into the scientific achievements and cosmology of the Maya, give you a most likely dehydrated taste of the life of an astronaut, and take you on a journey to the farthest reaches of the cosmos, among other things. And—weather permitting—you'll get to spy on other planets from either Nellie, the 36" reflector telescope that allows access to 180 degrees of night sky, or Rachel, the largest refractor in the western U.S. You'll have four hours to amble through the science center with a celestial concoction in one hand (drinks are $3–$5 at the cash bar) and your date in the other. After staring into the depths of distant galaxies, you can stare into the depths of each other's eyes over dinner at the Starlight Bistro or Celestial Café (not included in Groupon; reservations required).
10000 Skyline Boulevard
Oakland
California
Spread out among 132,000 square feet and three levels are a variety of permanent and temporary exhibits that represent the museum's goal of innovative inspiration. The recently opened, hands-on, and interactive exhibit Invention at Play examines the evolution of playtime from the hoop-and-stick of yesteryear to the portable holographic virtual wristwatches of today. The art, film, and music-focused Tech Virtual Test Zone conceptualizes ideas from the virtual world of Second Life with interactive wonders such as the Wall of Musical Buttons. The Wall allows visitors to experiment with note intervals in familiar musical melodies, and Mashup Masterpiece gives visitors the ability to add their own creative modifications after observing an artist's artistic process. Aspiring weatherpersons can learn about the powers of wind, water, and sun in Green by Design, or budding Beakmans can perform various science experiments in the Exploration Gallery. Keep the stimulation going while giving tired legs a rest with the included educational IMAX movie. Check out current offerings such as Arabia or Under the Sea or peruse the schedule for other upcoming shows at The Hackworth IMAX Dome Theater.
201 S Market Street
San Jose
California
Make up for the ill-fated model-train competitions of your childhood by celebrating National Train Day in style. You'll board the locomotive in full Victorian regalia at the Sacramento Southern Railroad ticket office in Old Sacramento and embark on an epic 40-minute journey through the central California wilderness. Amid the train's historic 1920s-era El Dorado luxury car, your 6-mile round-trip ride will transport you along the edge of the Sacramento River in the style of politicians and highfalutin VIPs of bygone days. The air-conditioned cabin boasts plush ruby sofas and expansive windows for taking in the panoramic views while enjoying complimentary lemonade and cookies.
Front St., Between J St. and K. St.
Sacramento
California
Established in 1968 in honor of Ernest Orlando Lawrence, UC-Berkeley's first Nobel laureate, The Lawrence Hall of Science aims to inspire the scientists and innovators of the future. Their hands-on exhibits allow children and adults to see and touch a fascinating variety of displays and projects. The animated, interactive Science On a Sphere globe, for example, uses actual scientific data to depict the expanding wave patterns of tsunamis and the massive storms triggered by thoughtless butterflies. To learn more about seismic activity, guests head to the Forces That Shape the Bay outdoor park to ride an earthquake simulator. Kids can climb atop a life-size model whale or through the double helix of a huge DNA sculpture, or work with students from the Berkeley Engineers and Mentors program to design and build a prototype in the Ingenuity Lab.
The museum also sparks imaginations with an interactive planetarium and 3-D theater. Its affiliation with the university makes it an ideal spot for educational camps and classes, as well as community events, including robotics competitions.
1 Centennial Drive
Berkeley
California
510-642-5132
Helicopter pioneer Stanley Hiller Jr. founded the Hiller Aviation Museum with the future in mind, using history to inspire future generations to explore and create. He had firsthand proof of the innovative abilities of youth—his design for the first successful coaxial helicopter landed at age 15.
In the museum he established in 1998, 53,000 square feet of exhibits let visitors of all ages discover more than 40 aircraft without the dangers of encountering them in the wild. A narrated walking tour leads the way through them, tracing the history of flight from its humble beginnings in village jumping contests to today's supersonic jets. Fixed-wing and rotary aircraft designed by Hiller and others rest throughout the huge, bright space, while weekends beckon would-be pilots into a flight simulator equipped with huge monitors of bay views and realistic yokes, throttles, and pedals.
601 Skyway Rd.
San Carlos
California
---