Lauderhill, FL Drs and Health Practioners
---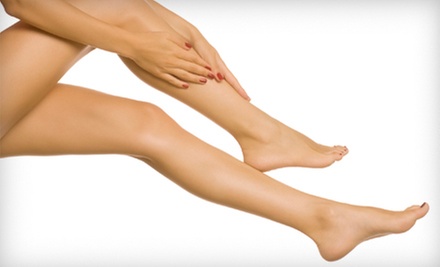 ---
Drs & Health Practitioners Deals
---
Recommended Drs & Health Practitioners by Groupon Customers
---
The practitioners at East West Physicians don't limit themselves to one approach to healthcare. Instead, they merge traditional Eastern medicine with chiropractic, primary care, and anti-aging therapies. The acupuncturists on staff use their hair-thin needles to combat everything from pain and infertility to weight problems, and the spine specialists treat children and adults with drug-free adjustments. Unlike chaperoning a kindergarten field trip to the car horn factory, visiting the center is a good thing to do if you're feeling tired and stressed; vitamin drips and bio-identical hormones treat fatigue, and massage therapy relaxes muscles and minds.
4651 N State Rd. 7, Suite 9
Coconut Creek
Florida
954-255-9355
Dr. Steven Gilson lives up to his practice's name by offering general and cosmetic dentistry services suitable for the whole family, even kids and seniors. He entered into the world of dental healthcare more than 20 years ago after studying at Penn Dental Medicine and graduating cum lade from the University of Pennsylvania with a BS in Physical Chemistry and Biochemistry. Today, armed with specialized training in periodontics, prosthetics, endodontics, and vocabulary, he restores and preserves smiles with services that range from routine exams and cleanings to cosmetic bonding and Invisalign. To promote comfort, the team at Gentle Family Dentistry welcomes patients to bring their favorite movies to watch on in-room TVs during treatments.
10167 W Sunrise Blvd., Suite 101
Plantation
Florida
954-424-4600
Dr. Aman Sappal and his team of ocular experts elucidate vision with new glasses and contact lenses, vision therapy, glaucoma treatments, and other sight services. Comprehensive eye exams test vision essentials, such as refractive errors, visual fields, and pupils, before doling out fresh eyewear prescriptions. New lenses, from single vision to no-line bifocals, revel beneath anti-glare or anti-opaque coatings as they perch in stylish frames from designers such as Coach, Gucci, Calvin Klein, and Juicy Couture.
15651 Sheridan St., Suite 1000
Pembroke Pines
Florida
954-252-8885
Spread across three Miami-area offices, Vanidades Cosmetic Surgery boasts a medical staff that includes nine MDs, whose wealth of knowledge guides staff members in both surgical and nonsurgical procedures. In many treatments, doctors use lasers to perform everything from liposuction to hair removal to skin rejuvenation. To choose the right procedure, which may also include injectables such as fat grafting, the staff equips clients with an online animations library that displays the benefits of surgeries performed on all of Hollywood's most popular cartoons.
1795 N University Dr.
Plantation
Florida
954-474-8586
The providers at Vanguard Medical Group care for South Floridians with a multitude of specialties and three practice locations. The team handles primary-care concerns, as well as heart checkups, repairs, and detailing. The nutritionist on staff helps patients lose weight with medically supervised diet plans that may include supplements, lipotropic injections, or exercise regimens.
603 N Flamingo Rd., Suite 150
Pembroke Pines
Florida
954-391-6935
At Dolphin Dental Care, Dr. Ivan O. Parra, who has been a dentist for more than a quarter of a century, and his experienced team of hygienists and dental assistants strive to do whatever they can to enhance a person's smile or relieve their discomfort. They employ advanced technology such as intraoral cameras and Schick digital x-rays to suss out dental decay, and they beautify smiles with everything from tooth-colored fillings to porcelain veneers.
Dolphin Dental Care's smile experts recognize that patients have come to expect a more relaxing dental experience, which is why they provide headphones to use with the office's music selection or recorded whale songs. It's also why the chair is equipped with DSL for Internet access.
6991 W Broward Blvd., Suite 101
Plantation
Florida
954-316-4444
---