Theme & Amusement Parks in Laurinburg
---
Theme & Amusement Park Deals
---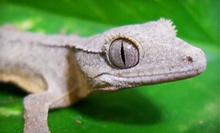 More than 150 species of reptiles, amphibians, and invertebrates thrive in multispecies habitats with historical and scientific facts
---
Recommended Theme & Amusement Parks by Groupon Customers
---
Fun Fun Fun's mini metropolis of arcade games and family-friendly activities engages guests across its 12,000-square-foot grounds. Whirring lights and buzzing sounds emanate from 100 games at the arcade, where players can slap and tilt their way through a classic game of pinball or try their hand at more modern alternatives, such as Guitar Hero or Deal or No Deal. Success at the arcade reaps material returns in the form of the center's various prizes, and Fun Fun Fun's indoor laser-tag arena rewards winners with the competitive pleasure of besting frenemies in futuristic combat. Outdoor revelry awaits at two 18-hole miniature golf courses, which meander around rocky outcroppings and a central pond, as well as at the batting cages, where a system of nets keeps sharply struck balls from sneaking away for a slice of pizza or a snow cone at the snack bar.
4670 Cumberland Rd.
Hope Mills
North Carolina
Scampering through Lazer FX–Lazer Tag's 7,500-square-foot labyrinth, combatants volley photons in exhilarating 20-minute skirmishes. Laser soldiers don luminescent vests and DayGlo bowties before entering the arena, where a mix of 30-odd friends and foes dodge blasts while darting from refuge to refuge. For groups of four, the battle extends out of the arena and onto the 8,000-square-foot arcade floor. Here, more than 120 games—including pool tables, skee-ball lanes, driving simulators, and air hockey—promote hand-eye coordination more effectively than soccer.
510 N McPherson Church Rd.
Fayetteville
North Carolina
910-630-2229
Since opening its doors in 2009, Elite Zone has entertained adult gamers with computer- and console-based amusements. Equipped with Turtle Beach headsets, gamers play the latest Xbox releases on LCD televisions while chatting wirelessly with Xbox Live account holders and truck drivers on the wrong CB channel. A high-speed Internet connection facilitates glitch-free gaming for PC users and ensures quick page loads for web surfing. Elite Zone also carries a bevy of caffeinated beverages to fuel round-the-clock gaming and enliven sleep-deprived avatars.
1916 Skibo Rd., Suite 332
Fayetteville
North Carolina
910-826-3661
An abundant number of recreational activities fill the space at Purple Planet 3-D Mini Golf. With black lights illuminating patches of neon paints, the indoor and always air-conditioned cooled mini-golf course bends the mind with challenging greens and mind-bending visuals such as aliens and floating satellites. As they navigate the course's vortex tunnel and fog-filled corridors, golfers wear 3-D glasses, making obstacles appear to pop out and transforming every hole into an even deeper hole. Purple Planet visitors can also hone their billiards skills with games of pool or try their hand at the games at an on-site arcade.
935 N Graham St.
Charlotte
North Carolina
704-829-6455
Spread out among four locations, Sports Connection combines the abundant attractions of a family fun indoor park with athletic activities and leagues geared to adults and youngsters alike. The Jump-N-Play Inflatable Zone hosts hopping whippersnappers in its bouncers, and a laser-tag arena surrounds phaser-wielding opponents in fluorescent-painted walls and the foggy air of epic competition. Additional attractions such as spinning bumper cars, a 25-foot indoor rock wall, and a laser-beam maze await visitors at the Ballantyne and Northlake locations.
Along with group outings and birthday parties, Sports Connection invites budding or freakishly good athletes into its plentitude of sports leagues for rounds of volleyball, soccer, and more. Indoor and air-conditioned camps and clinics held throughout the year enrich beyond physical skill with training in camp counseling and sports fundamentals.
8626 Hankins Rd.
Charlotte
North Carolina
The sound of feet slapping on the padded ground and little voices twisted by constant motion fill Xtreme Play. Jeff and Julie Austin, owners of the play center, have five children, so they are familiar with the busy chorus. The duo and its staff are also well prepared to keep an eye on youngsters as they bounce from inflatable obstacles or squeal down slides. At a miniature arcade, small hands grab Wii and PlayStation controllers, simulating adventures through castles and the civil-service tests to become a castle inspector. The babble of special events drifts from private party rooms, where pizzas fuel fetes.
2115 W Roosevelt Blvd., Suite 127
Monroe
North Carolina
---