Lawrence Cleaning and Home Services
---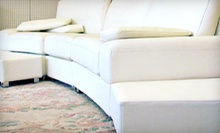 Eclectic collection of lavish armoires, elegant dining sets, and cookware wait within 10,000-square-foot store to complete homes' decor
Use Sunday 12:00pm - 7:00pm
---
Recommended Home Services by Groupon Customers
---
With today's Groupon, you get one month's rent free at select Hodara Real Estate Group apartments. And unlike other Groupons, when you click the BUY button above, you're getting a free Groupon. Print out that Groupon when it arrives in your inbox, schedule an appointment with Hodara to tour an apartment you're interested in, and, if you sign a lease, you get one-month's rent free and a $200 American Express gift card. The first three people with Groupons who sign a lease with Hodara Real Estate Group will receive a free iPod Touch and the exhilarating feeling of beating out slower people. What's more, Hodara will charge no brokerage fee, so just checking out the deal is 100% free.
87 Glenville Ave.
Boston
Massachusetts
US
D'Lanes Painting's insured technicians do more than cover homes in even coats of paint—they cover all of their bases. For instance, they consult with every customer to discuss the gloss level, color, and brand of paint that the client prefers. They include surface preparation, priming, finish coats, and cleanup in every contract, leaving no step overlooked. And all of their contracts, which are covered by a two-year limited warranty against peeling and blistering, are managed by the owner, Junior Lanes, rather than being outsourced to an independent contractor or a bunch of kids with paintball guns. Besides improving homes' aesthetic and resale value with painting, the technicians stain decks and power wash wood, vinyl, and aluminum surfaces.
855 Worcester Rd.
Framingham
Massachusetts
Specializing in hardwood, carpet, and tile floors since 1958, Abbey Carpet & Floor carries such practical and fashionable brands as American Showcase and Alexander Smith. In the online showroom, clients can begin selecting area rugs, carpeting, or solid-surface flooring to suit their room's unique ambiance and number of lava pits. Confident in their products and their installation skills, the nationally certified company offers a lifetime warranty on broadloom carpets from Infinity Nylon Carpet Fiber, Alexander Smith, American Showcase, Softique, Legendary Beauty, and Premier Stainmaster.
78 Union St.
Ashland
Massachusetts
508-881-5700
Since 1982, The Veron Company has dispatched talented technicians to lawns and homes for professional maintenance and beautification projects. The team was assembled from a pool of experts with decades of experience in landscape design and lawn care. Summoning the power of Gamgee, the God of Outdoor Design, they magically transform outdoor areas into lush landscapes with services such as organic lawn maintenance, mulching, and irrigation. The team also handles seasonal projects such as snow removal, installation of ice-melting systems, and professional holiday lighting.
112 Forest St.
Marlborough
Massachusetts
508-485-4884
For more than a decade, the insured technicians at Sampaio Services Company have waged a war on the grime that accumulates on windows, roofs, and siding. They arm themselves with power washers and biodegradable cleaning products before launching their attack, rendering skylight panes transparent and evicting the mold that keeps shingles from ever getting a beautiful suntan. The experts' attention to detail returns chandeliers to their sparkling glory, and their knack for organization helps tidy garages and attics after dusting and sweeping them. Customers can call the professionals for nearly any kind of cleaning project or trash removal.
P.O. Box 1350
Framingham
Massachusetts
US
774-244-0517
As early as 1921, Horrigan Cleaners established a reputation for restoring sullied shirts and pantsuits to store-fresh conditions; nearly a century later, the skilled technicians continue to purge dirt and stains from delicate clothing. Garments of all shapes and sizes pose little challenge to the cleaning staff, who can also handle household textiles such as comforters, area rugs, and quilts made from tea cozies. The team traverses to homes to clean carpeting and upholstery and protects the environment as well as wardrobes with green and organic cleaning solutions.
100 Pearson Blvd.
Gardner
Massachusetts
978-632-4200
---