Pet Services in Lawrence
---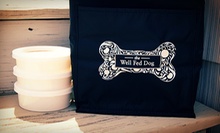 Fresh-made dog food promotes a healthy, balanced diet with flavors lauded by The Boston Globe
---
Recommended Pet Services by Groupon Customers
---
Fenway Bark Stay. Play. Heal. pampers pets in a responsibly led facility where a trained staff at an attentive 1:15 ratio keeps canines happy, healthy, and safe, earning it a spot on Fido Friendly's Best of 2011 dog-destination list. For overnight stays, dogs check in to a variety of roomy lodgings that swaddle fur with fresh options, entertain eyes with cable TV and sprawling views of the play yard and bone-shaped pool, and ease owners' minds with Skype webcam access. Paws scamper indoors over antimicrobial grass, frolicking with those of peers who have been vetted by the staff for exemplary social behavior, exhibited by friendly interaction and promptly sent thank-you cards.
Fenway Bark's onsite boutique outfits pups with gourmet treats, fashionable accessories, and toys such as naturally shed antlers, and trained veterinary technicians heal fidos suffering from hip dysplasia, obesity, and other ailments. Regular K9 Klatch social events congregate doggie parents and their barking broods for caffeine-fueled conversations about the best way to teach a dog to sit, drive, or properly use a french press.
88 Black Falcon Ave., Suite 188
Boston
Massachusetts
617-464-4364
While still learning how to walk on their own, Legacy Stables owners Michael Murphy and Elizabeth Vaughan Murphy began learning how to ride horses. The two both grew up around horses, and they apply their lifelong knowledge of horseback riding with students during training and lessons in saddle-seat, hunter-seat, Western, and driving styles. During lessons, students are introduced to the stable's fleet of morgan horses, which are known to be one of the oldest and most versatile breeds in North America. The compassionate instructors lead lessons for both beginner and advanced riders, as well as small children who learn basic steering and methods of riding a horse without training wheels.
106 Millville Rd.
Mendon
Massachusetts
508-478-1580
Frank and Jen Allen, along with their canine companion, Buddy, strive to provide a nurturing home away from home for pets while families are away at work or on vacation. Pups romp freely around a fenced outdoor yard with other fuzzy friends before heading indoors, where spotless accommodations inspire restful dreams of taking over the postal service. Petopia Doggie Day Care also provides expert grooming services, delivering dogs and cats back to owners with a pleasant new-car smell.
34 Mead St.
Leominster
Massachusetts
978-728-4037
York Bark & Play's owner and operator, Lisa York, lives onsite, caring for four-legged residents using knowledge culled from previous jobs at a horse stable and a large kennel. Her pet haven—formerly Thee Privileged Pet—has undergone extensive renovations and reopened, and now boasts two indoor play areas, a large yard, and TVs broadcasting continuous reruns of Lassie. During the day, the kennel provides daycare, with pets enjoying two supervised sessions of outdoor playtime, lunch, and a nap. Overnight guests chase Zs in 10'x4' indoor runs with heated floors and noise-reducing solid walls. Felines relax in a separated quiet room with three-level cat condos that give them ample space to move about and host milk-tasting parties.
915 US Rte. 1
York
Maine
207-361-4758
Nestled on 55 acres brimming with evergreen trees and verdant fields, Integrity Equestrian Center's facilities cater to equestrians' every need, hosting activities ranging from lessons and camps to dressage competitions. Inside the main barn, the team of school horses whinnies in anticipation of rides across the wood-chipped trails or romps in the indoor arenas or outdoor ring, equipped with gates and fences for the age-old English sport of horse limbo. Whether helping advanced riders further their hunter-jumper skills or introducing beginners to the basics of horsemanship, the ranch's instructors—all experienced riders themselves—create a fun and positive learning environment during private or group lessons.
650 Manning St.
Jefferson
Massachusetts
508-829-5265
At A Fox & Hounds Pet Care, four-legged friends lap up first-rate treatment from a team of dedicated, nurturing pup professionals. Tailored to each pet's needs, services range from full-time daycare and overnight lodging to training programs for dogs both young and old. Inside, furry visitors bound across 6,000 square feet of climate-controlled, cage-free space, and outdoors, the large, fenced-in play yard's special pet grass allows for quick drainage and prevents pooches from tunneling out and running away to the frisbee factory. The day care's special-needs areas can also accommodate animals that are shy or recovering from injuries.
191 Beal St.
Hingham
Massachusetts
781-749-4422
---