Things to Do in Lawrence
---
Use Tuesday 4:15pm - 7:15pm
---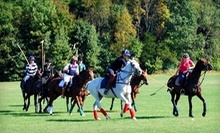 Knowledgeable instructors teach students of all levels basics of regal & fun sport with intro lessons & provided horses & mallets
Use Saturday 7:00am - 10:00am
---
Recommended Things to Do by Groupon Customers
---
Click above to buy tickets for the Boston Derby Dames August 15 games. Click here to buy tickets for the Boston Derby Dames July 18 games.
99 Fordham Rd.
Wilmington
Massachusetts
US
Paramotor Tours sends adventurers skyward on the wings of motor-powered paragliders. Nationally certified pilots adhere strictly to FAA safety regulations as they strap in for tandem flights, lifting thrill seekers to heights of up to 8,000 feet. To help ensure smooth takeoffs and landings, each glider boasts several safety features, including reserve parachutes, GPS navigation, and a pause button. Adventurers who wish to pilot their own glider can sign up for a solo-flying course, available on select days.
100 Cumings Ctr., Suite 128A
Beverly
Massachusetts
866-866-2880
Chunky's Cinema Pub has been mixing the polished glimmer of modern technology with the gauzy glow of yesteryear for almost two decades. Eight screens mingle first-run blockbusters with themed throwback classics catering to children of the '50s or '80s. There, in the glow of the previews, is another testament to the melding of time—a contemporary dinner-and-a-movie setup brings with it the nostalgia of old-school drive-ins. Instead of traditional cinema chairs, individual cushy Lincoln Continental surround communal dinner tables, and the seats roll and recline to let guests maximize their comfort and customize their sightlines as they catch the onscreen action and pretend to be backseat drivers. At their tables, American pub snacks and entrées from the extensive menu spread out, combining movies with burgers, quesadillas, and steak tips.
While the theater blends old with new, Chunky's Bio Truck zooms into the future with a gas tank full of the 100% trans-fat-free canola oil used for cooking in the kitchen. The bio-fuel reduces the truck's greenhouse emissions and helps to decrease its carbon footprint, spreading an eco-conscious message to the community.
371 Lowell Ave.
Haverhill
Massachusetts
At Paradise Mini Golf, friends and families guide colorful golf balls through an 18-hole oasis of zigzagging putting greens and tropical obstacles. The course's river exposes orbs to the treachery of a flowing stream on multiple holes, and a 35-foot-tall tree house gives local birds a chance to cheer on putt-putters or stock up on nourishing golf balls for winter's hibernation. After a round, golfers can stop by the koi pond and feed the fish at the feeding station or visit the ice-cream stand. Visitors looking to expand their golf game beyond the mini domain can drop by the Paradise Driving Range to hone lengthier swings.
25 Lonergan Rd.
Middleton
Massachusetts
978-750-4653
Handcrafted by its nimble-fingered staff, Beadles' voluminous selection of handmade jewelry began to burst the seams of the 1,500-square-foot Chelmsford store, prompting the launch of the newly minted Rockport location. The new location broadens Beadles' epic spread of Swarovski crystals, acrylics, and kaleidoscopic glass, allowing browsers to purchase bauble ingredients by the piece or pre-assembled bracelets and necklaces. Crafters of all skill sets can put their purchases to use during free workshops or fashion their own custom creations during parties ideal for birthday girls, girl-scout troops, and newly chosen presidential nominees.
18 Central Sq.
Chelmsford
Massachusetts
978-244-0233
The Webster opened as an art-deco movie house more than 70 years ago, and in 1992, the theater and its employees' slang were both restored to their original condition. Today, the stage monopolizes a major portion of the big-name acts passing through Hartford, with previous headliners including Whitesnake, Henry Rollins, and Cake. A wide-open orchestra invites dancing, and a more-relaxed loge area lets guests coolly survey the action onstage and in the audience.
300 Martin Luther King Jr. Way
Lowell
Massachusetts
978-934-5738
---