Restaurants in Lawrenceville
---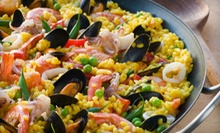 Chefs cook cuban-style ground beef, grill pork chops marinated in garlic mojo sauce & serve yellow rice with shrimp
Use Today 4:00pm - 6:00pm
---
Recommended Restaurants by Groupon Customers
---
Diners take a whiff of grilled meats and slide into dark-wood booths upon entering Famous Joes, waiting to be greeted by the chilly handshake of a cold glass of beer and the calming glow of baseball games emanating from the 21 42-inch flat-screen TVs hung on terra-cotta-colored walls. As a karaoke singer croons on, chefs pull ribs and pork from a 12-hour marinade, toss glistening chicken wings in 16 varieties of sauce, and hand-sculpt ground beef into half-pound patties and busts of Woodrow Wilson. Behind a row of stools, bartenders pour from 10 drafts and 30 bottled beers hailing from domestic and overseas breweries.
3290 Hamilton Mill Rd.
Buford
Georgia
770-271-5637
Leaves of vegetables and herbs sprout from the ground near Sweet Potato Cafe, providing the arsenal of ingredients that chefs Karen Patton and George Pollard draw from as they construct their seasonal, upscale dishes. The chefs—who boast decades of baking experience and finesse with Caribbean, French, and American Southern cuisines—pluck a daily crop from the onsite garden, bolstering their fresh harvest with organic ingredients, such as cage-free eggs and grass-fed beef, that are sourced from nearby sustainable farms. The verdant bounty yields a rotating menu of dishes, many of which star the sweet potato and its natural entourage of nutrients.
The chefs till their lush garden just beyond the eatery, which is housed inside a renovated, 1930s craftsman-style home. Rich, burnt-orange walls, dangling lights, and lustrous wooden floors and tables modernize the dwelling, but every other Friday evening, live jazz music and telegraphed ticker-tape readings enhance the historic ambiance.
5377 Manor Dr.
Stone Mountain
Georgia
770-559-9030
Keso Mexican Grill rouses the palates of Johns Creek and its surrounding communities with sizzling Mexican dishes that pack bold flavors. Inside, a contemporary vibe seeps from the restaurant's stone walls. Standing guard as the dining room's centerpiece, a large stone Olmec head watches over meals with far more authority than the mustached scarecrow that also tried out for the job. As a group of friends crisscrosses forks over shared tapas at one table, a waiter delivers a still-steaming steak to another. Along the dark marble bar, glasses of wine, beer, and tequila clink beneath the flickering glow of flat-screen TVs, which are perched above rows of bottles behind the bar.
11030 Medlock Bridge Rd., Suite 110
Johns Creek
Georgia
US
770-813-9898
Boasting four consecutive Best Barbecue awards from Best of Gwinnett, the chefs at Dillards Barbecue take pride in their zesty Southern cuisine. As their ribs marinate in tangy barbecue sauce, they whip up the fried chicken, savory pork, and tender catfish sandwiches that have been winning over taste buds since 1998. If it's too early for hushpuppies or mac 'n' cheese, they usher in the day with Southern breakfast staples such as homemade biscuits with sausage gravy and eggs. They also cater heaping helpings of Southern eats for large parties, such as family gatherings, corporate meetings, and jury-duty reunions.
2 Buford Highway
Suwanee
Georgia
770-945-0703
---