Lawton, OK Outdoor Activities
---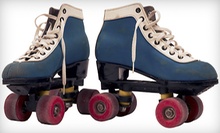 Guests frolic on wheels around the roller rink and nosh on candy bars and drinks
---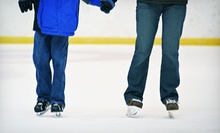 Guests glide over the OU Sooners's home rink, pausing for hot chocolate or to visit the onsite cafe
---
Recommended Outdoor Activities by Groupon Customers
---
After starting off your evening at Regatta Park Landing, you'll glide along a seven-mile stretch down the Oklahoma River that takes you past the gorgeous sights of the city and alongside riverbanks where enterprising frogs and crickets exhibit their paintings. The 90-minute cruise includes music, light appetizers, soft drinks, and a modest cash bar so that you can relax on the deck in the company of fresh breezes or celebrate inside the climate-controlled cabin. During the cruise, the boat will lazily circle back to swallow its own wake, dropping you off where you started in a perfect ouroboros.
701 S Lincoln Blvd.
Oklahoma City
Oklahoma
Andy Alligator's Water Park—next to its dry-land counterpart, Andy Alligator's Fun Park—laughs in the face of heat waves with its map of maritime attractions designed for cooling down on a hot day. The Riptide Racer's towering structure sends splish-splashers rocketing down colorful slides on their stomachs, while thrill-seekers cajole their buddies into two-person tubes before shooting through the spirals of the Banzai Pipeline. Island-themed walkways and slides festoon the play space at Cowabunga Cove, and the Paradise River lazily flows in a loop for relaxing tube rides and slow-motion reenactments of Speed 2: Cruise Control. Snorkels Café and Grill serves a menu of burgers, pizza, and sandwiches to replenish the energy spent by drenched diners.
3300 Market Pl.
Norman
Oklahoma
405-321-7275
The 18-hole course at Sugar Creek Canyon Golf Club puts golfers face-to-face with a wide variety of challenges, from violent crosswinds to treacherous sandstone ravines. Completed scorecards often tell a tale of two nines, as the wide-open front nine lulls the unwary golfer into overconfident thwacks, though the relatively flat layout brings wind into play on many bids for the green. Lack of restraint going into the back nine may be one's undoing, as this half tacks along the edges of the course's eponymous canyon: rolling, diving, and swelling through a gauntlet of ravines and gullies. Whereas the front nine posed few obstacles to knock down shots that drifted astray of the fairway, the back nine features plenty of cedars, grassy hillocks, and sandstone outcroppings in which to lose a ball. Holes 14–17, known collectively as The Stretch, make each player earn a score worthy of posting in the clubhouse or skywriting over an opponent's home. The par 5 16th, for instance, demands a precise tee shot lest the ball wind up in the twin ravines that straddle the fairway landing area. After safely sidestepping these disaster zones, players must then make a difficult choice between going for the green or laying up well short, as every endeavor that lands within 75 yards of the putting surface winds up in the bunker or deep rough.
Though players must adapt to a number of scenarios, course designer and longtime professional player Mark Hayes made sure that each hole adheres to a common theme of pristine conditions and playability for all levels of golfer, with four tee options at each hole. Sugar Creek Canyon also hosts tournaments every year.
Course at a Glance:
18-hole, par 71 course
Four tees options at each hole
Total length of 6,837 yards from back tees
Designed by Mark Hayes:m]]
200 W Sugar Creek Dr.
Hinton
Oklahoma
405-542-3974
Sisters Mary Shappee and Gert Shuckhart have been taming horses for most of their lives, beginning as children in 4-H club. While Gert manages Majic Stables' office and rare bookmark collection, Mary's passion for riding keeps her in the saddle, where she teaches private and group lessons that rein in riders as young as 5 years old. A 70'x198' indoor arena allows for nighttime and fair-weather rides, and the 100'x200' outdoor area is dotted with jumps and dressage letters for tricky choreography.
7070 W Rock Creek Rd.
Norman
Oklahoma
405-321-5031
Supreme Golf makes maintaining an oft-pricey golf addiction a bit easier on the wallet by granting golfers discounts at golf courses and golf schools, as well as cutting the price of books, golf clubs, and nutritional supplements. Golfers can enjoy relaxing, discounted rounds at area courses in cities across the country including such area courses as Bear Creek Golf Club in Dallas, Gateway National Golf Links in St. Louis and St. Andrews Golf and Country Club in Atlanta, soaking in the sights and badgering local pros for analysis of the annual caddie draft.
Rte. 1 Box 694
Thackerville
Oklahoma
Fish Strong's anglers scan the azure vistas of Oklahoma's lakes for tiny splashes and darting glints of silver on fishing expeditions with groups of all ages and experience levels. Though most of the company's excursions take place on scenic Lake Murray—a veritable gold mine of smallmouth bass located within the 12,500-acre Lake Murray State Park—visitors may also cast their lines across the glassy surfaces of Lakes Arbuckle, Konawa, Thunderbird, Hefner, and Eufaula. Two boats outfitted with powerful engines and modern tracking equipment home in on scaly targets from a distance, enabling the luckiest fishermen to catch as many as 30 bass, crappies, and catfish on a single trip. Trips depart at sunrise and in the early evening—when fish are most prone to snatching up bait—and include all necessary gear, from rods and tackle to sunscreen and wax to protect ears from yodeling sirens.
10808 Alameda Dr.
Norman
Oklahoma
405-205-7490
---